Love everyone's take on this challenge! Random.org selected 5. 
hsblair/Holly! Congrats Holly! A gc is on its way to you! Happy Shopping!

Thank you to everyone who participated!

********************************************************************************************
Hello cherries! For this month, I'd like you to use a song that has an animal in the title. There are quite a few out there. Some examples are: "Hound Dog"; "Eye of the Tiger"; "Cat Scratch Fever"; "Who let the dogs out?", just to name a few. You could even use the catchy yet quite annoying song that most toddlers like - "Baby Shark". LOL. Normally this is just a PET challenge, but with the requirement this month, I'm allowing any animal. If you have zoo pictures, this challenge might help you out! 
I chose to use "How much is that doggie in the window?" for my title to go with this photo I took of Miss Penny while I was coming home from my morning walk. You'll have to zoom in to find her!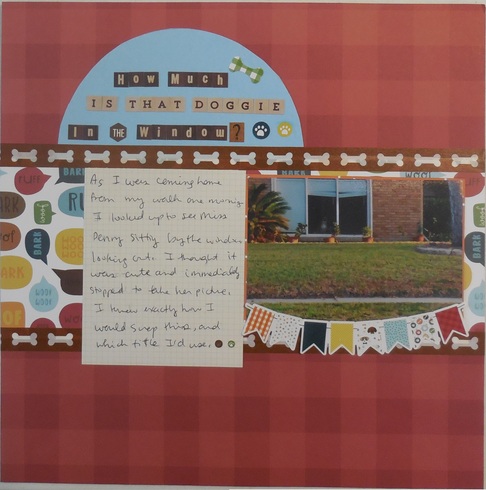 Here's a few rules:
1. Choose a song that has an animal in the title and/or lyrics. 
2. Paper and Digital layouts are acceptable.
3. Must post here by March 31st at 11:59PM
4. You may combine with one other challenge if they allow it
5. You may do this challenge up to THREE times
6. One random winner will receive a $5 gc to ACOT
7. Please Note this is being extended to include ALL animals, not just pets. So if you can find a song that has the word "giraffe" or "elephant" in it, go for it!
If you have any questions, please PM me.
Have fun!
Participating Cherries:
1. 
Linda-1949/Linda S.
2. aheatfan/Kristen
3. 
Donna_Coughlin/Donna Coughlin
4. 
tmp718/Tammey
5. hsblair/Holly
6. sherelm/Sher
7. Art_Teacher/Laura
8. mgehrke/Mildred
9. 
Cynthiacorbett/Cynthia Corbett
10. 
WendyCrowe/Wendy Crowe
11. Aztam/Tam
12. Craftyshannon/Shannon
13. scrapqueen141/Jamie
14. sherriscraps/Sherri
15. LoreenC/Loreen
16. Deanna13/Deanna
17. pawprints/Barb
18. Karyn_Sue/Karyn Sue
19. QueenBee89
20. Mtcanuk/Leslee
21. aheatfan/Kristin
22. merryscraps67