Thanks everyone for playing along again this month! I'll be posting the May challenge on the 15th and it will run through the end of June. For April's challenge the winner is.....Mathandlit! Congrats, I'll be getting your gc out to you shortly!
Hey cherries! I'm SO excited at the response to last month's challenge!  There's still a day left on that one if you haven't had a chance to do it yet.
So this month there are fewer items on the list to layer because.....well.....I left off something that was sitting on my desk, took a picture of the embellishment, of the layout, did the blog post for Sketch N Scrap....and after all that I wasn't re-doing it! LOL  So here's your list of requirements for April:
1. Base must be a 3x4 cut-apart or PL card
2. Any piece of ephemera.  My example--the sneakers
3. One flair (if you don't have any flair, I'll accept a button)
4. Anything fussy-cut.  I fussy-cut the star from a piece of patterned paper
5. Freebie. My freebie was a second piece of ephemera--the travel journal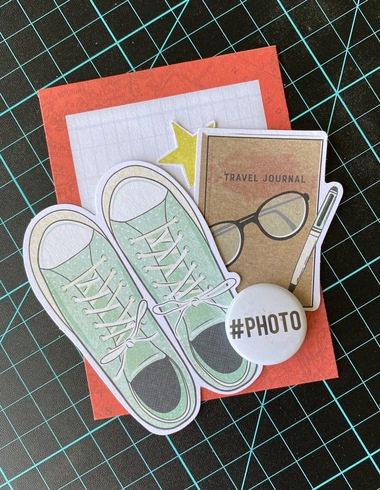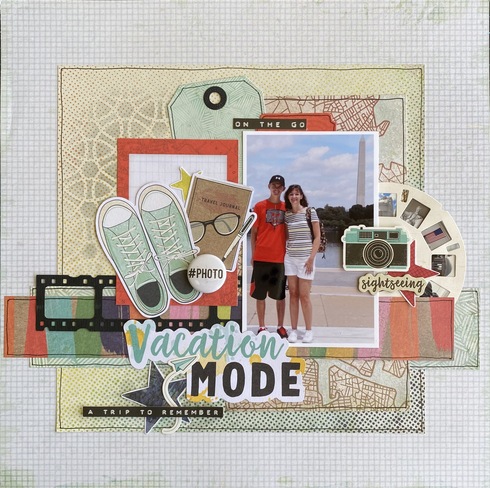 Just like last month, you are limited to using
only the items listed above,
but you can layer them any way you like.  Also,
ALL items are required
to be used on your embellishment, layering all the pieces into one embellishment is the challenge.  You must show a picture of the embellishment by itself for one entry.  For a
BONUS
, if you come back and add a picture of your embellishment on a card or layout, you'll get another entry.  No exceptions or changes to the list, please. I will try to choose items that typically all of us have somewhere in our stash. 
The Rules:
Original work only, no digital
You are limited to using only the items listed and ALL items on the list must be used
One entry per person, BONUS entry if you post a finished card or layout using your embellishment
You may combine with one other challenge ONLY if you post a finished project
This challenge will close on April 30th at midnight
A winner will be chosen for a $5 ACOT gift card from me
Have FUN and I can't wait to see what you create!