Good morning cherries! With June kicking off the Summer Season, makes me think of the hot sun and then wanting to cool off in a pool. So for this month, I'd like to see a mix of warm colors (orange, yellow and red) with some cool colors and of course, those adorable furbabies! 
My example is a layout of the littles when they were actually little! Jasmine and Shelby playing in their kiddie pool about 4 years ago.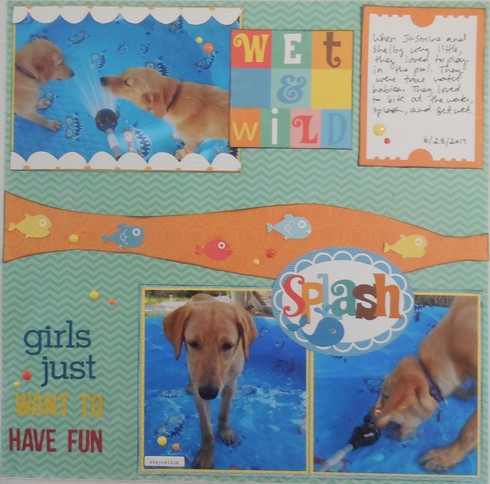 I used some orange, with a bit of yellow and red and chose a light teal for my background, with a couple of blue fish. 
Here's a few rules:
1. Scrap about your furbabies using a mix of warm colors and cool colors.  You must use at least TWO WARM colors and ONE COOL. You can use as little or as much of those colors. 
2. Paper and Digital layouts are acceptable.
3. Must post here by
July 31st
at 11:59PM
4. You may combine with one other challenge if they allow it
5. You may do this challenge up to THREE times
6. One random winner will receive a $5 gc to ACOT
If you have any questions, please PM me.
Have fun!
Participating Cherries:
1. tmp718/Tammey
2. Retiree3/Donna
3. LoreenC/Loreen
4. pawrpints/Barb
5. aheatfan/Kristin
6. Art_Teacher/Laura
7. Amy_Jo/Amy Jo
8. hsBlair/Holly
9. GinniG/Ginni
10. sherelm/Sher
11. seastar/Karen C
12. aheatfan/Kristin
13. WendyCrowe/Wendy
14. Joannie/Joannie
15. shoorn/Susan
16.
17.
18.
19.
20.