**This month's winner of the $5 gift card is...#2 - blfonty, AKA Bonnie
**This month's winner of the RAK is...#9 - 1scrappymom, AKA Shannon

Thank you to everyone who played this month!!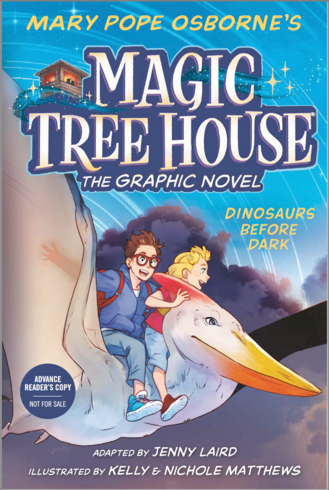 Where I live, August means back to school, and one of the things I am most looking forward to, as an elementary school librarian, is all the amazing new books that are coming out for kids. There are many great ones, but I am particularly excited about the graphic novel adaptations of Mary Pope Osborne's beloved Magic Tree House series. The Magic Tree House series has long served as a bridge for younger readers to begin reading chapter books, and the effortless way the author mixes history and fantasy results in captivating stories that children of all ages love. However, even with the excitement of the stories, there are some kids (my own daughter included), who suffer from reading fatigue, or get overwhelmed when they see too much text on a page. For these kids, and other reluctant readers, graphic novels are awesome.
Through a website called NetGalley, I was able to read an advanced copy of the graphic novel adaptation of the first book in the Magic Tree House series: Dinosaurs Before Dark. It is an absolutely stunning piece of work. The artists captured Jack and Annie's wonder and innocence perfectly, and used their illustrations to supplement the parts of the story that were taken out by the stripping down of the text. This book is definitely worth a look, as it is just as necessary to "read the pictures" as it is to read the text in order to get the full scope of the story. To that end, it is the graphic novel format more than the story itself, which has inspired this month's challenge options.
OPTION 1: WOULD PANELING
One of the hallmarks of the graphic format is that, for the most part, the artwork is broken into frames, or panels. So, for Option 1, use that as the arrangement of your photos. You can arrange them vertically or horizontally, and you can either include several different pictures, or one picture broken into several panels, however, here are some "rules" to abide by:
The panels may ONLY be rectangular.




The panels must be (more or less) all the same dimensions. If you start arranging together panels of different sizes, you run the risk of it looking more like a grid design, which is not quite what we're going for.




You must have at least four panels.




All photos must be matted.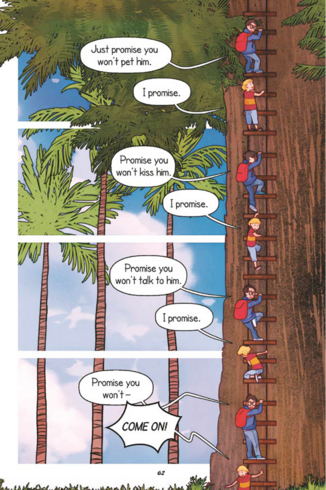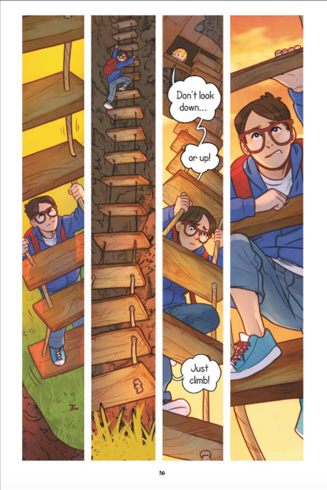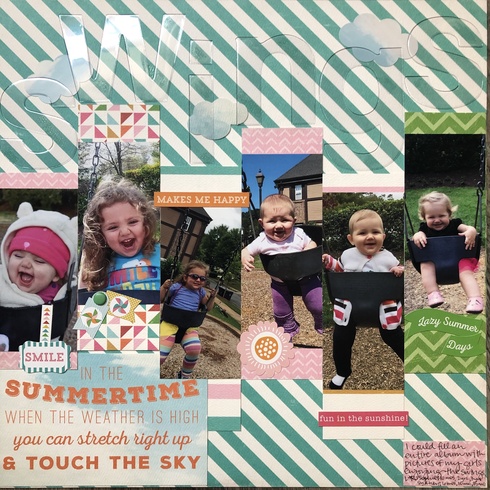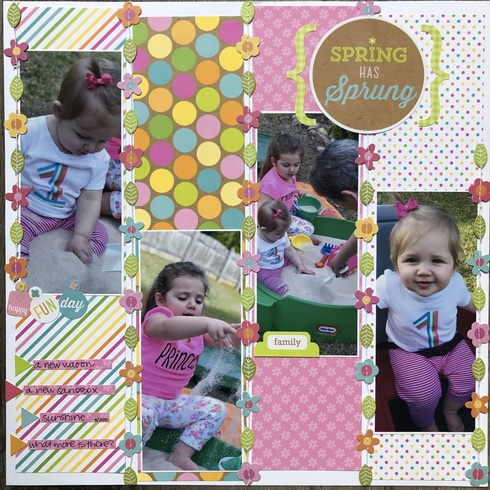 Samples for Option #1
OPTION 2: THE SAME, BUT DIFFERENT
Graphic novel adaptations are awesome because they often take a story that is well-known and strip it down to the most important elements so that what is left is a book that is the same, but different, from the original. To that end, I'd like you to do the same thing for Option 2: you're going to scraplift yourself! Find a layout in your own gallery and use it as a template to create a new layout, but change one of the core elements from the original. This should be more than just using different papers – change a photo to a journaling block, or vice versa. Change a paper strip to a gathering of embellishments. Turn a journaling block into a big die cut element. Be creative! Just be sure you are posting both the old and new layout, as well as noting what was changed. (To be clear: you are not REDOING the original layout – we have too many photos to scrap to reinvent the wheel! For this option, choose new photos and make a new page, just use your original layout as a template.)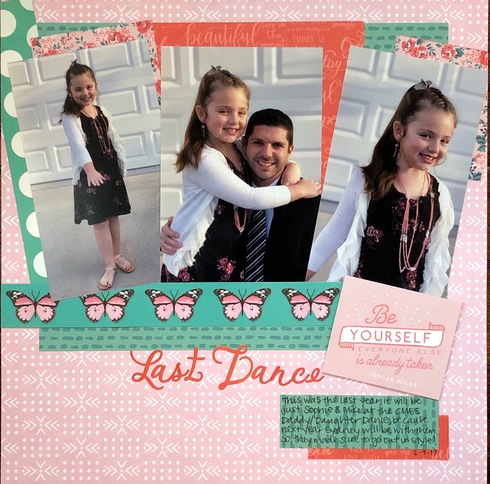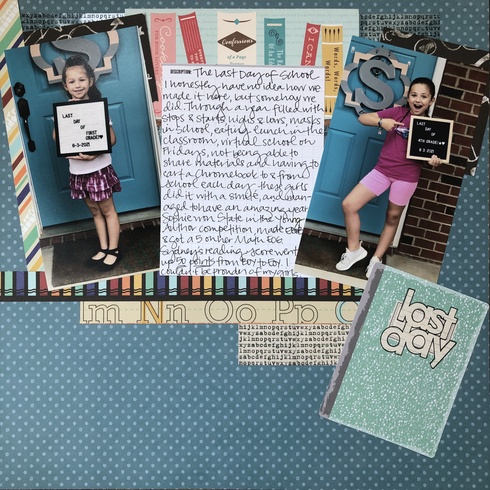 Samples for Option #2: Between the original layout ("Last Dance") and the new layout ("Last Day"), I turned the middle photo into a journaling block, the title into a paper strip, and the embellishment quote into the title.
The Fine Print:
1. HAVE FUN MAKING YOUR PROJECT!
2. Entries open to new projects - paper, digital, & card making.
3. May be combined with one other challenge that allows it.
4. Due August 31st, at 11:59 PM.
5. One lucky winner, chosen at random, will receive a $5 ACOT gift card from me!
6. Up to 3 entries permitted per month.
7. A RAK is awarded to a second winner if there are more than 15 unique entries (not including bonuses) during the month.
Participants:
1. Tammey
2. blfonty
3. traveler
4. lissahope26
5. wendycrowe
6. Donna_Coughlin
7. joannie
8. traveler
9. 1scrappymom
10. aheatfan
11. 1scrappymom
12. aheatfan
13. Deanna13
14. teenybop61
15. Deanna13
16. karen c.
17. joannie
18. QueenBee89
19. joannie
20. Retiree3
21. MTCanuk
22. Amy Jo