Lots of great entires this month! Sorry I didn't get to comment on most of them, but I did enjoy looking through them.  And the winner is... 
Laura K
!
I'll get your GC out soon.
This month we are being inspired by my wedding china: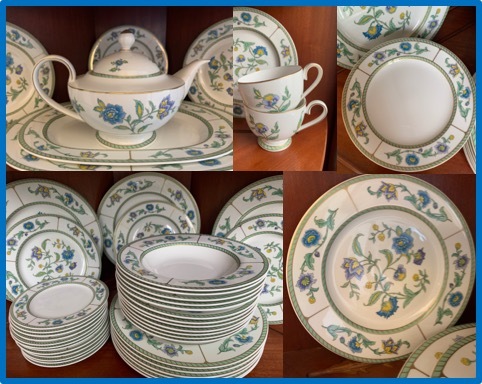 This China is from Villeroy and Boch (my favorite company) and was discontinued soon after our wedding. My mom completed the set by getting me the beautiful teapot shown here. I used the China a lot at first, but then stopped after it got discontinued. I have never used that teapot. I keep the collection on display in my china cabinet. 
From this inspiration, we have 3 challenges:
Option 1: Be inspired by the teapot. Specially I want to see a layout or card about tea or teapots and there must be an image of a teapot somewhere on it (it can be on your patterned paper, on an embellishment, or in a photograph).
Here is my example for option 1, you can see a teapot in one of the photos: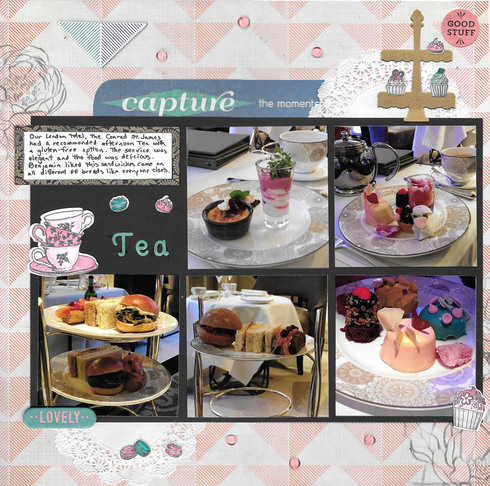 Option 2: Be inspired by the colors in my China pattern. The background is bone china (not bright white), the flowers are blue, yellow, and purple, the leaves and the trim are green, and there is gold but not gold leaf, just gold color. Create a card, layout, or other project using all of these colors and not really any others (except black for sentiment or journaling).
Option 3: Be inspired by the fact that I am hoarding this China collection and not using it. I want you to break into your hoarded stash and use something that you have purchased a good amount of a collection a while ago and not used it. Use it to make a layout, card or other project, and make sure the hoarded collection is the majority of products used.
Here is my example for option 3. I bought this Basic Grey South Pacific collection many years ago for a trip to French Polynesia that we never took. Other than one little bit for a card, I have not touched it assuming I would eventually go to French Polynesia. Finally, I decided this is ridiculous and used the collection for 2 layouts from my recent Florida trip, this is the first one: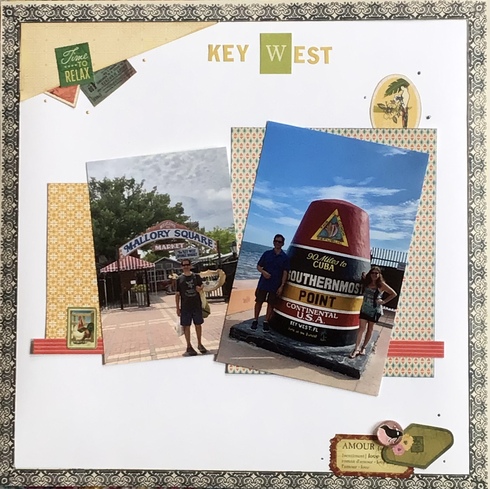 The rules:
1. open to layouts, cards, projects, paper, digital, etc as appropriate for each of the options above
2. Up to 3 entries per person but each entry must be for a different option
3. combining is fine
4. Post to this thread by Sept 30 and I will draw a random winner for a $5 ACOT GC.
Have fun!