Sorry for drawing a bit late. The winner drawn according to random.org is…..
14. Kristin! Congrats! I'll be buying your gift card shortly.
Please let me know when you receive it.
Thanks for playing along, everyone!!
Hey Everyone!
Here are your cut dimensions this month and they must all be patterned paper! You CANNOT add extra patterned paper. I would prefer you use a solid background if possible to let your paper cuts shine.
Can't wait to see what you do with them! You can add anything else as far as embellishing goes.
Remember you cannot cut these any smaller, but you can distress or tear the edges. You can also use a border punch or cut banner pointed ends.
1 x 10 1/2
2 x 8 3/4
3 1/2 x 9 1/2
6 1/4 x 7 1/2
Here's my example...
Photo of my sweet granddaughters Kaylee and Lucy. Whenever they get together they always want to craft and create. (July 2019)
Create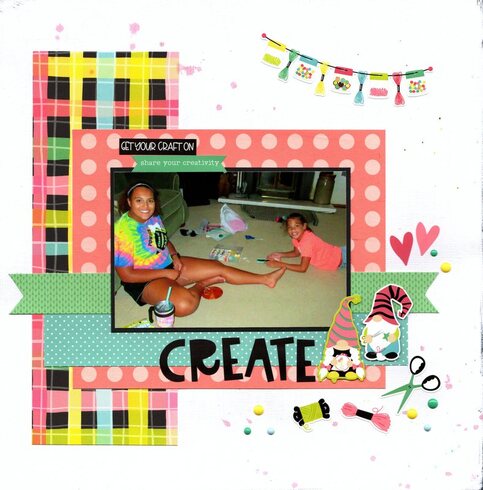 For the fine print....
This can be a paper layout ONLY! All work must be new. You may do this multiple times. You may combine with one other challenge that allows. Please link your work here. Deadline is September 30th. A random winner will be selected for a $5 ACOT gift card from me!
----------
Cherries Participating:
1. Jennifer (love2stamp)
2. Lisa (ScrappyDistractions)
3. Kristen (aheatfan)
4. Kristen (aheatfan)
5. Joyce (JAire)
6. Jamie (Scrapqueen141)
7. Amy Jo (Amy Jo)
8. Wendy (wendycrowe)
9. Louise (traveler)
10. Tammey (Tammey)
11. (QueenBee89)
12. Donna (Donna_Coughlin)
13. Karyn (Karyn_Sue)
14. Kristen (aheatfan)
15. Kristen (aheatfan)
16. Bonnie (blfonty)
17. Amy Jo (Amy Jo)
18. Ann (beachlover)
19. Joannie (joannie)
20. Robin (1scrapdiva)
21. Donna (Retiree3)
22. (QueenBee89)
23. Chris (emmapaige)
24. Sandi (Sandi0805)
25. Sandi (Sandi0805)
26. Joannie (joannie)
27. (Holly Jolly Scraps)
28. Kathy (Yankeegirl)