Using the wheel of names...we have a winner!!CONGRATS Tam!!! Your GC is on it's way!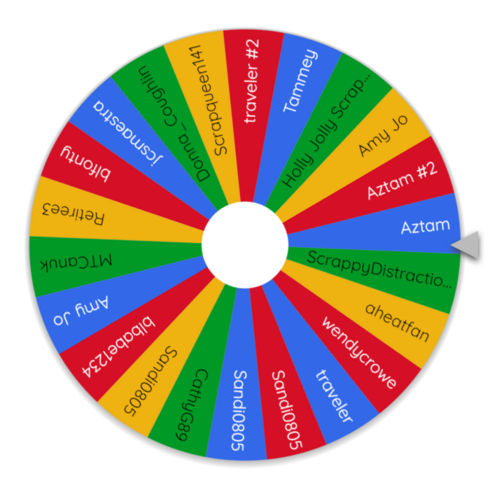 Here are the rules.
*Must Choose 5 items from the list below. Please list the items when you post your project. Please point it out if it's hard to see.
* Please don't combine an item with another item on the list...for instance don't use chipboard from Fancy Pants and try to count it for 2 things. Either count it for chipboard or Fancy Pants. 
* 3 entries only per month
* You may combine with one monthly challenge.
* 2 page layout counts as 1 entry
* You may enter layouts and cards. 
* Due Date: LAST DAY OF THE MONTH,11:59 PM EST
*There will be a random drawing from all participants who have completed the challenge correctly for a $5 ACOT GC.
This month we are using a list of my OLD STASH. 
Basic Grey
Junkitz
Making Memories
October Afternoon
SEI
brads
button
cork
eyelets
felt
fibers (not twine)
flat sticker 3+
flowers(3D)
jump rings
library pocket
metal charm
mini brads
mini envelope
naked chipboard
paper clip
photo corner
photo slide
ribbon
ribbon slide/buckle
rotary stamp
scrabble tile alphas
wire
zipper
PARTICIPATING CHERRIES:

traveler
wendycrowe
aheatfan
ScrappyDistractions
Aztam

Aztam #2
Amy Jo
Holly Jolly Scraps
Tammey
traveler #2

Scrapqueen141
Donna_Coughlin
jcsmaestra
blfonty
Retiree3

MTCanuk
Amy Jo
blbabe1234
Sandi0805
CathyG89

Sandi0805
Sandi0805