OMGosh...you ladies rocked this challenge. Since there are 25 original entries I am giving 2 gift cards this month.
Per random.org this months winners are
# 14 Donna_Coughlin/Donna
and
# 34 Amy Jo/Amy Jo
...Congrats ladies I will send your gift cards asap.
Each month depending on my mood is what the challenge will be. It could be a recipe challenge, quote challenge, technique challenge, movie inspiration challenge, etc... I might run the same challenge for more than a month or change it up(the mood thing again). lol
This months mood is happy, sunshine and rainbows happy. For this month I want you to create a happy layout. It can be about anything as long as it is something you consider happy.
BONUS... use a sunshine
or
a rainbow on your layout for a bonus entry.
BONUS... use both a sunshine
and
a rainbow for 2 bonus entries. 
Please if you do a bonus let me know that you did.
Example using a sunshine and a rainbow.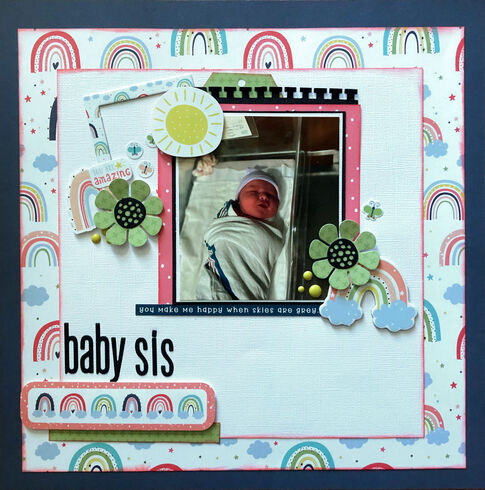 For the fine print....
This can be a paper or digital layout, pocket page, or card.
All work must be new. 
One entry per Cherry
.
You may combine with one other challenge that allows that.
Please link your work here. Deadline is September 30, 2021.
A random winner will be selected for a $5 ACOT gift card from me!
***Please remember only one entry per cherry. I want to keep it fair for all the entrants. ***
Any questions or if I forgot anything please ask or tell me.
PARTICIPATING CHERRIES
1. love2stamp/Jennifer
2. beachlover/Ann
3. LisanTexas/
4. LisanTexas/ bonus
5. Deanna13/Deanna
6. Deanna13/Deanna bonus
7. Deanna13/Deanna bonus
8. ScrappyDistractions/Lisa
9. ScrappyDistractions/Lisa bonus
10. ScrappyDistractions/Lisa bonus
11. aheatfan/Kristin
12. aheatfan/Kristin bonus
13. aheatfan/Kristin bonus
14. Donna_Coughlin/Donna
15. Donna_Coughlin/Donna bonus
16. Donna_Coughlin/Donna bonus
17. Aztam/Tam
18. Aztam/Tam bonus
19. wendycrowe/Wendy
20. wendycrowe/Wendy bonus
21. blbabe1234/Brandy
22. Art_Teacher/Laura
23. blfonty/Bonnie
24. blfonty/Bonnie bonus
25. jcmaestra/Mary
26. jcmaestra/Mary bonus
27. jcmaestra/Mary bonus
28. scrappinmom99/Anne-Marie
29. scrappinmom99/Anne-Marie bonus
30. MTCanuk/Leslie
31. MTCanuk/Leslie bonus
32. Karyn_Sue/Karyn Sue
33. Karyn_Sue/Karyn_Sue bonus
34. Amy Jo/Amy Jo
35. Amy Jo/Amy Jo bonus
36. Amy Jo/Amy Jo bonus
37. traveler/Louise
38. traveler/Louise bonus
39. traveler/Louise bonus
40. Jolly Holly Scraps/Holly
41. Jolly Holly Scraps/Holly bonus
42. Florac74/
43. Florac74/       bonus
44. karen c./Karen
45. karen c./Karen bonus
46. karen c./Karen bonus
47. joannie/Joannie 
48. joannie/Joannie  bonus
49. GinniG/Ginni
50. emmapaige/Chris
51. emmapaige/Chris  bonus
52. emmapaige/Chris  bonus
53. shoorn/Susan