Via Random.org, Congrats to 6. QueenBee89!! QueenBee89, a gc is headed your way!
*******************************************************************************************************************
Good morning everyone!
For this month,it's all about food! My girls all love to eat. They love eating Breakfast and then getting snacks later on during the day. 
My example is of Miss Penny Lane trying out some new dry food, courtesy of Ollie - the homemade doggie food she's been on for about 3 years.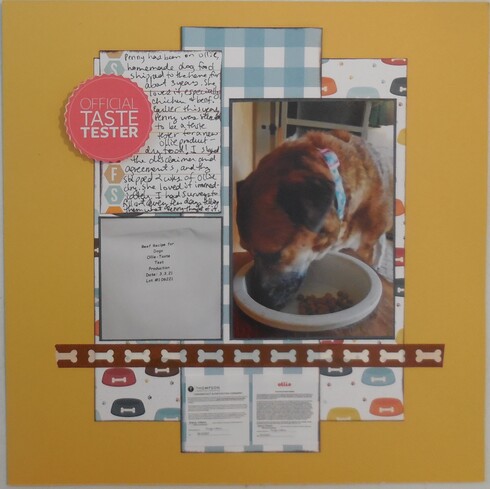 Journaling: Penny has been on Ollie, homemade fresh dog food shipped to the home, for about 3 years. She loves it, especially the chicken and beef mixes. Earlier this year, Penny was selected to be a taste tester for a new Ollie product - dry food! I signed the disclaimer and agreement, and they shipped 2 weeks of Ollie dry. She loved it immediately. I had surveys to fill out every few days telling them what Penny though of it.
Here's a few rules:
1. Scrap your furbabies enjoying food - whether its meal time or snack time. 
2. Paper and Digital layouts are acceptable.
3. Must post here by 
September 30th
 at 11:59PM
4. You may combine with one other challenge if they allow it
5. You may do this challenge up to THREE times
6. One random winner will receive a $5 gc to ACOT
If you have any questions, please PM me.
Have fun!
Participating Cherries:
1. aheatFan/Kristen
2. seastar/Karen C
3. joannie/Joannie
4. Amy Jo/Amy Jo
5. beachlover/Ann
6. QueenBee89/QueenBee89
7. Sherelm/Sher
8. tmp718/Tammey
9. CynthiaB/Cynthia
10.