WOW...just...WOW!  You all did a great job with this title list.  Thank you so much for playing along and getting some pages done.
The Wheel of Names has selected joannie as the winner!  Congratulations, Joannie
Welcome to the September TITLE Challenge  
For this month, your challenge is to use one of the titles in the below list as I am still not scrapbooking so have no example!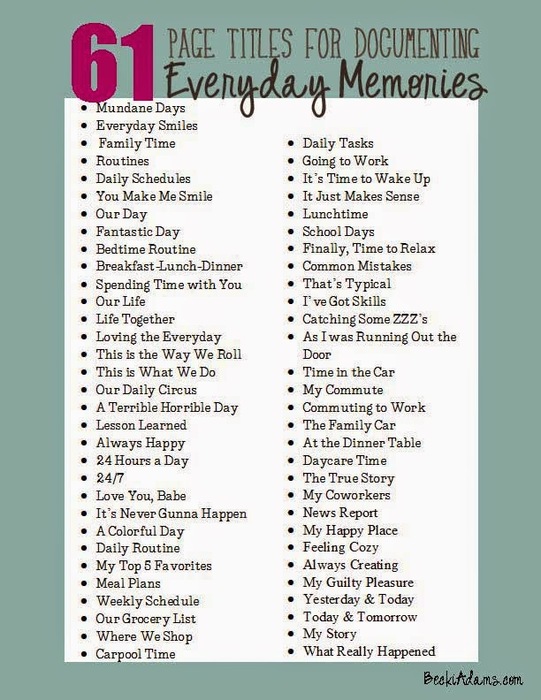 Here are the rules:
1) Create a new project/layout including a title from the list. You are free to use whatever TITLE you want 
  Oh, and you can do this as many times as you like but cannot use the same title twice.
2) Post your creation here (Please post a photo from the gallery, link it if you want) 
3) ONE ENTRY PER PERSON.  You can, however combine this with one other challenge that allows it. Be sure to list the other challenge in your post  
6) Participants will be listed and then entered into 
THE WHEEL OF NAMES
, scrambled, spun, and just like that, we have a winner!
7) Due by midnight on the last day of the month.
Participants:
wendycrowe
ScrappyDistractions
Donna_Coughlin
Scrapqueen141
blbabe1234
Amy Jo
Tammey
emmapaige
Jolly Holly Scraps
karen c.
Linda S.
joannie
aheatfan
Deanna13
MTCanuk
VickiR
1scrapdiva
GinniG
Sandi0805
Sandi0805
Sandi0805
Florac74
QueenBee89
Sandi0805
Sandi0805
Sandi0805
Sandi0805
Amy Jo
Retiree3
blfonty
Yankeegirl
sherriscraps