---
So sorry about the delay in posting the winner!!!  Crazy life.  But better late than never.  Thanks to those who participated and I am glad that it inspired so many beautiful heartfelt layouts!  And our winner is Florac74!  I'll be getting your gift certificate right out!!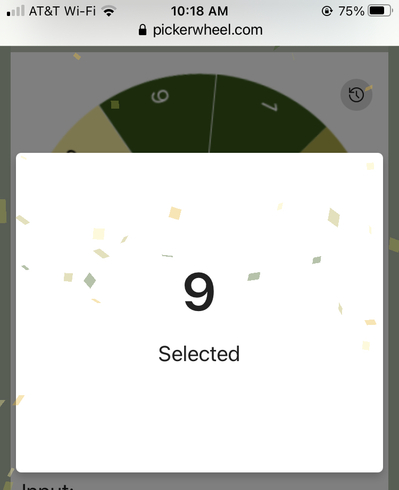 Greetings cherries!
Firsts I want to shout out to all the cherries in the areas of our country hard hit by either Hurricane IDA or the COVID pandemic. I hope you are all doing well and staying safe and healthy!
For this challenge we will be journaling about a major change in your life.  Sometimes we get so caught up in scrapping our children, grandchildren, furry children, holidays and vacations we forget to scrap about the major changes that occur in our own lives.  Things like a new job or retirement, going back to school or graduating, a move to a new area or to a new home, or becoming a mom/foster mom/grandma for the first time (if you just can't get away from those grandkid pics!) And yes, foster can include fostering rescues.
So here's a little background for my example layout:
I'm a nurse and although I am retired from full-time service I still work on a per diem (as needed) basis. Up until the pandemic I worked on the IV team in the hospital but my husband is one of those "severely immune compromised" individuals who just got their 3rd shot. In March 2020 my children were deathly afraid of me continuing to work in the hospital - "after all mom, you're retired" and wanted me to just stay home.  But my husband, who does computer programing and could easily work from home, is not retired yet and I didn't want to.  So, my boss, who is also my friend - (I hosted her baby shower!) - suggested I work on the county COVID hotline that our hospital was staffing and I was "temporarily" assigned to the hotline.  This was a huge change for me requiring many big and small adjustments - and that "temporary" assignment has lasted until the present day and continues to impact my life.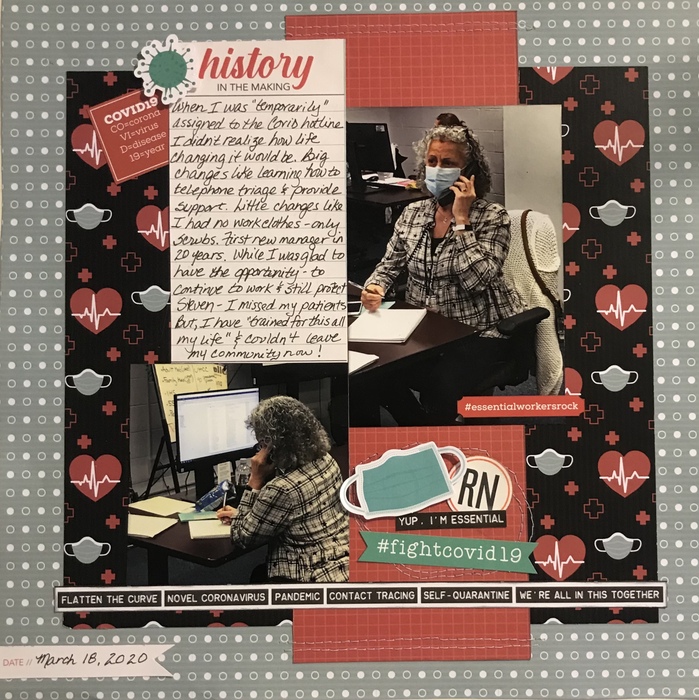 Your challenge is to identify a major life change to journal about.  Because I am doing a chronological pandemic album, I will continue the story of my journey and the many other major changes that occurred as a result (going remote, changing positions) on subsequent pages. But you can elaborate as much or as little as you want as long as you are identifying and addressing a major life changing event.  As with my 5W challenge, you may find a journaling card (like I did in my example) that includes an appropriate prompt.
Fine print (LOL): 
1) Entries must be new single or double page layouts and may be digital or paper. (Sorry, no cards)
2) Journaling MUST identify and address the impact of a major life changing event***
3) May be combined with one other challenge that allows combining.
4) Up to three entries allowed.
5) MOST IMPORTANT: DON'T STRESS! Journaling about ourselves is usually far more challenging than doing layouts of cute kids, adorable pets and happy holidays. But who do we scrapbook for?
***Please PM me with any questions you may have about whether or not something qualifies, but bottom line is if YOU found it life changing then who am I to say it wasn't?
Entries will be due 9/30/21.  
One lucky winner of this Challenge will be chosen at random to receive a $5 ACOT gift card. 
Participating cherries:
1. aheatfan
2. aheatfan
3. QueenBee89
4. QueenBee89
5. aheatfan
6. QueenBee 89
7. CarrieG
8. AmyJo
9. Florac74