This month's winner of the $5 gift card is #8 - Amy Jo! Thanks to everyone who participated this month!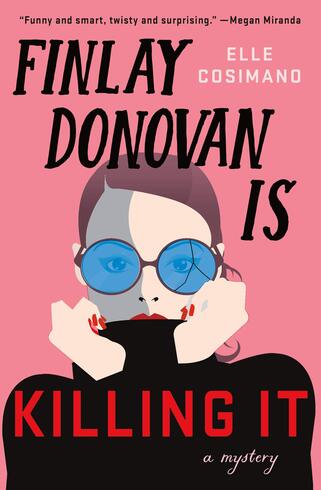 In
Finlay Donovan is Killing It
by Elle Cosimano, the titular character is most definitely not "killing it". She's an author with writer's block who is months behind on the deadline for her new book. She's a divorcée with a stack of unpaid bills she has to rely on her ex-husband to help her pay. She's a mother of two young children she is in danger of losing custody of if she can't get her life together. One day, while meeting with her agent at Panera to discuss the plot of her new book - a romance/murder mystery - Finlay is overheard and mistaken for a contract killer. Before she knows it, Finlay is being hired to "take care of" Harris Mickler, not a nice guy by anyone's standards, and as she falls deeper into the role of hit woman, she finds herself mixed up with the Russian mafia, in the middle of a love triangle, and surrounded by more money than she's ever seen in her entire life. But, things take a turn for the strange when Finlay sees her ex-husband's fiancé get into a car with the Russian mob boss. What are they doing together? And how can Finlay get out of this mess she's accidentally gotten herself into? 
OPTION 1: SO PUNNY
I absolutely love the title of this book and its double meaning, referring to Finlay's mistaken identity as a contract killer, and insinuating that she is winning at life. So, for Option 1, you need to channel your inner wordsmith and create a title for your page that includes some kind of wordplay. It doesn't have to be a double meaning, like with Finlay Donovan, but that would certainly count. The subject of the page doesn't matter either, as long as the title is punny!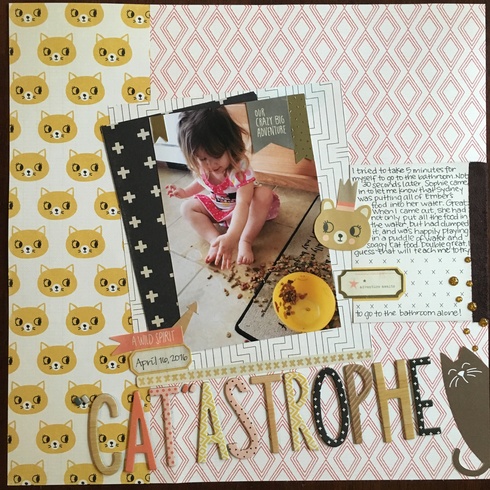 Sample for Option 1: When my daughter was a toddler and she tipped over both the cat's food and water bowls, causing a "cat"astrophe
OPTION 2: TAKE THE BAD WITH THE GOOD
I am a huge (huge, HUGE) believer in scrapping the lows along with the highs, and if Finlay Donovan were a scrapbooker, she could fill an entire album with her life's current lowlights. Therefore, for Option 2, make a scrapbook page of a time when things didn't quite go according to plan.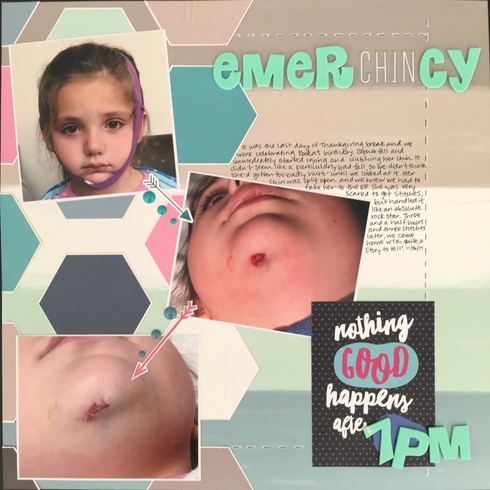 Sample for Option 2: That time my daughter slipped on the hardwood floors and split her chin open. This would also qualify for the Bonus since it incorporates a punny title as well.  : )
This month, you will get a BONUS entry
if you make a layout that incorporates BOTH challenges - it is about a rough patch in life AND has a punny title!
The Fine Print:
1. HAVE FUN MAKING YOUR PROJECT!
2. Entries open to new projects - paper, digital, & card making.
3. May be combined with one other challenge that allows it.
4. Due October 31st, at 11:59 PM.
5. One lucky winner, chosen at random, will receive a $5 ACOT gift card from me!
6. Up to 3 entries permitted per month.
7. A RAK is awarded to a second winner if there are more than 15 unique entries (not including bonuses) during the month.
Participants

:
1. Donna_Coughlin
2. QueenBee89
3. joannie
4. aheatfan
5. Karyn_Sue
6. Karyn_Sue (BONUS)
7. Karyn_Sue
8. Amy Jo
9. Scrapqueen141
10. lissahope26
11. Craftyshannon
12. joannie
13. joannie (BONUS)
14. ScrappyDistractions
15. Amy Jo
16. ScrappyDistractions