And this month's lucky winner chosen by Picker Wheel is #3 - shoorn!!!  Susan - congrats and I'm off to get your GC!  Hope to see you all again in November!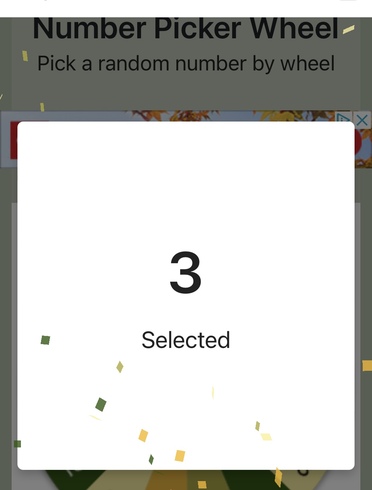 Greetings cheeries!
For this challenge we will be journaling in multiple blocks or spaces, rather than just one.  Sometimes, we find that we want to journal about each picture individually, so we want to include a comment under, or near, each one,  Other times, we have more to say than will fit neatly in just one spot, so we need to break it up and spread it out a little. Sometimes we feel it adds interest to our page(s) to break up our journaling  Or, as in my example,  sometimes we start with one idea, but find that we want or need to say more, so we add on an extra journaling block - or even an extra companion page!
Here's a little background for my example layout:
As I've mentioned before, I am doing an entire scrapbook about COVID-19, and the impact it has had not just on society, but more specifically on my life and the lives of those I love. I knew I wanted to do a layout about pandemic panic buying and the empty shelves I'd photographed during my pre-shutdown visit to the grocery store. I started out just doing a general layout, but I found that I had more to say, and some favorite memes I just HAD to include, so I added a companion page that focused specifically on the "great TP shortage of 2020"; toilet paper hoarding and how rolls of TP came to symbolize 2020,
My original page that I submitted to the BF 244 weekly challenge: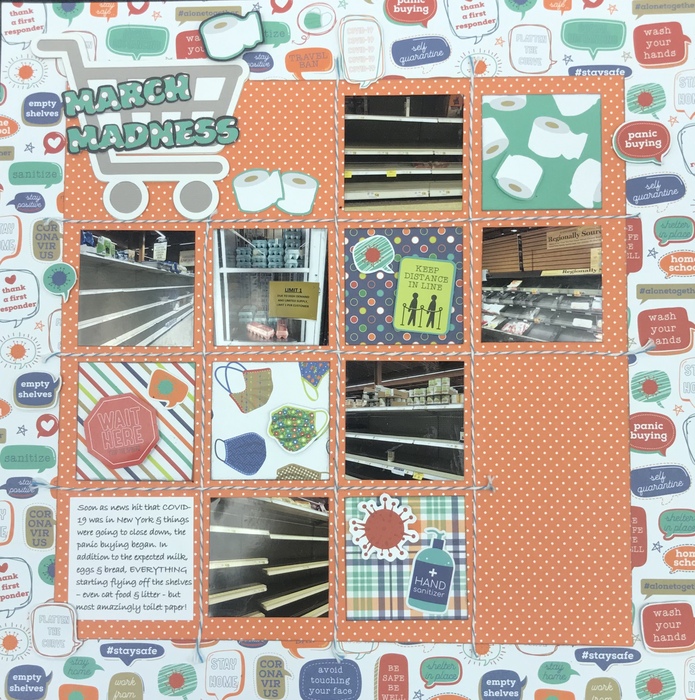 and the companion page it "needed".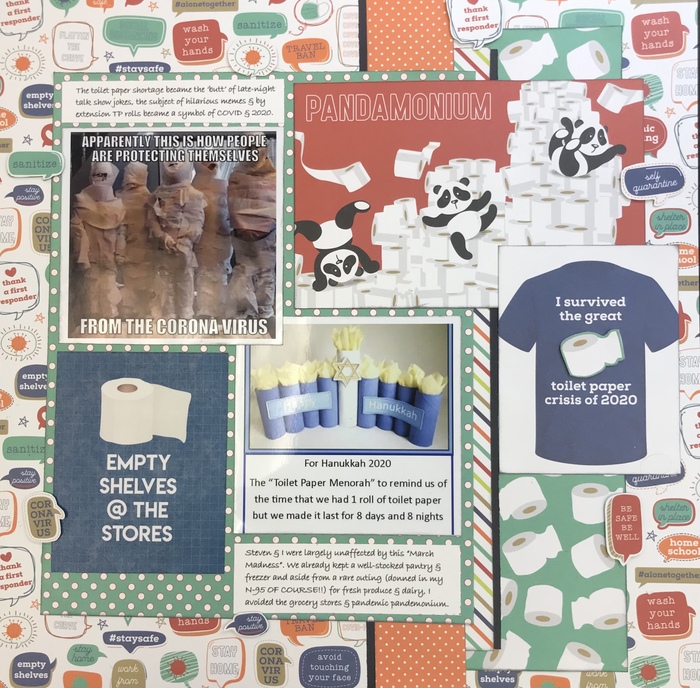 As you can see, each of the 3 blocks continues to document the empty shelves, but with a slightly different focus.
Your challenge is to breakup your journaling into several (at least 2) distinct and separate blocks or areas. You can do this on either a single page layout, or like me, split your journaling between 2 page:  either a double page layout OR a related companion page.
Fine print (LOL): 
1) Entries must be new single or double page layouts and may be digital or paper. (Sorry, no cards)
2) Journaling MUST be broken up into AT LEAST 2 separate journaling boxes, or areas.
3) May be combined with one other challenge that allows combining.
4) Up to three entries allowed.
5) MOST IMPORTANT: HAVE FUN!
Entries will be due 10.31.21
One lucky winner of this Challenge will be chosen at random to receive a $5 ACOT gift card. 
Participating cherries:
1. Scrapqueen141
2. Craftyshannon
3. shoorn
4. shoorn
5. pawprints
6. lissahope26
7. lissahope26
8. JAire
9. aheatfan
10. beachlover
11. lissahope26
12. shoorn
13. aheatfan
14. Amy Jo
15. CathyG89
16. pawprints