Sorry I took so long to draw a winner... and that winner is 
CathyG89
I'll get your GC out soon.
Thanks to everyone who played along.
This month, we are taking inspiration from my every day china which we use for dairy meals. This is the Twist Alea collection from Villeroy and Boch. (Have you figured out that this is my favorite company?). It's a mix and match collection with 3 color schemes for each item. Here are couple of images, you can google the collection to find more: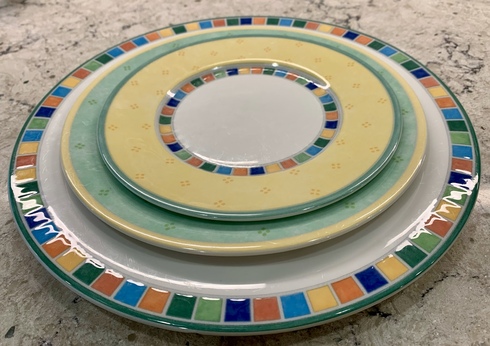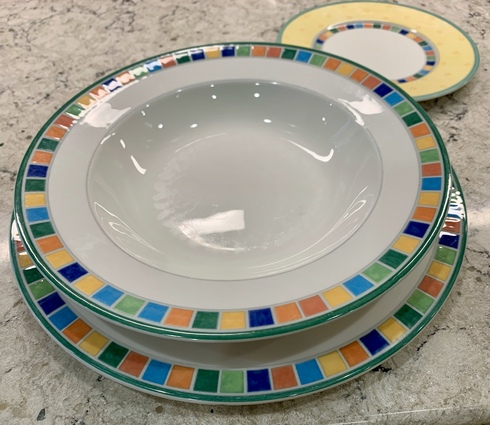 The funny story about this collection is we went to the Canary Islands for vacation a few years ago and the hotel had the same dishes in the restaurant and the lounge. 
This month, there are 3 options for the challenge:
1.Take inspiration from the colors and design on this collection. Let me know what inspired you. This option is open to any type of layouts, cards, tags or other crafts.
2.This collection has each item in 3 different color schemes, just like some paper collections have the same patterned paper in different colors. For this option, create a layout using 3 patterned papers that have the same design in different colors. Include photos of the papers before you used them unless it is really obvious.
3. For this option, create a layout that tells a story about a funny coincidence with someone having the same something as someone else, like my story with the dishes, or 2 people wearing the same dress to an event, etc
Here is my example for option 3, the story about the dishes.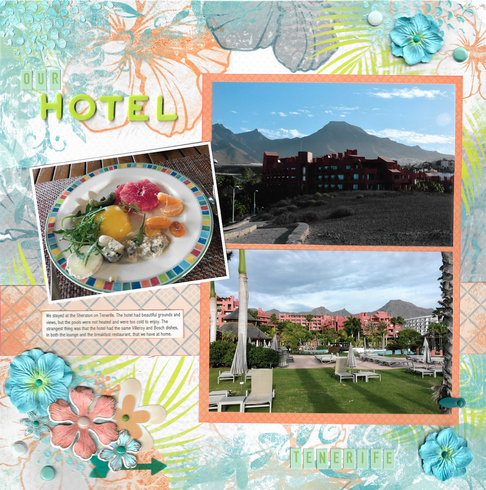 Rules:
1. Since I am posting this so late in October, you have until the end of November to get it done.
2. Up to 3 submissions allowed, but each must be for a different option.
3. Random winner will receive an ACOT $5 GC.
4. Combining is fine. Digital is fine.