********we have ourselves a WINNER********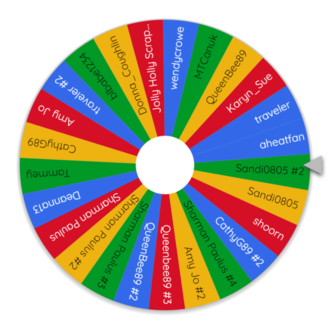 SANDI YOU WON!!!!! I will buy your GC ASAP!!! Thanks everyone for playing along!! 
I thought we would use the 2 lists again this month! 
**** As you can see below there are two lists. The first list is10 supplies that you will need to select 3 to use on your project. The second list is of 10 tools that you will need to select 2 to use on your project & like always you can use anything else.
* Please list the items when you post your project & point it out if it's hard to see.
* Please don't combine an item with another item on the list...for instance don't use frame from Fancy Pants and try to count it for 2 things. Either count it for frame or Fancy Pants. 
*
NO LIMIT
of entries 
* You may combine with one monthly challenge.
* 2 page layout counts as 1 entry
* You may enter layouts and cards. 
* Due Date: LAST DAY OF THE MONTH,11:59 PM EST
*There will be a random drawing from all participants who have completed the challenge correctly for a $5 ACOT GC.
List one: supplies (choose 3)
tab
glitter paper
frame
bling dots
stars 3+
Fancy Pants
doily
ephemera 3+
texture paste
paint
List two: tools (choose 2)
label maker (Dymo)
pen/doodling
Fuse tool
Ink applicator/blender brush
circle cutter
border edge punch
die cut machine
heat gun
score board
fringe scissors
PARTICIPATING CHERRIES:


traveler
Karyn_Sue
QueenBee89
MTCanuk
wendycrowe

Jolly Holly Scraps
Donna_Coughlin
blbabe1234
traveler #2
Amy Jo

CathyG89
Tammey
Deanna13
Sharman Paulus 
Sharman Paulus #2

Sharman Paulus #3
QueenBee89 #2
Queenbee89 #3
Amy Jo #2
Sharman Paulus #4

CathyG89 #2
shoorn
Sandi0805
Sandi0805 #2
aheatfan