**The winner of this month's $5 gift card is #10 - Donna_Coughlin!
**The winner of this month's RAK is #12 - Tammey!

Thank you to everyone for participating!

In Nine Perfect Strangers by Liane Moriarty, nine people come to Tranquillum House for a 10-day restorative health retreat. Some are here to lose weight, some are here for couples counseling, some are here to forget the past, and some are here to try to guarantee themselves a better future. When the mysterious director of Tranquillum House, Masha, begins using alternative methods of healing, and pushes the guests out of their comfort zones, they go along with it for the promise of a "complete transformation" at the end of their 10-day stay. However, when Masha's practices cross the line between experimental and dangerous, how far will these nine strangers be willing to go in order to guarantee the transformation they so desperately seek?

(This book has been made into a Hulu series starring Melissa McCarthy, Bobby Cannavale, and Nicole Kidman. I haven't watched it yet, but I'm excited to, after reading the book!)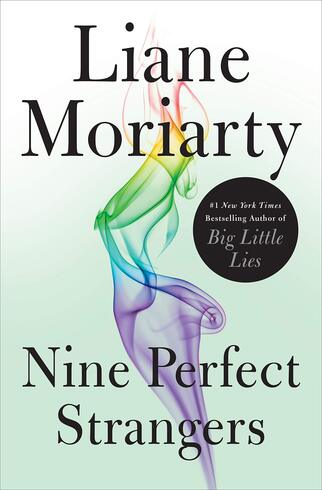 CHOOSE YOUR OWN ADVENTURE
In the book, the nine strangers are very well developed characters, each defined by what makes them different. So, for the challenge this month, choose three of the characters below, and include the elements associated with those people onto your page. (I included Masha, the director of Tranquillum House on the list, because without her, the book doesn't exist).
Frances, the writer

: write at least five sentences of journaling to tell the story of your page




Tony, the athlete

: create a sports themed page




Napoleon, the schoolteacher

: create a school themed page




Heather, the midwife

: include at least one photo of a baby who is less than one year old




Zoe, the teenager

: include an embellishment of at least one of the following images: a phone, a car, a TV, clothes, BFFs/friends




Jessica, the social media influencer

: ALL the photos on your page (whether you have one or two or five) must be selfies




Ben, the sports car afficionado

: include the color yellow on 50% or more of your page (In the book, Ben drives a yellow Lamborghini.)




Carmel, the mom who just needs some rest

: include photos of people sleeping or embellishments related to sleep




Lars, the lawyer with a model's good looks

: choose one of the following: all the photos on your page must show people who are dressed up for a formal occasion OR you must include "blingy" embellishments such as gems, pearls, or sequins.




Masha, the enigmatic leader

: use a solid-colored neutral cardstock (white, black, gray, tan, brown) as your background paper (In the book, Masha only wears white.)



*When posting your layout, please indicate which three characters you've chosen to represent on your page. Thank you!*
*Sample page to come*
The Fine Print:
1. HAVE FUN MAKING YOUR PROJECT!
2. Entries open to new projects - paper, digital, & card making.
3. May be combined with one other challenge that allows it.
4. Due November 30th, at 11:59 PM.
5. One lucky winner, chosen at random, will receive a $5 ACOT gift card from me!
6. Up to 3 entries permitted per month.
7. A RAK is awarded to a second winner if there are more than 15 unique entries (not including bonuses) during the month.
Participants:
1. shoorn
2. QueenBee89
3. MTCanuk
4. joannie
5. Amy Jo
6. Jolly Holly Scraps
7. joannie
8. QueenBee89
9. lissahope26
10. Donna_Coughlin
11. QueenBee89
12. Tammey
13. joannie
14. scrappinmom99
15. Art_Teacher
16. emmapaige
17. Sandi0805
18. Amy Jo