This challenge is inspired by Ali Edwards' December Daily project.  The goal of her project, and this challenge,  is to encourage people to capture the memories of the days of December.  Whether it's big things like putting up the tree or Christmas morning, or little things like baking cookies or watching snowfall, scrap the moments in your life during December.  
This challenge is open to everyone who makes a layout or journaling page about any memories from a day in December. You don't have to do the whole month, any number of days is fine. 
-
Layouts or journaling pages
are fine.  Each page should have either photos or journaling (ie: shopping list, songs you're listening to, etc) capturing what you were doing/ thinking/ eating
/ listening to/ etc for a day in December
- 
You may enter one page per date of the month
(ie:12-1-21, 12-2-21, etc). Please keep them numbered and in one post. You can post more than one page on any day,  but each one needs to be scrapping a separate date.  
- You don't need to complete or post pages in order. 
-
Can enter up to 31 layouts
- 
Paper or digital
are fine.  
- Any size layout is ok- mini book,  12x12, 6x8, etc
- You do not need to do a separate album,  pages in a regular album are ok.
​​- The month doesn't have to start on Dec 1st. I know Hanukkah starts in November, so Nov 26- Dec 26 is fine too. Or Dec 6- Jan 6 if you want to include Epiphany. Any 31-day period from late Nov to early January.  
-
Combining with one other challenge that allows it is fine
-
Open until 1-31-22
to allow people time to print photos,  complete the layouts,  etc. I know this is a very busy time. 
A $5 gift card will be given following a random drawing of all entries.  The number of entries in the random number generator will be based on how may layouts you post.    So 1-5 layouts = 1 entry,  6-10 layouts = 2 entries,  11-15 = 3 entries,  16-20 layouts= 4 entries, 21-25 layouts = 5 entries,  26-30 layouts = 6 entries,  and 31 layouts = 7 entries.  
I'm so excited to see all of your December memories! The Title page for my book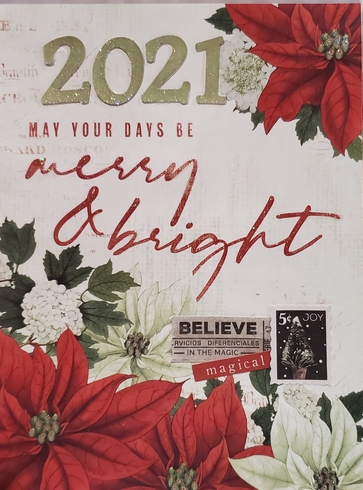 added example: