So sorry for the delay this month! The winner of the December gift card is #26 - traveler! And, the winner of the RAK is #32 - beachlover! Thank you to everyone who participated this month!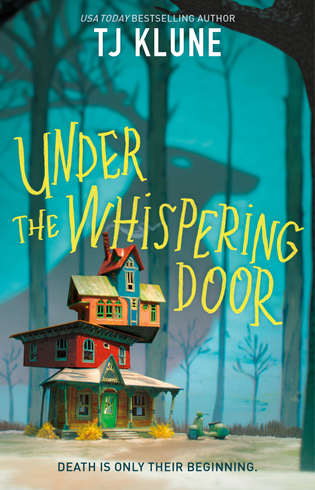 In
Under the Whispering Door
, TJ Klune has taken all the worst parts of our favorite misers, like The Grinch and Ebenezer Scrooge, and put them together to create high-powered lawyer, Wallace Price. Wallace is dead, but is refusing to believe it. When a woman he doesn't recognize appears at his funeral, he assumes she must be a grateful client from his past, come to pay homage, but in reality it is Mei, his reaper. Mei is there to collect Wallace and bring him to Charon's Crossing, a tea shop which doubles as a way station where he will work with Hugo, his ferryman, to come to terms with his death, and prepare himself to pass through the whispering door and into "whatever comes next".
While at Charon's Crossing, Wallace meets wise yet mischievous Nelson, who teaches him everything he needs to know about being a ghost, the dog, Apollo, who helps bring out his softer side, and a wide array of characters who show him all the wonderful – and dark – parts of no longer living. Before he knows it, Wallace has been at Charon's Crossing longer than any ghost who came before him, and he still isn't ready to go through the door because, for the first time in his life, he has finally found a place where he belongs. However, his idling catches the attention of the omniscient Manager, who arrives one night and gives Wallace an ultimatum: he can stay one more week at Charon's Crossing and at the end of the week, if Wallace is not ready to pass through the door, The Manager will force his hand and escort Wallace through the door himself. Thus begins the most important question of Wallace's life, and death: What will he do with the time he has left?
OPTION 1: DEARLY DEPARTED
The core focus of the book is what happens to Wallace after he passes away, therefore, for Option 1, make a tribute page to a loved one who is no longer with us; this can be a person or a pet.
OPTION 2: MEANINGFUL MOMENTS
At Charon's Crossing, everything has significance. From the tea Hugo chooses to serve, to the relationships among its residents, to the rituals Hugo carries out with both the living patrons of his tea shop and the non-living residents of the way station, everything is steeped in meaning. So, for Option 2, choose one of the following that holds meaning for you, and make a page focused on celebrating it and telling the story:
a food and/or drink




a person or pet




a tradition for your family (does not have to be holiday related, but it can be, if you want)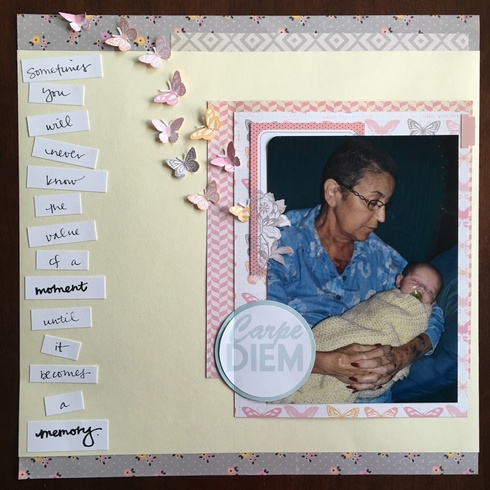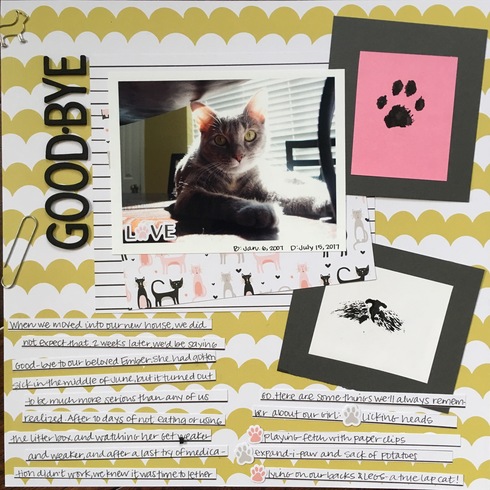 Two samples for Option 1 - person and pet
This month, you'll get a BONUS ENTRY if
, you enter. Simple as that! All entries will get an automatic bonus entry, and if you submit the maximum amount allowed (3), you'll get a BONUS bonus entry on top of all the others! It is the season of giving, after all!
The Fine Print:
1. HAVE FUN MAKING YOUR PROJECT!
2. Entries open to new projects - paper, digital, & card making.
3. May be combined with one other challenge that allows it.
4. Due December 31st, at 11:59 PM.
5. One lucky winner, chosen at random, will receive a $5 ACOT gift card from me!
6. Up to 3 entries permitted per month.
7. A RAK is awarded to a second winner if there are more than 15 unique entries (not including bonuses) during the month.
Participants:
1. aheatfan
2. aheatfan (BONUS)
3. Karyn_Sue
4. Karyn_Sue (BONUS)
5. Amy Jo
6. Amy Jo (BONUS)
7. lissahope26
8. lissahope26 (BONUS)
9. Amy Jo
10. Amy Jo (BONUS)
11. emmapaige
12. emmapaige (BONUS)
13. Scrapqueen141
14. Scrapqueen141 (BONUS)
15. CynthiaB
16. CynthiaB (BONUS)
17. Scrapqueen141
18. Scrapqueen141 (BONUS)
19. wendycrowe
20. wendycrowe (BONUS)
21. Retiree3
22. Retiree3 (BONUS)
23. karen c.
24. karen c. (BONUS)
25. traveler
26. traveler (BONUS)
27. aheatfan
28. aheatfan (BONUS)
29. sherriscraps
30. sherriscraps (BONUS)
31. beachlover
32. beachlover (BONUS)
33. blfonty
34. blfonty (BONUS)