Hi Cherries!
This month your challenge is going to be journaling about a family tradition.  We all have traditions that we follow around holidays, birthdays or even vacations. Your challenge will be to choose one of those family traditions and journal about it.
In my example I have chosen our family traditions when celebrating the Jewish New Year, Rosh Hashana. Even though in our empty nest it's just the two of us now, we still put out my great-grandmother's china for our traditional meal - just like we did when our kids were still home. (The Hebrew word I used as the title is "Masoret" which means tradition.)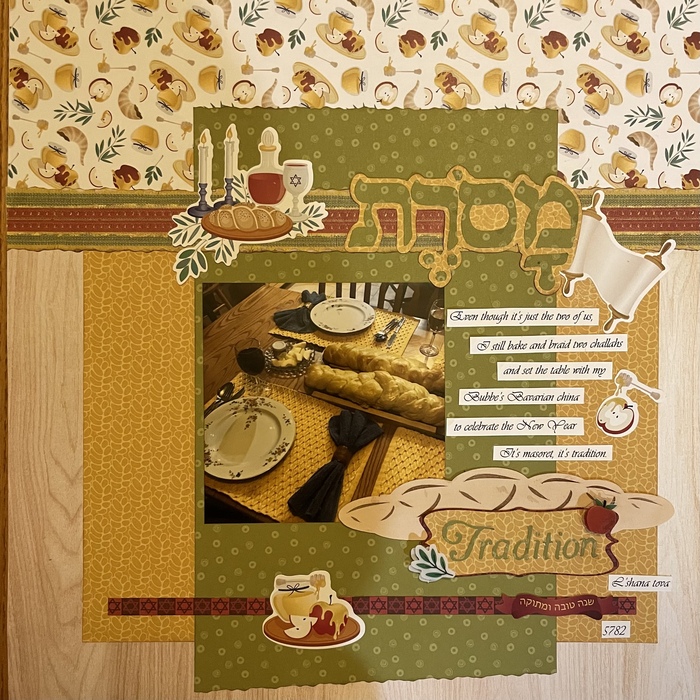 ***I used Deanna's December Sketch with a Twist to create my layout. Her twist is to scrap a holiday - so *hint hint* - combining opportunity!***
Because I will be very busy traveling in both December and January, and expect family for the last couple weeks of the year (grandkid's school vacation), I have extended the deadline until January 31st to complete this challenge.
BONUS opportunity.  Select a non-winter holiday like I did - Rosh Hashana is a late summer/early fall holiday - and you will get a bonus entry. 
Fine print (LOL): 
1) Entries must be new single or double page layouts and may be digital or paper. (Sorry, no cards)
2) Journaling MUST address the family tradition associated with the holiday/birthday/vacation/etc you have chosen to scrap.
3) May be combined with one other challenge that allows combining.
4) Up to three entries allowed.
5) 
BONUS
 entry if you choose a non-winter holiday or other occasion.
6) MOST IMPORTANT: HAVE FUN!
Entries will be due 1.31.22
One lucky winner of this Challenge will be chosen at random to receive a $5 ACOT gift card. 
Participating cherries:
1. Amy Jo
2. Amy Jo (BONUS)
3. Craftyshannon
4. Deanna13
5. traveler
6. shoorn
7. sherriscraps
8. Art_Teacher
9. Donna_Coughlin
10. Craftyshannnon
11. Cynthia Corbett
12. QueenBee89