This month's winner of the $5 gift card is: #14 - Jolly Holly Scraps
This month's winner of the RAK is: #10 - QueenBee89

Thanks to everyone who participated!

Happy New Year! Our first book for this year will actually be released on January 4th. I was lucky enough to get an advanced copy of the book, and I think it's a great one to start with, especially for those who are fans of murder mysteries like I am.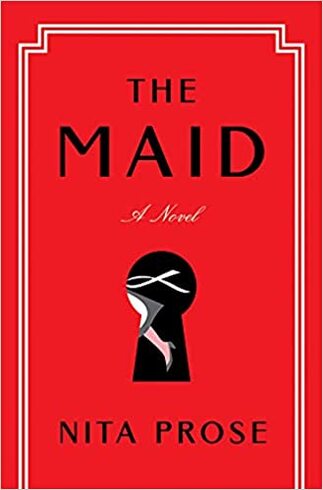 In
The Maid
, by Nita Prose, Molly is dealing with the death of her beloved grandmother, who helped her understand and navigate the world. To comfort herself, Molly sticks to what she knows, and what she knows is being a maid (and the irony of being "Molly Maid" is not lost on her either). In fact, she might be the best maid at the prestigious Regency Grand Hotel. Her attention to detail is second to none, and the list of personal rules of etiquette she follows has made her one of the most popular and best-tipped maids at the hotel. It is for this reason that, on the day Molly finds the infamous and wealthy real estate developer, Charles Black, in a disheveled room and very dead in his bed, Molly decides not to tell the police what she heard and saw in the hours preceding his death. She doesn't talk about (the second) Mrs. Black's uncharacteristically dismissive demeanor or Mr. Black's brusque manner. She doesn't mention the money that was in the safe earlier in the day, but wasn't there at the time she found Mr. Black's body. As a result of her unusual personality, Molly becomes the lead suspect in the investigation into Mr. Black's death and is entangled in a web of deception from which she cannot break free. Thankfully, Molly's "unusual" personality, which has brought upon the detectives' suspicion, has also endeared Molly to many others, and these friends she doesn't even know she has come to her aid to find out the truth about Mr. Black's death and clear Molly's name. Will they be able to find the real killer before it's too late?
OPTION 1: COLORFUL NAMES
Three of the main characters, not coincidentally, have very colorful (or maybe, color-less?) names. There are Charles BLACK, the victim, Molly GRAY, the suspect, and Alexander SNOW, the manager of the illustrious Regency Grand, where Mr. Black's body was discovered. To this end, for Option 1, make a monochromatic layout using ONLY the colors white, black, and gray. All papers, embellishments, and alphas must be from that color palette. The only things that can stray from the color palette are your photos.
OPTION 2: DECEPTIVELY SIMPLE TITLE
For Molly, being a maid is certainly a large part of who she is, however, it is not ALL that she is, and this becomes clearer as the book goes on. So, for Option 2, make a layout with a simple title, in the format of "The _____________", such as "The Game", "The Concert", "The Gift", etc. Then, in the journaling, write at least three sentences to expound upon and explain the title.
The Fine Print:
1. HAVE FUN MAKING YOUR PROJECT!
2. Entries open to new projects - paper, digital, & card making.
3. May be combined with one other challenge that allows it.
4. Due January 31st, at 11:59 PM.
5. One lucky winner, chosen at random, will receive a $5 ACOT gift card from me!
6. Up to 3 entries permitted per month.
7. A RAK is awarded to a second winner if there are more than 15 unique entries (not including bonuses) during the month.
Participants:
1. beachlover
2. Art_Teacher
3. lissahope26
4. traveler
5. aheatfan
6. scrappinmom99
7. Mommyof5
8. Donna_Coughlin
9. Tammey
10. QueenBee89
11. wimom
12. Sharman Paulus .
13. QueenBee89
14. Jolly Holly Scraps
15. shoorn
16. Karyn_Sue
17. QueenBee89
18. blbabe1234
19. wendycrowe
20. Amy Jo
21. scrappinmom99