Thanks so much for participating in my challenge, everyone! It's always great to see what you come up with using the same cut dimensions!

The winner drawn by random.org is.....

19. Tammey (Tammey)



Congrats Tammey! I'll be buying your gift card shortly!
Happy New Year, Everyone!! We just got back from our fantastic 3 months in Florida. Now, in Ohio it is very COLD and RAINY!! 35 now and supposed to drop down in the 20's. brrrrr.......
Here are your cut dimensions this month and they must all be patterned paper! ONLY 3 pieces of Patterned Paper. You CANNOT add extra patterned paper. I would prefer you use a solid background if possible to let your paper cuts shine.
Can't wait to see what you do with them! You can add anything else as far as embellishing goes.
Remember you cannot cut these any smaller, but you can distress or tear the edges. You can also use a border punch or cut banner pointed ends.
1 3/4 x 10 3/4
4 1/2 x 9 1/2
6 x 8
Here's my example...
Photos of grandkids Syndey, Nate, and Evan back to school. (August 2019)
School Days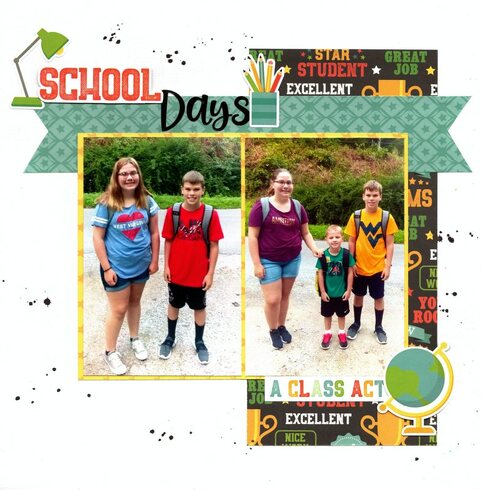 For the fine print....
This can be a paper layout ONLY! All work must be new. You may do this multiple times. You may combine with one other challenge that allows. Please link your work here. Deadline is January 31st. A random winner will be selected for a $5 ACOT gift card from me!
----------
Cherries Participating:
1. Sharman
2. Ann
3. Sharman
4. Ann
5. Mildred
6. Jamie
7. Sharman
8. Melissa
9. Joyce
10. Ann
11. Holly
12. (Mathandlit)
13. Kristin
14. Ann
15. Donna
16. Wendy
17. Ann
18. Ann 
19. Tammey
20. Sharman
21. Joannie
22. Chris
23. Sharman
24. Susan
25. Sharman
26. Ann
27. Kathy
28. Donna C
29. Brandi
30. Loreen
31. Holly
32. Joyce
33. Ann
34. Brandy
35. Amy