I LOVE how y'all took this challenge and ran with it! What fabulous layouts everyone. Via RANDOM.org, the lucky cherry is #4. MTCanuk/Leslee! Congrats Leslee! I'll be ordering your gc shortly!
Thank you to everyone who participated. WIth NSD, I will be posting my May Pet Challenge mid-month and it will go thru until end of June.
****************************************************************************
Hello everyone! My challenge this month is to scrap your pet, but you CANNOT use any pet-themed products. No cat/dog lines. No paw prints. No animal embellies, etc.
My example is of Jasmine who looks like she is laughing and smiling in the photos. I used Simple Stories - #Whatever and Good Vibes.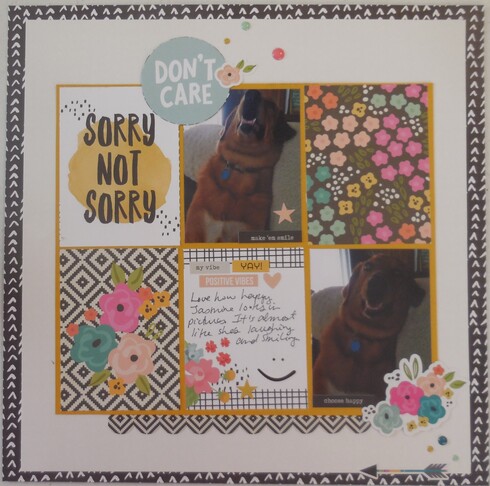 Here are the rules:
1. Scrap those pets using non-pet themed products.
2. Layouts only - paper, digital, hybrid are all acceptable.
3. You may do this challenge up to THREE times.
4. You may combine this with any other challenge, including the Motivational Challenge
5. Post to this thread by April 30, 2022 at 11:59 PM
6. Randomly selected winner will receive a $5 ACOT gc from yours truly.
7. Must have fun!
Participating Cherries:
1. Mommytron/Sandy
2. tmp718/Tammey
3. craftyshannon/Shannon
4. MTCanuk/Leslee
5. WendyCrowe/Wendy
6. Donna_Coughlin/Donna
7. CraftyShannon/Shannon
8. aheatfan/Kristen
9. beachlover/Ann
10. ScrappyRN74
11. JollyHollyScraps/Holly
12. mgehrke/Mildred
13. beachlover/Ann
14. CynthiaB/Cynthia
15. emmapaige/Chris
16. JollyHollyScraps/Holly
17.Cynthiacorbett/Cynthia
18. shoorn/Susan
19. LoreenC/Loreen
20. pawprints/Barb
21. Breauxlabs