Good Morning! Have a great day 
Participants:
57Diana
beachlover
blbabe1234
Flasher
Krystle
mrozwood
love2stamo
pawprints
Retiree3
Scrap Bug
sdwhru    
This Month's games are:
The Clover in each corner.  I don't care which cluster you get first or last.   
It is a run to 4 of 4 in each corner.  Once someone has one corner, the next bingo game is 2 corners, then 3 corners and lastly 4 corners.  Doesn't matter which order they occur... left, right, top, bottom.  If someone has gotten one corner, that bingo is then closed and you need to have two corners complete and so on.  Hope that makes sense.  If not, let me know 
Then of course:
Cover All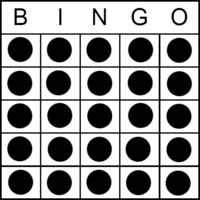 Words for today:
38 Pea
32 hare's foot
11 Clover Creek (WA)
22 Clover, Ohio
14 Clover Equipment Co.
48 The Clover (alliance/political Italy)