Moderators: MamaK321, suslvgeo, 4peasinourpod
Cherry Blossom
Posts: 148
Layouts: 38
Here's mine. I used lyrics from the song "Umbrella"
"Like the sound of silence calling, I hear your voice and suddenly I'm falling..
lost a in a dream." Josh Groban ~When You Say You Love Me~
---
I've had the idea for this layout since right after the retreat last July, but it came together w/this challenge & I had the perfect paper(s)! This was at a spiritual retreat center in southern Indiana and there were beautiful flowers and butterflies on the grounds. My idea with the border paper was to show the praise the Creation is giving... DH didn't get it but I think it turned out really cool!
Journaling on the tag: We often thank God for his Creation but rarely do we think of His Creation as actively praising Him! Scripture says even the rocks will cry out if we are silent; I think they already are!
More lyrics at bottom: "Look down... and be glad that You have made blue for the sky and the color green, that fills these fields with praise." - The Color Green, Rich Mullins
---
Cherry Tart
Posts: 31
Layouts: 5
Location: Southern Illinois
I know you can't see it to well in this picture, but I used the lyrics from 'Butterfly Kisses" by Bob Carlisle. It looks better in the gallery!
---
Cherry Jubilee
Posts: 14438
Layouts: 1886
Here's mine. I'm Gonna Soak Up the Sun by Sheryl Crowe
---
Cherry Berry
Posts: 819
Layouts: 73
I used The Boys of Summer by don Henley: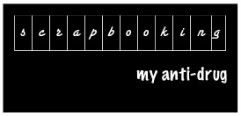 ---
Cherry Delight
Posts: 30075
Layouts: 1322
Location: Central Valley California
sorry I seem to take lousy pictures no matter what the light.
Charleneanne
---
---
Well it took me long enough but I finally got my page done for this challenge done! Yeeesh... how long does it take someone to finish one freakin page lol! I am in awe of all of you that get so much done!!! I am ashamed to say I got one challenge done. One. I'm THAT slow! But here it is at 11:57 pm lol!!
ETA: Oh, I forgot to say that the title is the opening line from Elton John's "Tiny Dancer". I've been wanting to do this page for a long time, so thanks for the push to get it done. Off to go now and add all my kit credits.




---