I sincerely apologize for the delay in announcing the winners.  So without further delay, the winners of the ACOT $10 Gift Certificate are:
jrrah4903
sdwhru
Sandi0805
Kache
sweetsour
ColoradoCropper
CONGRATULATIONS TO ALL THE WINNERS!!!
There were 45 entries in the NSD Dinner Menu Challenge.  We certainly are a hungry bunch of Cherries!!  I have sprinkled points to everyone that participated.  I have forwarded to Kristin the winners chosen by Random Number Generator and once she approves, I will announce the winners and  send out the GCs tomorrow.
THANK YOU ALL FOR JOINING ME IN MY FIRST NSD HOSTESS CHALLENGE.
 Welcome to the Dinner Menu Challenge.  
If you have not picked your dinner choices, please go here   
viewtopic.php?f=348&t=256094
   and pick your choices.    
I've included a couple of "twists" to this challenge to make it a little easier.  EDIT:  You
mus
t use everything on your menu but you are not limited to just those items.   
Twist #1:
Since you are at dinner with a loved one, you may decide you'd rather have what is on someone else's plate.  You may swap ONE (and only one) of your choices.  For instance you ordered the French Fries (Stars) but decided that you liked the Baked Potato (Twine) better, you may switch the stars for the twine.  But please remember you can only swap one of the courses.  Please list your original choice and then your swapped choice.       
Beverage:
Water - Real or Faux Stitching
Wine - Misting or Splatters
Beer – Journaling Strips
Soda - Banner or banner strips
Iced Tea - Decorative Border  
Appetizer:
Buffalo Chicken Wings - Hexagons
Fried Calamari - Diamonds
Stuffed Mushrooms - Circles
Cheese & Crackers - Triangles
Veggies & Dip - Squares  
Main Course:
Rib Eye Steak - Patterned Paper Background
Carbonara Pasta - Cardstock Background
Shrimp and Scallops - Two Patterned Papers Background
Chicken Parmesan   - Two Cardstocks Background
Burger - One Patterned Paper and One Cardstock Background  
Side Dish:
French Fries - Stars
Mac & Cheese - Hearts
Roasted Vegetables - Doily
Baked Potato - Twine
Sweet Potato - Tag  
Salad:
Tossed - Something Green
Cobb - Something Yellow
Caesar - Something Brown
Waldorf - Something Red
Pasta – Something White  
Twist # 2:
Dessert: - Since desserts are such a fun indulgence, I'm asking you to pick your favorite (color, embellishment, paper, etc.) that was not listed on your menu to add to your creation.  Please list your "indulgence" when posting. 
Cake 
Ice Cream
Brownies
Pie
Fruit  
THE RULES:
This challenge will be due by 11:59pm EST on Saturday - May 9th!
Cannot be recycled (old) and cannot be previously displayed/published ANYWHERE
Cannot be entered into multiple challenges (ie: entering same layout in sketch challenge AND another challenge/fast scrap)
Entries must be posted to the corresponding Gallery (Chris's Dinner Menu) to be considered to win - but please feel free to also post directly to the Message Board thread as well.
Open to all types - Traditional Layouts, Digi Layouts, Cards, Projects, Hybrid Layout
Depending on how many entries will determine how many winners. Winner(s) will be selected to win a GC from ACOT!
Here is my example: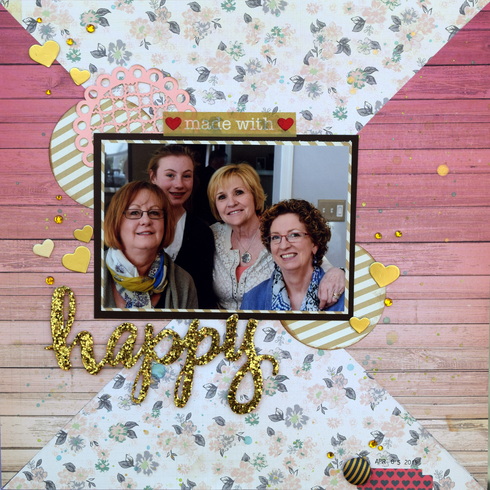 My menu choices were:
Wine - Misting or Splatters
Fried Calamari - Diamonds
Shrimp and Scallops - Two Patterned Papers Background
Roasted Vegetables - Doily
Caesar - Something Brown  
I decided I liked the Stuffed Mushrooms better than the Fried Calamari so I swapped my diamonds for circles.
My dessert indulgence is GOLD!!  So I added lots of gold to my layout.