Great job everybody!  See, digi isn't that scary and hybrid is fun!
  Randomly drawn winner of this one is
pawprints
!  She gets 500 points and everybody else gets some, too.
My other hint was that you needed to be stocked on printer ink.  That is because this is a Hybrid Challenge.  For this challenge, you have to
create a layout and print some of your own embellishments.
  If you don't know how to do this, I did a tutorial long ago and the directions are
here
.  (On a side note...do you ever go to the Ideas tab of the Get Social?  That is where you will find all the tutorials from years past! ) There are tons of free digi elements at various digi sites.  If you don't know any place to get some digi elements, pm me.  Print out your embellies, preferably on cardstock, and cut and glue them to your layout.  For this challenge, you must print
embellishments
, but you can also print journaling and photos, if you like.  Be sure to tell us which elements are digi...sometimes it is hard to tell!  lol
Here are some of my hybrid examples:
On this layout, the photo mat papers, photo turns, and pawprints are all digi and printed and cut out!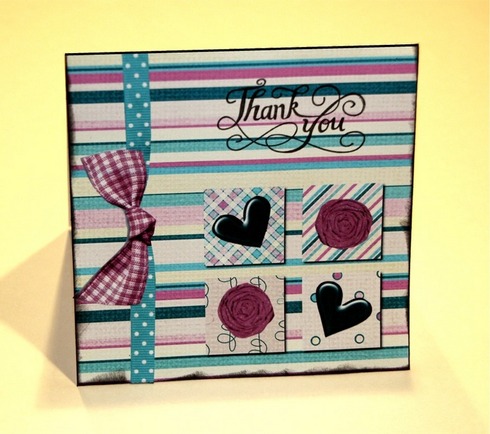 On this card, the embellishment squares, background paper and bow are digi printed, and glued down, with real dotted ribbon and stamping.
Post your layout in the designated gallery spot by midnight, Friday, May 13th to be eligible to win the randomly drawn 500 points.  All participants will receive some points.  Must be a new layout and cannot be combined with any other challenges.