Omg I am in awe of every layout here! You all did such an AMAZING job showcasing  your black & white photos! I am so thrilled to see how you all ran with this and were so creative with your layouts!! Thank you to everyone that participated! And thank you all for the sweet compliments too!

A random winner was chosen to win 1000 points! And that winner is…
emmapaige!!!

Congratulations to Chris!

32 points each to all other participants! I divided up what I had left and wish I could have given you all more! Thank you all so much for participating! 

BTW if I haven't left you love yet I will be getting there. I had to stop to get ready to go to my mom's for Mother's Day, but I will be leaving each and every one of you love!

-----------------------------------------------------------------
Black and white photos can be so beautiful on a layout, yet many times most of us don't give them a thought. I must admit that I myself very rarely use a black and white photo, probably because I am all about color lol. But the few times that I did convert a photo to black and white it was because it was the best way to use a particular photo in my layout. It was either because the colors in the photo were just not right for the layout that I wanted to do, or the colors in the background of the photo made the photo just too busy. One of the best ways to get rid of a "messy" background in a photo is to convert it to black and white. Black and white can also bring a kind of elegance to a photo too. Below are some photos that I had converted to black & white for layouts that I have done. This will give you an idea of how converting to black & white can have a really dramatic effect.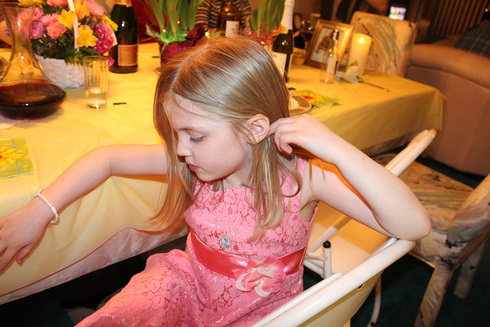 The background on this pic of Maddie has a yellow glow from the light above the table, not to mention a cluttered background from everything on the table. It was such a mellow moment of her that I captured and I wanted to do a layout about it. So I converted it to black & white.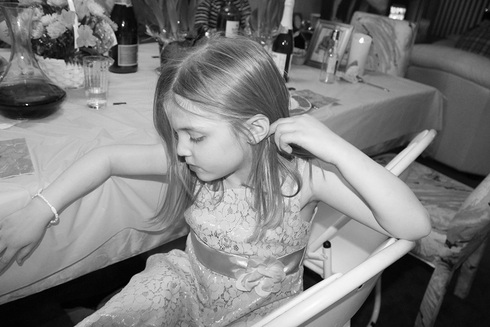 And here is the layout I did with it.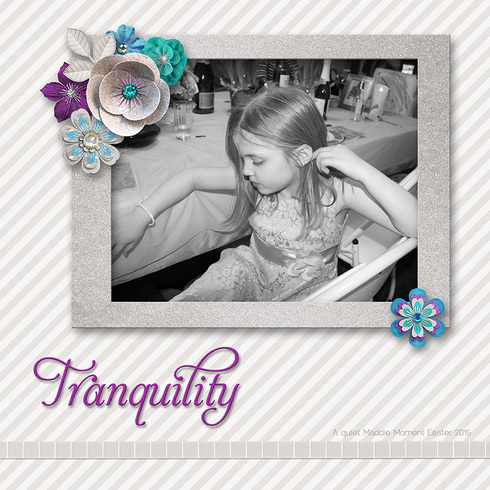 I just love how this came out. The original photo would never have given off this tranquil vibe the way it does in black & white. And I was able to use the colors of my choice as a bonus.
------------------------------------------------------------------------------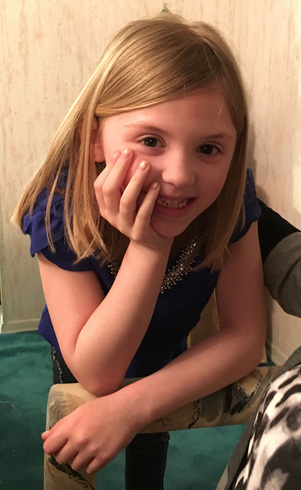 Another pic of Maddie. This was taken on an Easter Sunday and I wanted to use pastels and give the layout a soft Easter/Spring look. The photo didn't present itself for that at all. She had on a dark blue top and the rug at my mom's is a teal color. So I converted it to black and white.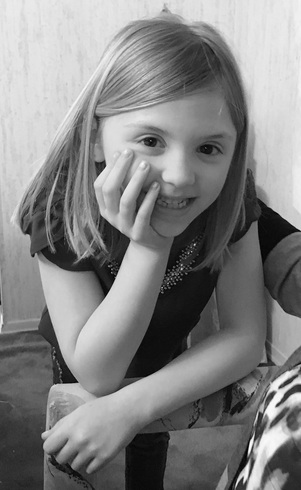 And this is the layout I was able to do with it. The original pic would never have gone as well in this layout.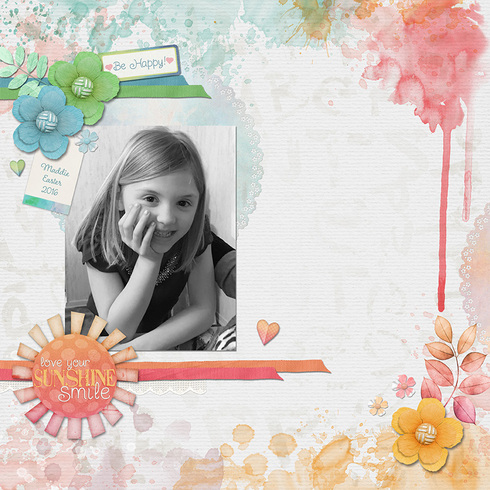 -----------------------------------------------------------------------------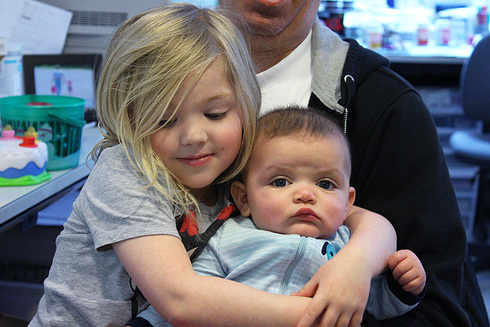 This is an adorable pic I took of Maddie hugging Aiden when he was a baby. They were sitting on dh's lap in the office/scrappy room. There are toys and my scrappy mess in the background lol. I didn't want that to show in the photo, so I converted it to black & white. Then I got the idea to softly remove the background. I didn't have to as the black and white really toned it down, but I wanted it to be just the two of them and to do a blend for this layout, since you really couldn't see dh's face and the black & white makes his chin look like he has a really bad 5'0clock shadow lol.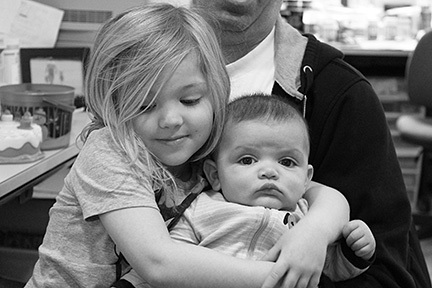 And here is the layout I did with it. I never would have even had the idea for this layout until I converted it to black & white. It showed me all the potential that I had to work with.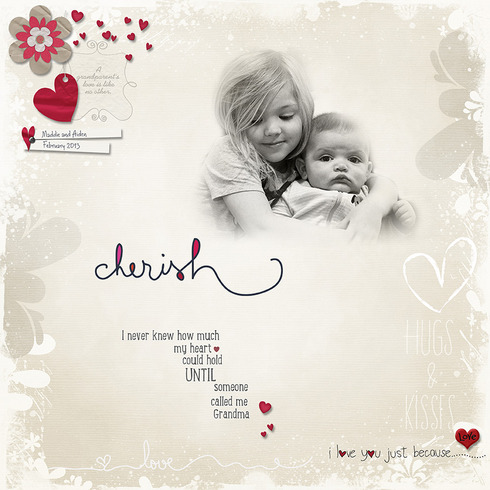 -----------------------------------------------------------------------------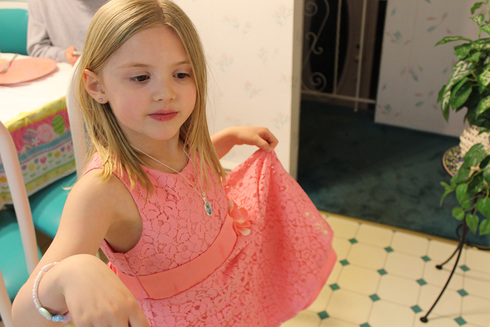 My mom's kitchen has a busy floor that I always hate how it shows up against the subjects in my photos. It just annoys me so much lol. I love this pic of Maddie so much so I converted it to black and white to knock out the harshness of the pattern of the floor and wow I just love how it changes this whole picture.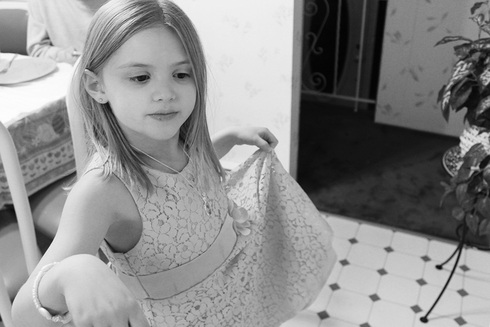 I haven't scrapped this one yet but I can't wait. My choice of papers and colors and even theme are endless here. That would not be the case with the original photo.
----------------------------------------------------------------------------
So my challenge to you is to use a black and white photo on your layout and use any colors you wish on the layout itself. It is ok to use a sepia tone photo if you want, and it is also ok if you use more than one photo if you want. The idea is to be able to showcase your photo (or photos) in any way you want without being limited to what the photo looks like in it's color state. Enjoy the freedom to scrap that photo using any color palette that you want!
Due by Midnight on Saturday May 12th Eastern Time.
Must be a new layout.
No combining allowed.
***** IMPORTANT *****
Must be posted to the NSD 2018 Celebration Gallery to be eligible, but please also post your entry to my Black & White Challenge Gallery so that I can keep track of all my participants. Thank you. And please post them to this thread to for us all to see!
Save
Save
Save
Save
Save
Save
Save
Save