You may have noticed there was a small movie released last weekend.  Hubs and I got to check it out last Saturday.  We are both Marvel fans and were super excited about Endgame!  So for this "Avengers" challenge, you will need to choose your TEAM LEADER (color scheme) listed below.  Then you will need to choose your team members.
TEAM LEADER (Choose 1):
*Iron Man
*Thor
*Hulk
*Captain America
*Captain Marvel
*Thanos
You do not need to use all of your team leader's colors but you should use at least two.  Please indicate on your entry in this thread who your leader is and what team members you chose.  You should be able to clearly see your team leader's colors.  Your entry does not have to be Marvel related.  Any topic is acceptable. 
Choose your TEAM (Must have at least 5):
1. Hawkeye/Ronin- Arrows (any kind)
2. Nebula-Patchwork design on your entry
3. Spiderman- Use black or black and white twine
4. Rocket-any animal embellishment
5. Groot-wood embellishments
6. Valkyrie- use a punch or punches
7. Pepper Potts-scrap about a strong woman you know
8. Ant Man-use sequins or enamel dots
9. Doctor Strange-3 or more circles
10. Falcon-Use 3 or more stickers
11. Bucky Barnes/Winter Soldier-scraplift someone from the gallery (please show who you lifted with your entry)
12. Black Panther- Use stamping with BLACK ink only
13. War Machine- Use a sketch
14. Star Lord- Use stars (any)
15. Wasp-small title
16. Black Widow/Natasha- Use one photo
Here is my example:  My team leader is IRON MAN.  I chose  Spiderman (black twine), Valkyrie (circle punch), Doctor Strange (circles), Black Panther (stamping with black ink), and Black Widow (one photo).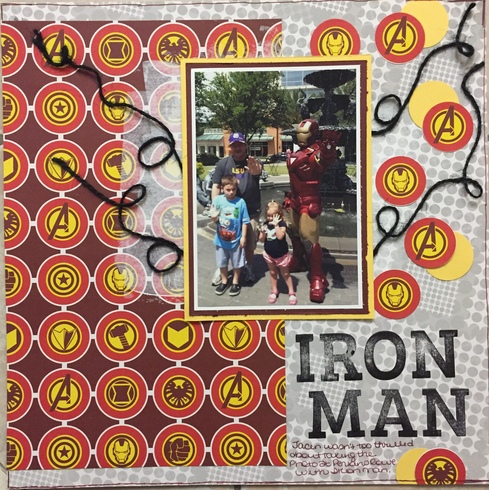 Rules:
One entry per Cherry please.  No combining with any other challenges.  The deadline to enter is May 10th 11:59pm.  Please enter your entry here on this thread and on the iNSD gallery spot.  New entries only please.  Since this is pretty big challenge, random winner will receive 1,000 points.  Sprinkles to other random participants.  I can't wait to see what you create, whatever it takes!
**Bonus entry if you use ALL of your team leader's colors!!!
Participants:
mrozwood
Jan G
Krazsparkle
scrappinmom99
jrrah4903
jrrah4903 bonus
monroe1218
retiree3
stateless