Hey cherries!  I was chatting with Melissa recently....aka lissahope26....about the title for my page Awesome Memories.  She wanted to know where I got the cut file, but I actually made it myself in Cricut Design Space.  The outlined letter look is super popular right now, and I love how it looks with patterned papers backing each letter.  I thought I'd share with all you cherries that have Design Space how I made my titles, and the best part......it's FREE!  I don't subscribe to Access, and I didn't have to pay for the font, it's in Design Space and is called Cricut Outline.
Once I had my word typed using the Cricut Outline font, I ungrouped the letters & scooted them next to each other so that it looked like all one piece.  Then I used the attach tool, then weld.  This made my title all one piece so it would cut that way rather than individual letters.  Here are a couple pages recently using this font for my titles: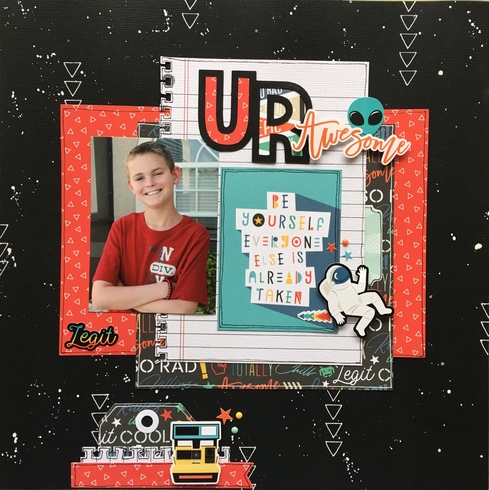 On the word "Awesome" my last E did have to cut separately, and the "Memories" is a metal die. I know there are alot of cut files out there available for purchase, but I really enjoyed making mine own for free!