We are going to move to different house when Benjamin goes to college (in 2 years). However, we are starting to spend time there now and I would like to be able to do crafts there sooner. I have enough stash and tools that I can probably move half of it there and leave half of it here for the next 2 years. (Actually I would like to recycle or donate a good fraction of it, but that's a separate discussion).
Right now I have a small room which has 2 desks, one is more of a table that I use for paper-crafting, the other is an old computer desk that I use with a desktop computer and printer/scanner. I use this desk for all my personal "business" not just crafting. My storage is mostly those scrapbook cubes from the big chain store which is in a closet, and 2 clear over-door shoe bags hanging from the closet doors. The new room does not have a closet and these items have been with me a long time and are not moving again. 
So, here is the new room: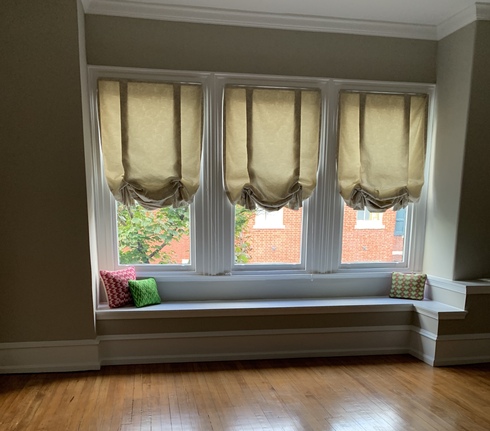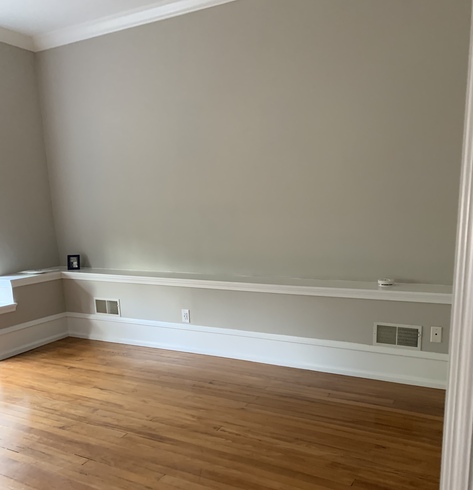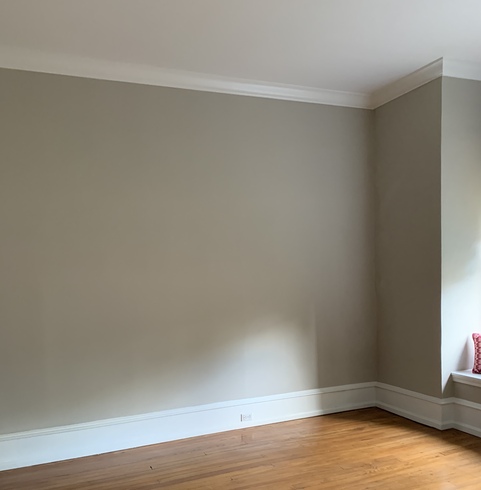 The room is about 14'x16'. As you can see there is a window seat under one window and another wall has a ledge which is a little higher than the window seat.  That only leaves me 2 walls that I can place things against. The wall that isn't shown has a door in the corner and that is it. 
I would like to decorate with white furniture to match the trim but the things that I will eventually bring are back, so I can do all black or black and white. 
In 2 years, I will move this table which is about 6'x3' and has no storage: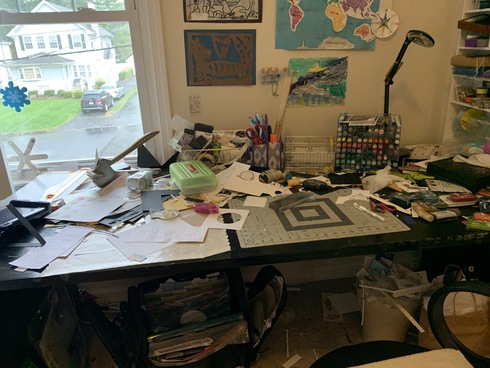 I will also move this "ladder" bookcase which has nice big shelves and holds my massive photo printer: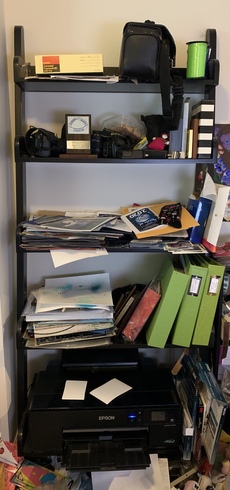 I also have a rocking chair that I hope to put in there (if it doesn't get claimed for some other room, it's pretty comfortable). 
Other than some bins and baskets, pretty much everything else that I currently have is particle board or other cheap junk and will not be moving. 
In the short term, I need storage solutions for all types of scrapbook stuff. I also need a desk where I can do crafting. I like the idea of this desk from pottery barn 
https://www.potterybarn.com/products/be ... 0table%7C3
but I'm not sure how the white will look with the other black furniture. 
I was hoping to purchase another big black ladder bookcase but it may have been discontinued. 
My husband has specifically instructed me to ask all of you for suggestions for storage. I also would be interested in desk suggestions. The goal is to have everything in the future house look neat and not cluttered like our current house. 
Thanks in advance and feel free to ask questions if any of this in unclear.