Good morning cherries! It's a cold and crisp day here, waking up to 33. We're expected to warm up to 75 though. LOL. At least our winds finally died down and the sun is out and shining! My client and her staff have the day off, so if I choose to work, I can get alot of stuff done. Last Thursday and Friday, I didn't hear a peep out of anyone. Thursday I finished the feature I started on Wednesday, and did a few more things, including what I was planning on working on Friday. Then on Friday, I ended up doing what I was planning on working on today. But tomorrow will be crazy busy with the PD in the Valley taking over officially for Corpus and Laredo. So maybe a day off today is what I need. I already needed some rest, as I slept in this morning by 2 hours. Felt great!
With everybody out of the office today, as soon as I get dressed, I'll be running some errands. PetCo to get the girls their hip/joint supplements and a few treats. For Christmas, they received some treats from a friend of mine. Brands that they normally don't eat. One, they LOVE them and two, inside the treats were coupons for MORE treats. So I'm planning on using those coupons. Then I'll head into town to Zales to get my rings cleaned. When DH bought my engagement ring back in 2005, they offered a Lifetime Warranty on it. Every 6 months, I have to take it in to get it inspected and cleaned, and if anything is wrong with it, like a diamond is lose, or something, they replace it. No questions asked. Same thing if it ever got stolen. My wedding ring is also covered too. It used to be every November and May, but due to COVID, back in 2020, they weren't doing inspections until January 2021. So my ring timeline got moved to January and July.
Yesterday I managed to get 3 layouts done for the Winter Crop. Can't wait to get more done. I'm glad we're getting TWO weekends to do them. I got 2 of them posted yesterday, then right as I finished my 3rd layout, I had to make dinner. So here is my layout for the Use it Up Challenge. I've had these Jillibean Soup Fur Fusion stickers furever (lol!) and it too me awhile to get them on the page. But it ended up turning out to be okay.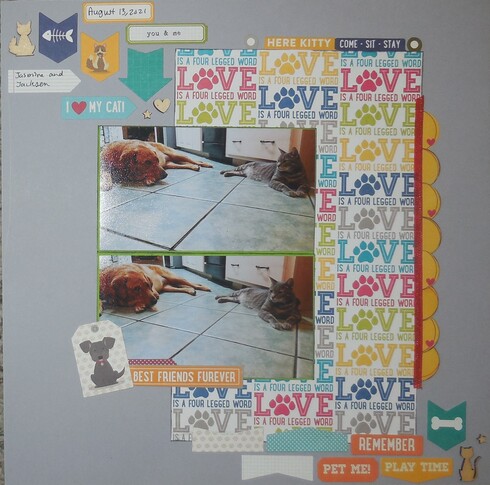 Shoot, after my errands, I might even scrap today! But first.....need to clean up that scrap table. I sure made a mess yesterday.
Hope everyone has a great day!