I have one more challenge for you this month.
  Tonight, I was asked to be a part of an event in the little town where I teach that is going to be run sort of like Hollywood Squares.  Being a teacher for 26 years, one of my former students who is organizing this asked me to be one of the squares.  lol  I'm a little scared.  Haha!  Anyway, do you remember the Hollywood Squares?
https://en.wikipedia.org/wiki/Hollywood_Squares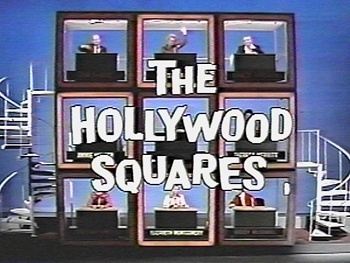 My challenge is based off this game show.
  Below is a set-up of the squares with common actors names that would've been regulars on the game show.  To start the challenge, you will need to make a Tic-Tac-Toe (choose 3 in a row, any direction) and post the names here.  Then, I will have another post that tells you what to scrap, based on the names you chose.  Got it?
Buddy Hackett                                  Sandy Duncan                             Roddy McDowall
Wayland Flowers & Madame               Paul Lynde                                 Garrett Morris
Joan Rivers                                       John Davidson                            Jonathan Winters
In addition, there will be a secret square. If you choose the secret square, your name will be entered twice in the prize drawing.  You will need to upload your layouts (when you know what you are scrapping
) to the gallery provided by midnight, July 5th to be eligible for the drawing for a $5 gift card.