The winner this month, as chosen by random.org, is #10: wimom!! Thank you to everyone who played along this month!

As far as I'm concerned, when October 1st hits, it's Halloween. It's my favorite holiday, though I'm more for cute Halloween, than scary Halloween. As a result, I'm always on the lookout for fun Halloween books, and one I've recently discovered, that I'm totally in love with, is Bonaparte Falls Apart by Margery Cuyler. It's a picture book and, in it, poor Bonaparte (the skeleton) just can't seem to make it through the day without completely falling apart. His friends come up with clever solutions to try to hold him together, but it's not until they enlist the help of an unlikely companion, that a solution is truly discovered. I've read this book to several of my classes, and it never gets old!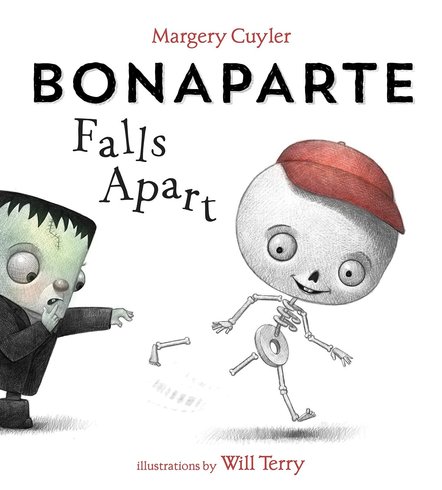 OPTION 1: Keep it Together
In the book, Bonaparte's friends try their best to keep him together, so for Option 1, make a page about a time your friends helped you "keep it together" or vice versa. Making a point to spend time with friends is important, so document it! Did you go on vacation together? See a play with a buddy? Attend a reunion with an old friend? Anything goes for this option, as long as it's a celebration of FRIENDS.
OPTION 2: Black and White and One Other Color All Over
I love the illustrations in this book, particularly the illustrator's use of color. Each drawing of Bonaparte shows him with a red baseball cap, so it breaks up the typical stark black and white usually associated with skeletons. For this option, we're going to expand that idea to a full scrapbook page. You can do this in one of two ways: either use a black and white background with one other predominant color as your accent, or use a solid colored background with black and white as your accents. Below, I've got examples of each.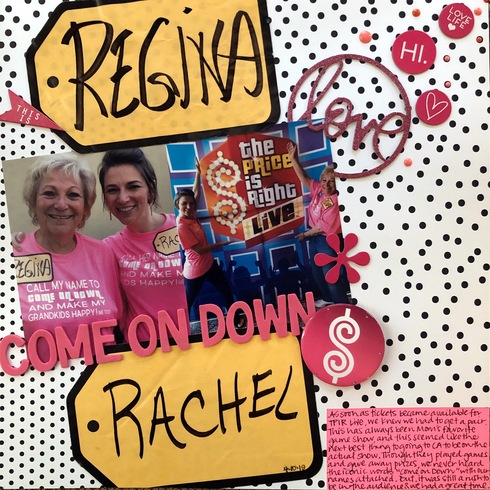 Black and white background, with one main accent color (pink)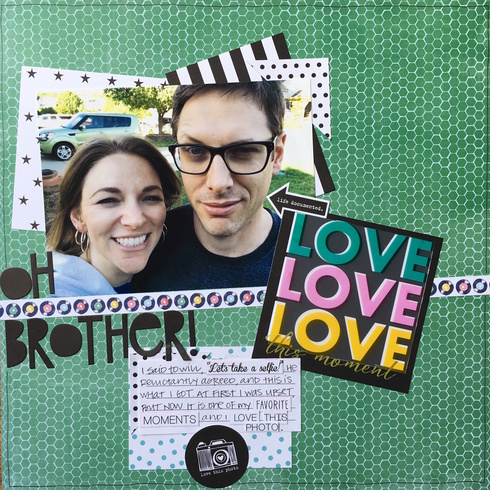 One main background color (green) with black and white accents.
This month, you'll get a BONUS ENTRY if you
rhyme the title of your page, like the title of our featured book!
The Fine Print:
1. HAVE FUN MAKING YOUR PROJECT!
2. Entries open to new projects - paper, digital, & card making.
3. May be combined with one other challenge that allows it.
4. Due October 31st, at 11:59 PM.
5. One lucky winner, chosen at random, will receive a $5 ACOT gift card from us!
6. Up to 3 entries permitted per month.
7. A RAK is awarded to a second winner if there are more than 15 unique entries (not including bonuses) during the month.
Participants:
1. keatonsgtgram
2. mrozwood
3. joannie
4. LoreenC
5. LoreenC (BONUS for rhyming title)
6. Deanna13
7. emmapaige
8. Tammey
9. Retiree3
10. wimom
11. mandylee
12. MTCanuk
13. lissahope26
14. Deanna13