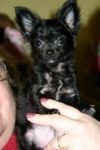 Tis The Season

posted Sep 5, 2011


by writerlady

View My Gallery (448)
View My Product Reviews (17)
View My Posts (20573)
View My Bio




Another sticker inspired title here, lol. I really, really like these stickers. I'm putting more in my basket, that's for sure. So - I was inspired by Cindy aka Kimandasmo's reveal "Making the Grid". I thought the Quild Grid was so cool - so ... here is my version. The papers went pretty well together, and I love how the blue Bazzill cardstock picked up the blue in the printed paper (which you will see more of it a minute). I punched lots of squares of 4 different papers, using my Marvy Uchida square punch. I used my ATG to attach them in a grid pattern to the cardstock. I then drew stitches on each square, to simulate sewing. I double matted the photo and the title, which is a sticker. I matted my journaling on blue and the same cardstock I used for both the title and the photo. I wanted to play a bit more, so I used the Joy sticker and the adorable penguin sticker - I put them under my tree! This is, for sure, my favorite layout of this reveal. It is so bright, colorful and fun in person.