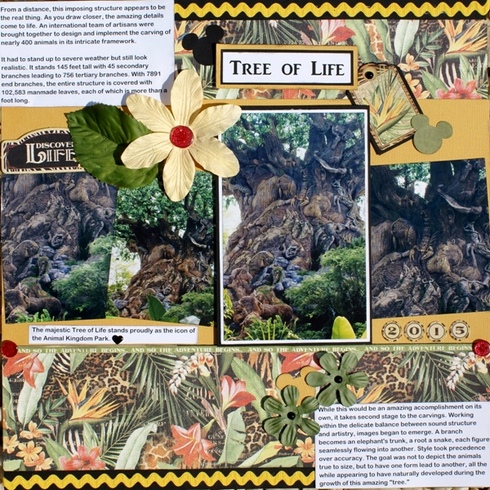 Large View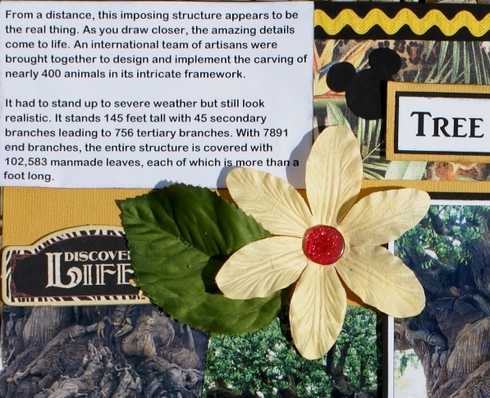 Large View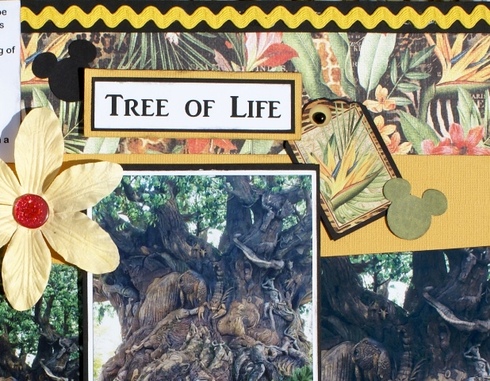 Large View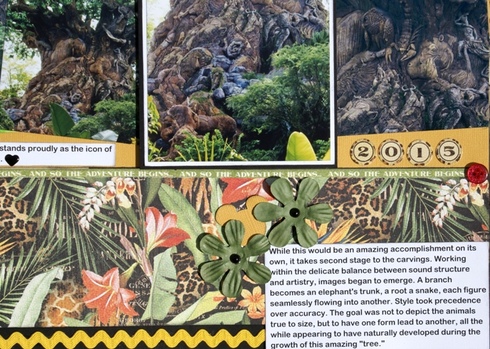 Large View




---



Favorites: 0

Tree of Life

posted Feb 28, 2017


by shoorn

WDW Animal Kingdom visit 2015.
For Becky Fleck #128 and Spelling challenge: H - heart, E - Eyelet Outlet (pearls), A - American Crafts (ribbon), R - red buttons, T - tag, S - stickers

Journal:
The majestic Tree of Life stands proudly as the icon of the Animal Kingdom Park.

From a distance, this imposing structure appears to be the real thing. As you draw closer, the amazing details come to life. An international team of artisans were brought together to design and implement the carving of nearly 400 animals in its intricate framework.

It had to stand up to severe weather but still look realistic. It stands 145 feet tall with 45 secondary branches leading to 756 tertiary branches. With 7891 end branches, the entire structure is covered with 102,583 manmade leaves, each of which is more than a foot long.

While this would be an amazing accomplishment on its own, it takes second stage to the carvings. Working within the delicate balance between sound structure and artistry, images began to emerge. A branch becomes an elephant's trunk, a root a snake, each figure seamlessly flowing into another. Style took precedence over accuracy. The goal was not to depict the animals true to size, but to have one form lead to another, all the while appearing to have naturally developed during the growth of this amazing "tree."
This submission used products from ...
Bazzill
,
My Minds Eye
,
American Crafts
,
Queen & Co
,
Prima
,
Graphic 45
,
Eyelet Outlet