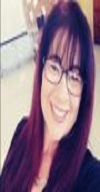 #staying busy at home

posted Jul 28, 2020


by aheatfan

View My Gallery (503)
View My Product Reviews (255)
View My Posts (1260)
View My Bio




Done for the MMC July 27 - Challenge # 3
Sketch # 3 - top right hand corner
Used my CropODile to set the colored eyelets and two eyelets on top. I have had this tool for about 15 years and never used it - WHY? I had to watch a Youtube video on how to use it. It is awesome, I just wish it had a longer reach.