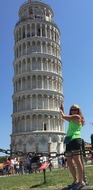 We are the Champions

posted Dec 11, 2017


by traveler

View My Gallery (209)
View My Product Reviews (10)
View My Posts (1678)
View My Bio




As you may know my older son runs cross country. It is his passion and he works hard, which yields results. This year he made Varsity as a sophomore, which is an accomplishment in itself. During the first half of the season, the entire team competes, which is about 90 boys. The second half of the season is championship races, which is only the 7 boys on varsity (and sometimes another 7 on JV). Varsity season consisted of 6 races, one a week through mid-October and November, of which they won many and finished 9th in the state. I wanted to wait until the end of the season to scrap the championship season all on one double page. Whenever the boys win, the 7 of them pose for a group photo for the parents and the media. I didn't actually take most of these photos, I got them from the Internet or people sent them to me.

This is the December supply list challenge.