Friday, April 22, 2011
"Imitation is the highest form of flattery."
They say, "Immitation is the highest form of flattery."
I know I can say for myself, as well as for the rest of the Creative Team, we are all thankful for our position on the team. We know there is so much talent and inspiration around, especially on our very own boards. So we thought it would so much fun to pick out some awesome layouts from the gallery that we could scraplift.
You'll see that some picked paper layouts and even layouts in different orientations, as well. Sometimes you might find that you want to copy it almost exactly, while other times its just small bits that stick out to you. But no matter what, you can always find inspiration in the gallery!
Brittney (milmomma), Jenn (SarahWhithers) and Sara (Keling) each selected three different layouts to lift, while Cassandra (mommybruno) and Laura (Art_Teacher) also decided to join in the fun.
Brittney's first choice was a page by GlitterQueen99, "Birthday Girl." Brittney said: "I love GlitterQueen99's wonderful layers and couldn't resist scraplifting her layout 1 Year Old. It was really inspiring to do scrap my daughter's recent 4th Birthday. I love this weeks reveal, scraplifting the lovely work in the ACOT digital gallery." The end result was "Happy Birthday Ali."
Happy Birthday Ali, by milmomma Birthday Girl, by GlitterQueen99
The second layout Brittney decided to lift was Ayla's "Little Spectator." She shared: "I just adored this layout by Alya, and couldn't resist scraplifting her for our feature on scraplifting ACOT's amazing gallery." You'll notice that Brittney did a scrap and flip, turning the layout design 90-degrees to make it her own.
Sweetheart, by milmomma Little Spectator, by Ayla
Brittney's third layout is a lift of a beautiful page by JD's Mom. Brittney shared: "I couldn't resist JD's Mom's lovely layout. It was so beautiful and perfect. I used it to inspire this page about my little prima ballerina."
Ballerina, by milmomma Layout by JD's Mom
Sara (Keling) hit the gallery and was totally caught out by this cool page by Moodyjudy. She said: "I think the elements were what first caught my eye - how well Moodyjudy had used them to cluster around the main element. Of course, the fact that there are no photos, just journalling, inspired me to do a journalling old page, too."
Put a Smile On Your Face - Retrospect, by Keling Proper Equipment by Moodyjudy
Sara's second layout is a lift of fong33's layout, "Family." She said: "The photo in this page is what totally captures you, in Fong33's page. In my page, the photo may not be so hot - it was actually taken by my 8 year old - but it is a great glimpse of my funny furbaby, Abby, who loves to cuddle under the covers!"
Kitty Kuddles, by Keling Family, by Fong33
Sara's third layout is a lift of half of a double-page spread by keeshaobrien, highlighting a week in her family's life. Sara said: "I LOVED both sides of this page, but chose to do just one side. I've always liked grid-like pages, but what is especially cool is how she's got all these fun bits and pieces pickinging out from underneath. I decided to highlight some of the photos I've taken over the last few months to go with stories I wrote for the newspaper."
News-Hound, by Keling 2011, by keeshaobrien
Laura (Art_Teacher) lifted this adorable page by scrapperatheart. She shared: "For this reveal we were to scraplift someone from the GP. I chose this gorgeous layout by scrapperatheart: Recipe for Success. I think it is amazing and I hope I did it even half as well as she did!"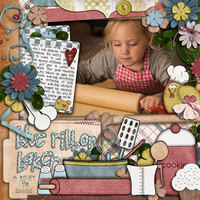 I've Been Good, by Art_Teacher Recipe For Success, by scrapperatheart
Jenn (sarahwhithers) also did three different scraplifts. Her first is a lift of a layout by GRACEpunches5. Jenn shared: "For the digi CT reveal this week we're scraplifting you talented ladies out there! Where else can we get such awesome inspiration other than the ACOT gallery?! For my first page I've scraplifted GRACEpunches5 and her page called Childhood Memories (which you can also see above). I loved her use of whitespace and 3 small pics, so I did it too!"
You Make Me Smile, by sarahwhithers Childhood Memories, by GRACEpunches 5
Jenn's second lift is of killarney_rose's paper page, Zu. Jenn wrote: "This digi CT reveal is all about scraplifting, and we've decided to scraplift from the fantastic ACOT gallery. For this page I scraplifted killarney_rose's page Zu (which you can also see above). I loved how she had her papers and pics set up, so I had to give it a try!"
Naptime, by sarahwhithers Zu, by killarney_rose
Jenn's third page is a lift of an 8-1/2 by 11 page by M'Lee, called "Simon". Jenn said: "I loves how she had her pictures arranged, so I gave it a shot!"
Gwen, by sarahwhithers Simon, by M'Lee
Cassandra (mommybruno) lifted an adorable page by WriterLady, "Fun Facts". Cassandra explained: "I chose to life Writerlady's Fun Facts LO, because I just so loved the look of it, especially the worn PP held down by hinges. (Don't even ask how long it took me to find hinges in my massive pile of digi supplies, LOL!) I also lifted the photo and element placement. I used clear flair to replicate bubbles. I love how my LO turned out! So thank you, Writerlady, for the awesome inspiration! That's the great thing about scraplifting - so many ideas to be shared! TFL!"
Bubble Love, by mommybruno Fun Facts, by writerlady
Like what you see? You can find some of the digital kits used in this article listed below, as well as many more by some of digital scrapbooking's hottest designers in our Digital Shoppe!
Reader Comments ...
| | |
| --- | --- |
| | nice lifts, ladies :) i adore the various elements you all used! |
| | |
| --- | --- |
| | Wonderful...both the lifts and the originals! Bravo |
| | |
| --- | --- |
| | Wow girls those lifts and layouts are just wonderful, beautiful work on all of them. |
| | |
| --- | --- |
| | Great work everyone =) |
| | |
| --- | --- |
| | What a fun article! Thanks! |
| | |
| --- | --- |
| | Fantastic article, Sara! Great lifts, ladies! |