Hello everyone, Wendy here today to share some messy gorgeous art with American Crafts Color Pour!  When I first saw this system introduced I was totally in love, the colors, the marble look, and everything always looked wonderful…  So I wanted to find out, would my Color Pour also look magical or was it a hoax?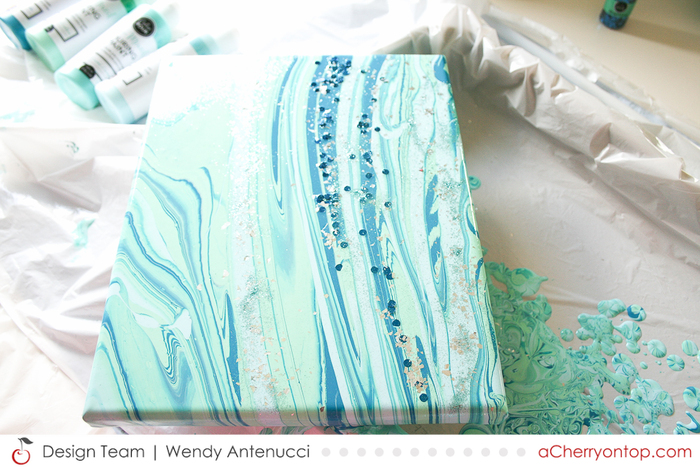 Well it worked!  My son said it looked like an expensive piece of art, got to love that boy!  So I thought I'd share a few tips of what I discovered while I created and the steps I followed to create.  I also have included a video of my first ever pour so that you can see how easy it is.
---
So here are the steps to follow for your magical art:
Step 1:  Cover your area.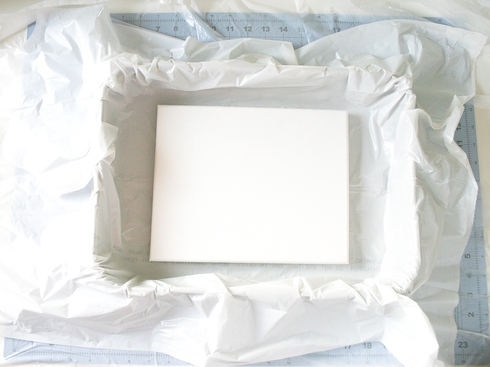 Step 2:  Pour a measured amount of each color into each separate cups.  Then I used another cup to pour the paint in layers.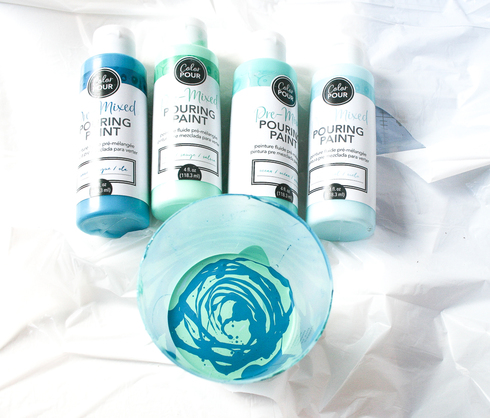 Step 3:  Pour! The way you pour really doesn't seem to matter, the paint is magical and it really turned out nice even though I didn't really think about how I was pouring.  I did have trouble getting the paint to the edges and probably should have used a bit more paint, but I was able to tap my canvas on my surface to cause the paint to flow over all the areas.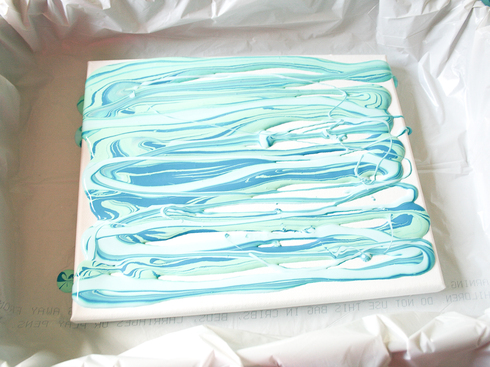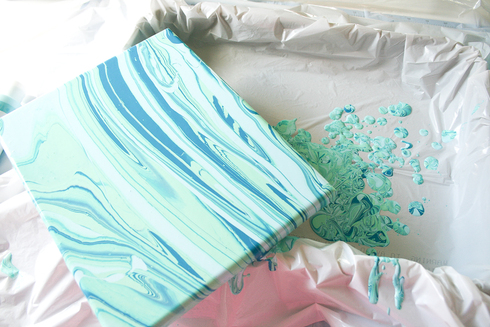 Step 4:  Glitter…  or sparkle… or leave it alone.  I'm still tossed up over this one and which would have been a better choice.
Some tips that might help you prepare better…
1. Cover your area and then cover an even larger area!  This stuff spreads and while I was able to do it on my desk, my hands were covered with paint which proved to be a challenge.
2. I chose an 8x10 canvas which fit nicely into my lasagna pan covered in trash bags so that I could work at my desk area.  If you are doing a larger pour you will need a bigger area, but it really helped putting my canvas into a container with sides as I could let it rest on the pan to help the pouring.
3. I used about 25ml of each color which was enough for the 8x10 canvas, but there wasn't a lot of extra.
4. I would probably not measure the paints as much and just pour into one measuring cup in layers, that would cut down on the waste and mess.
5. The glitter/sequins/sparkles really come out of the containers, I would suggest pouring some in your hands before sprinkling it on your project.
6. And wear gloves as it does seem to stick around a bit.  Also I would remove any jewelry also, I sure will next time.
I hope this tutorial has answered any questions you have, please feel free to leave anything else in the comments and I would be glad to answer them for you.  So, what do you think?  Do you want to try making some art?
-Design Team Member Wendy Antenucci
---