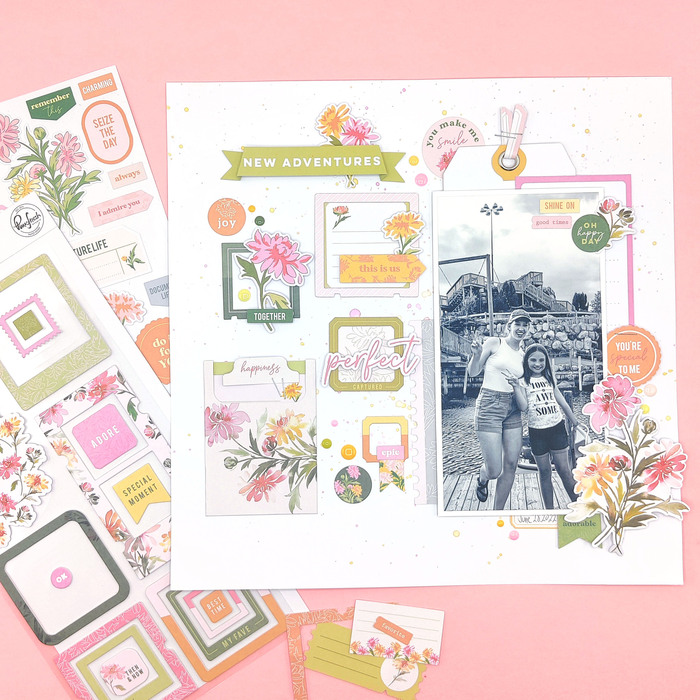 Hi, Cherries and welcome to the Cherry Blog! Today I'm sharing this large photo grid layout that I created using the new Pinkfresh Studio Chrysanthemum collection. This layout is different than my typical style of scrapbooking for many different reasons. For one, this collection has a lot of pinks and oranges, which are colors I'm typically not drawn to, but I just found this collection to be so pretty! Another reason is I typically scrap two or three photos on a layout, but today I just have one. I like it when my scrapbook pages tell a story, which is why I usually go for more photos, but I decided one large photo would do. I also very rarely do grid-style layouts. I love them when other people do them, but often I just find them boring on my layouts. With all that said, I love how this page came out! Keep reading to see how I pulled it all together.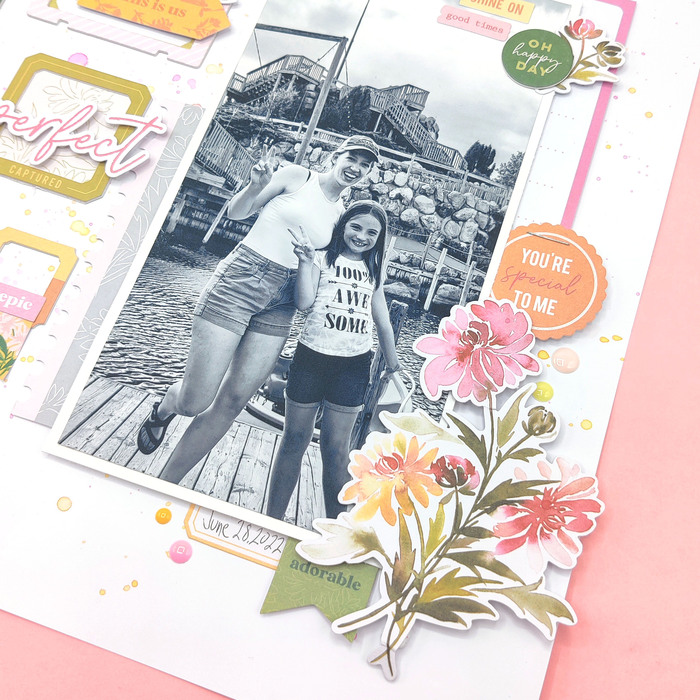 I started with my white 12x12 background and wanted to add a little color to it before I started embellishing. Grabbing inks or watercolors are my go-to for quick backgrounds. I used Catherine Pooler Be Mine and Catching Rays Ink Pads to add some light splatters all around the background. I do this by stamping some ink onto a palette. The Catherine Pooler inks work beautifully with this technique because they are so juicy. Next, I grab my wet paintbrush and pick up some of the ink. I tap the brush on my finger to spread paint specs all over my page.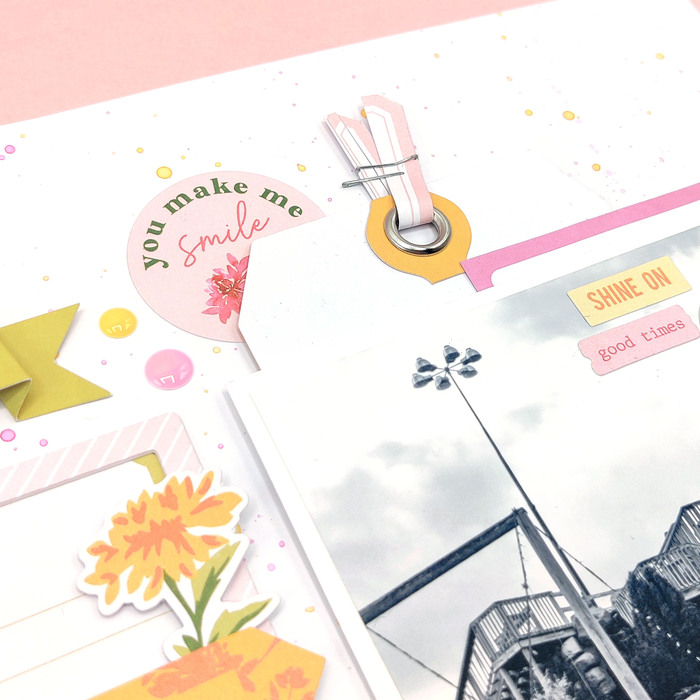 Now it is time to embellish! I pull out all of the stickers and ephemera pieces I know I want to use. My photo is 3.75" x 7.5" so I start by adding some larger tags and pages from the Journaling Bits pack. I really like the pockets and tags from this pack and using them to add hidden journalling is so cute! After layering some of the larger pieces with my photo, I start working on the grid section on the left side of the page using many of the squares from the Chipboard Frames.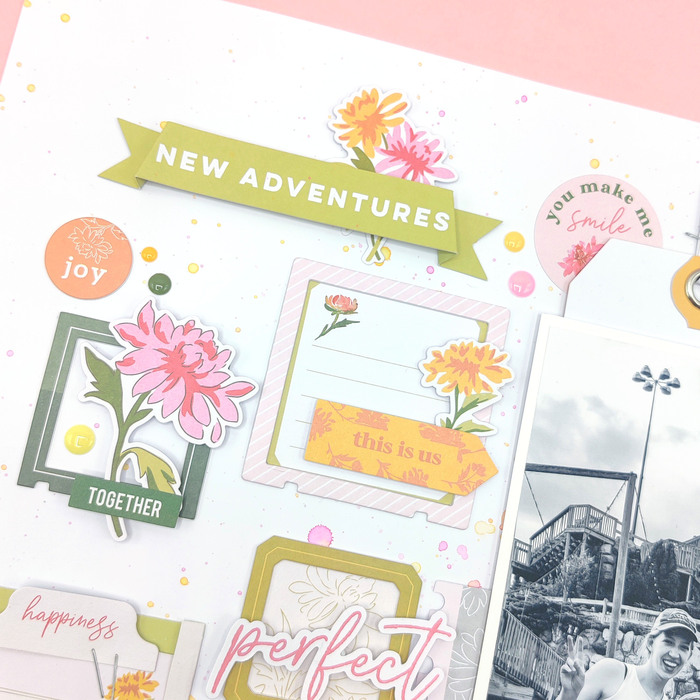 Once I have all of my main square pieces in place, I wanted to break them up with circles and the organic shapes of the flowers. For this, I used Cardstock Stickers, Chipboard Flairs, and the Ephemera Pack. To create a title, I used the "New Adventures" banner from the Journaling Bits and added two diagonal folds so it would have some dimension and pop off the page. To make sure it would remain dimensional, I popped it up using Cherry Foam Tape.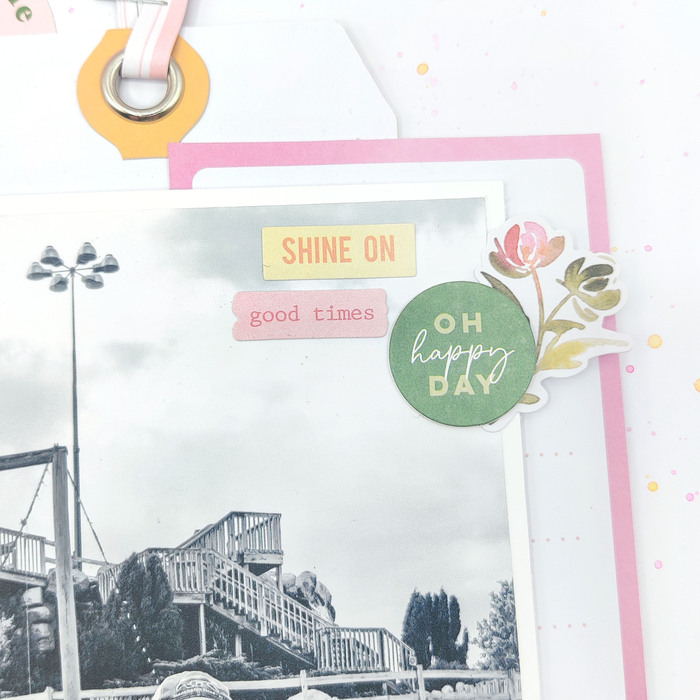 There is a fine balance between filling a page up so it is interesting and pretty to look at and being too busy. I think leaving some white space is needed so I tried to keep all of my embellishments within a border on the page. This also helped the grid-style I was going for.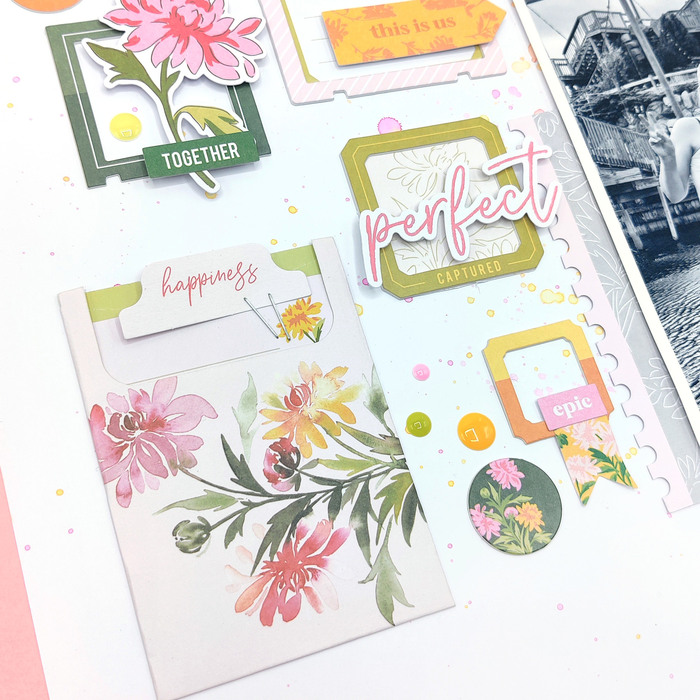 This page was finished by adding some Enamel Dots here and there. I love how this page turned out and had a lot of fun creating it! I hope this post has given you some ideas that you can use in your next layout!