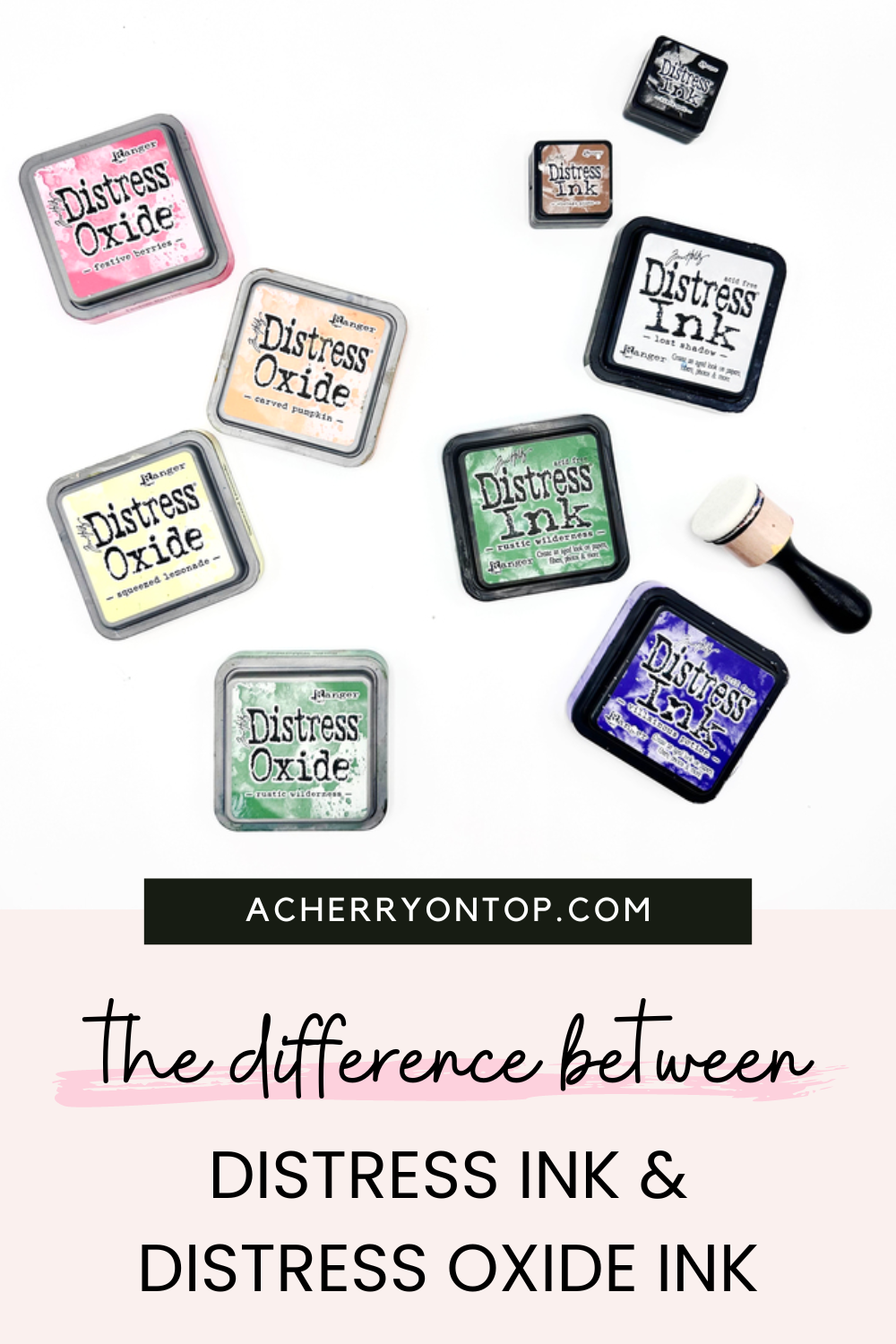 What's the difference between Distress Ink and Distress Oxide Ink? I get this question a lot in the storefront so I wanted to write up an explanation to answer this! Tim Holtz has some beautiful colored inks that we all love & enjoy, but do we know the true difference between Distress Ink & Distress Oxide Ink, and what distress even means? There are a couple of differences between Distress Oxide Ink & Distress Ink. In this blog post, I will explain the difference between the two & which one works best for what projects. Let's get started!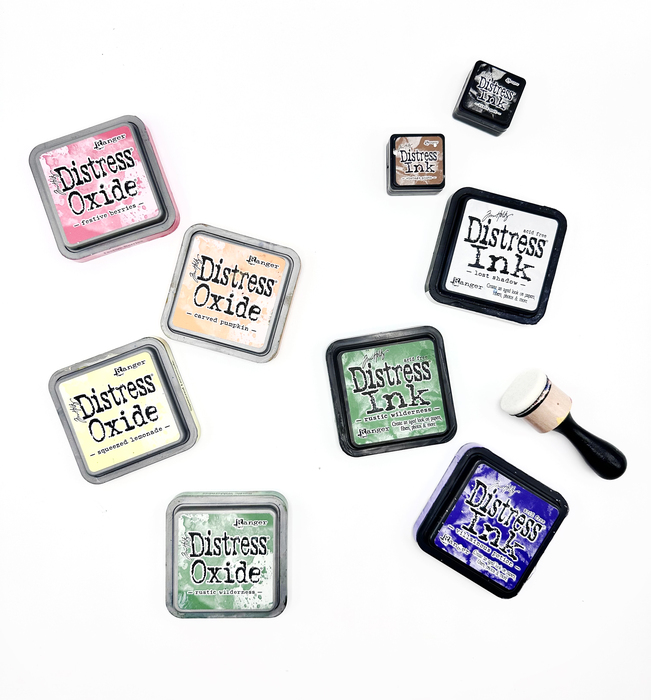 But first, how are Distress Oxide Ink & Distress Ink similar?
Both Distress Ink & Distress Oxide Ink are water-based. Water-based just means the main "ingredient" or solvent, is water. This also makes both reactive to water, just in different ways. Although they are different from each other, they are designed to work together. Both ink pads are also meant to be pressed down on a surface of paper because the ink itself is a suspended medium. So the more you press, the more ink you will get from the ink pad.
What does the term 'Distress' mean?
The term distress comes from the fact that these inks are reactive with water. Distress specifically has a feature in the ink that wants to continually wick once hit with water. Let's review this term called 'wicking'.  Wicking is when you add water to a color, and the color moves away from itself. See in the picture below an example of wicking.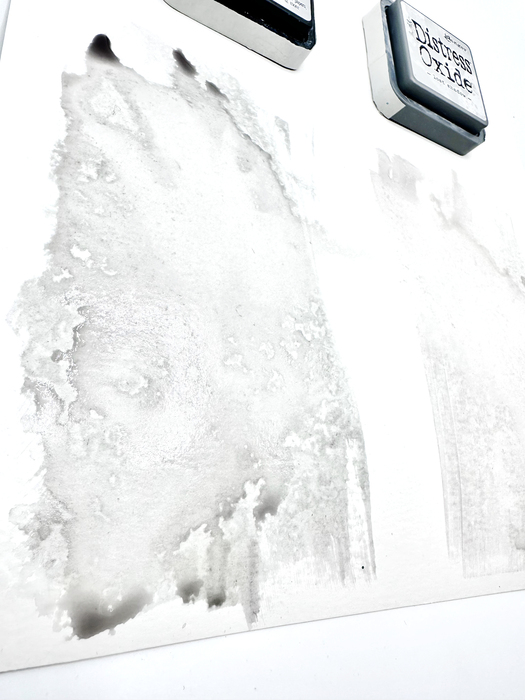 Notice how the outer edges have a darker color now than the inside of the color. Any time water hits Distress Ink (or Distress Oxide Ink), no matter if it's the first, second, or third time, even if your ink has already dried, it will always react to the ink it's touching. That's the beauty of Distress Inks! And the difference Distress makes is that it will continue to react to water. The ink moves outward and then will result in lighter versions of that color. Of course, Distress Inks & Distress Oxide Inks each react a little differently to water. 
So, how are they different?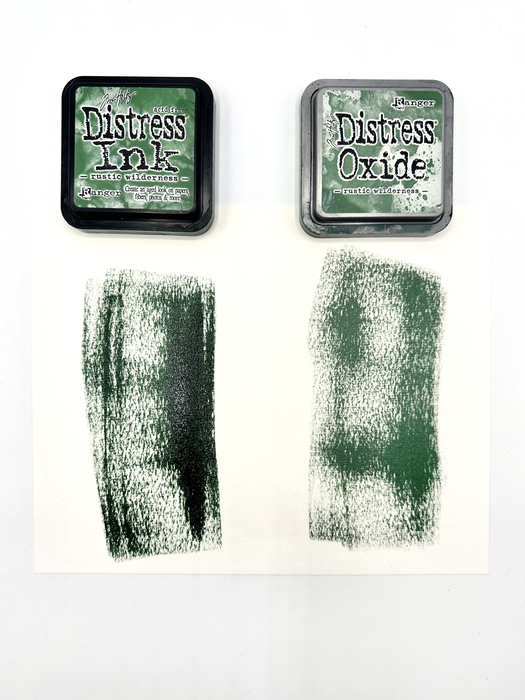 Distress Inks 
Distress Inks are dye-based inks. What this means is that it's fast drying & translucent. The ink soaks more into the paper. Because the Distress Inks are made primarily of dyes, this makes them transparent, meaning if you layer one color on top of the other, you will be able to see all the colors come through.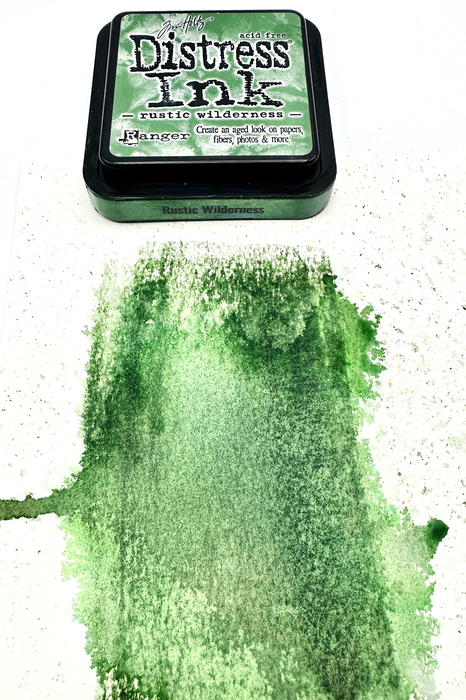 Here is an example of layering with Rustic Wilderness Distress Ink & Villainous Potion Distress Ink. Notice how you can still see both colors and no brown coloring.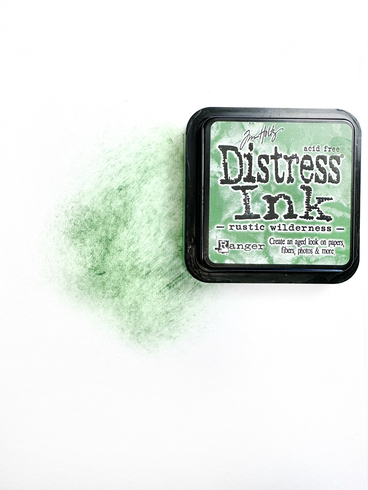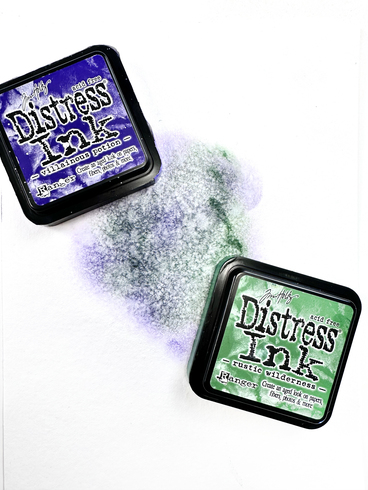 Distress Oxide Ink
Distress Oxide Inks are a little smoother in texture. Oxide inks are a fusion between dye & pigment. Pigments are consided opaque, meaning you can't see through them. Because of this, they have a slower drying time and show up wetter. You can also see more of the chalky quality that Distress Oxide Ink has especially once it reacts with water.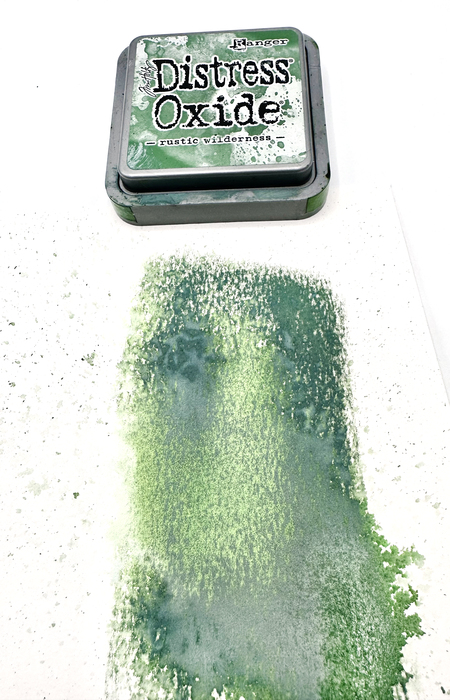 Another cool thing about Distress Oxide Ink is because of the pigment ink in them, it allows them to be seen on dark cardstock. Even black! See my image below that I stenciled on black mixed media paper with the Oxide Inks Dried Marigold, Kitsch Flamingo & Salvaged Patina. While you can still blend with Distress Inks, Distress Oxide Inks are easier to blend with because the ink sits on top of the paper (due to the pigment ink).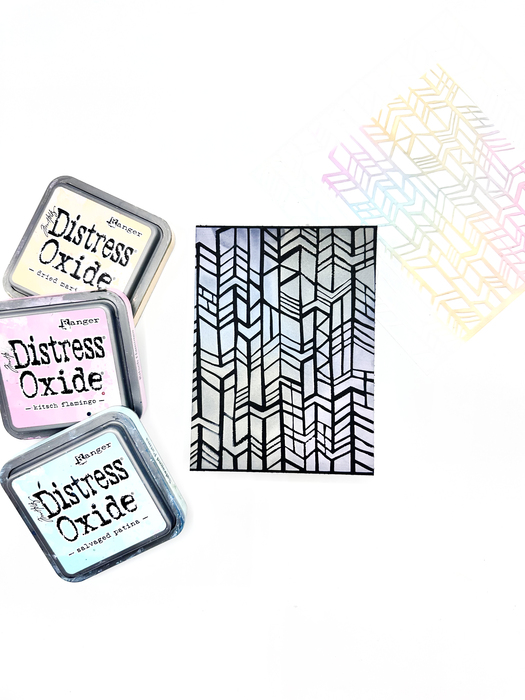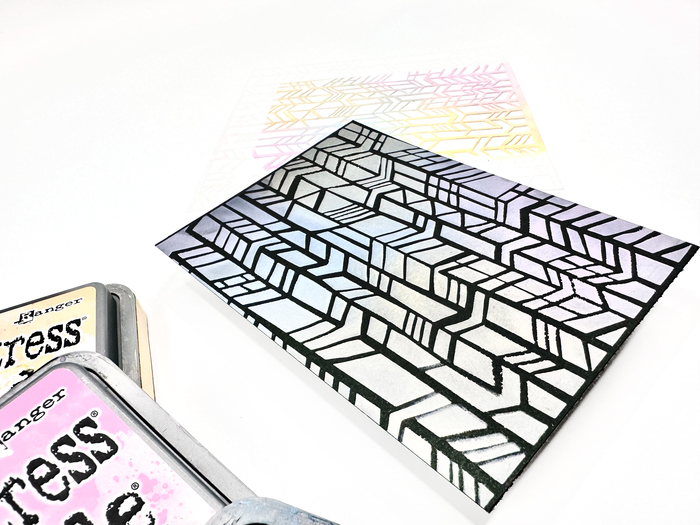 Here is inking with the Tim Holtz Note Quotes stamp set in the Salvaged Patina Oxide Ink onto the black mixed media paper: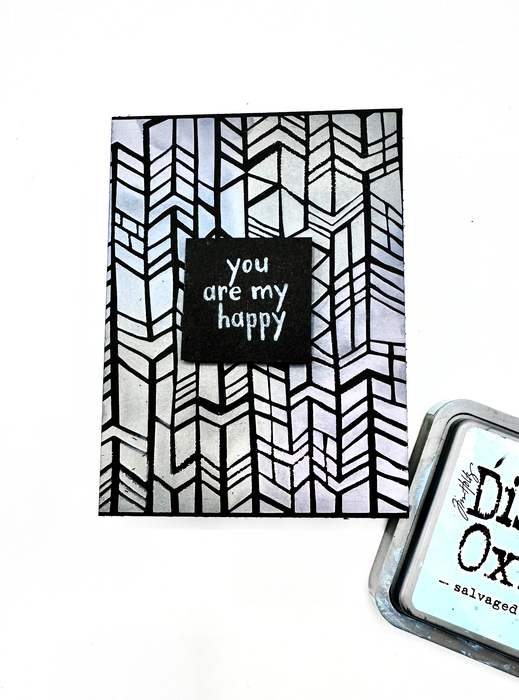 Here I inked the Oxide Ink Kitsch Flamingo in the background stamp, and then used black ink on top to create this inverse effect: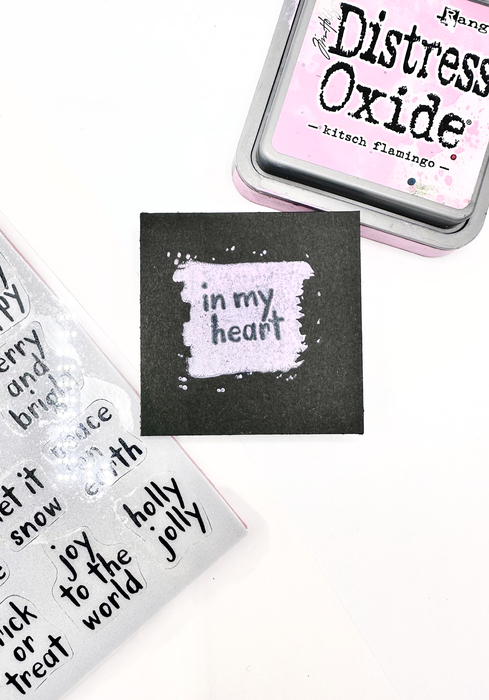 As you can see, the Distress Ink doesn't show up on the black paper. Here I am using the color, Lost Shadow Distress Ink & Lost Shadow Distress Oxide Ink as a comparison.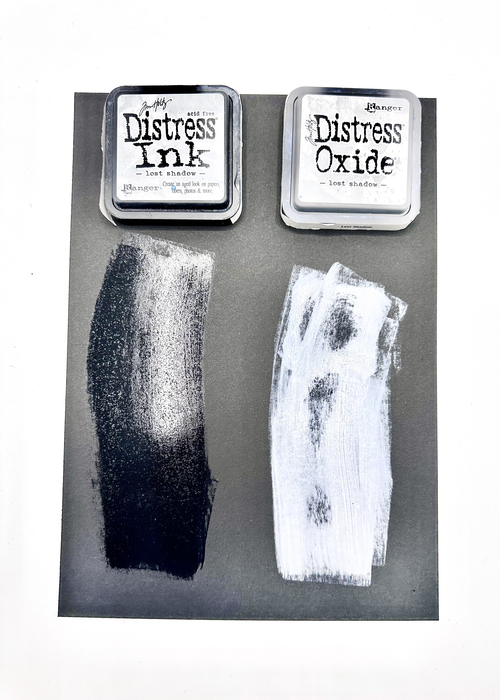 Just one last question I want to address...
Why don't Distress Oxide Inks come in mini pads?
The formula that goes into the ink for Oxides is not stable enough for such a small amount, therefore, the oxide inks are only available in the regular 3x3 ink pads. This just shows the true nature of Tim Holtz, creating only high-quality products for us. I hope this post was helpful to answer all your questions regarding Distress Inks & Distress Oxide Inks! Let me know if you have any other questions in the comments. Happy inking!
---
Source Cited: Timholtz.com
---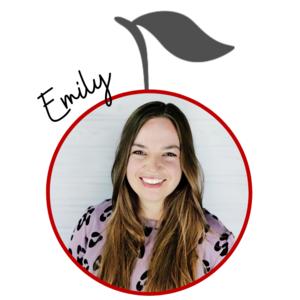 Emily Moore
My name is Emily Moore & I love handmaking cards! I have an amazing, supportive husband, & a giant beautiful Bernese Mountain dog named George. I get very excited about pretty paper & love making detailed designs using die cuts, stencils, & any new techniques I can find! I recently made a career shift from finance to working at ACOT as the new Marketing Assistant and absolutely love it. Come, stop by & say hi! You can find me in the storefront!
You can find more from Emily on her Etsy, Gallery, Facebook, and Instagram!