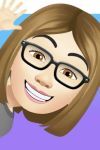 I am a wife, mother and grandmother. I have been married to my wonderful husband since 1988. Between us we have three daughters, one son, two granddaughters and three grandsons. I started scrapping after the birth of our first grandson at the same time my daughter announced she was pregnant with our first granddaughter.

In addition to our immediate family we are blessed to be close to our "extended" family which includes my ex-husband and his family and my daughters' in-laws.

I started shopping at ACOT shortly after our LSS closed but didn't start participating in the MB and challenges until NSD 2013. I seriously don't know what took me so long. It has been a wonderful experience.

In addition to scrapping, I love to knit and cook (and eat!!).

As of December 29, 2016, I am officially retired and can't wait to spend lots more time scrapping.

My favorite manufacturers are American Crafts, Simple Stories, Crate Paper and Pink Paislee (just to name a few!!).

My favorite subjects are my grandchildren (2 teenage girls, 1 teenage boy and 2 early grade school boys. But I also love scrapping my children (all grown) and my adorable hubby (partially grown - LOL). We have no furbabies but I occasionally scrap my children's pups.