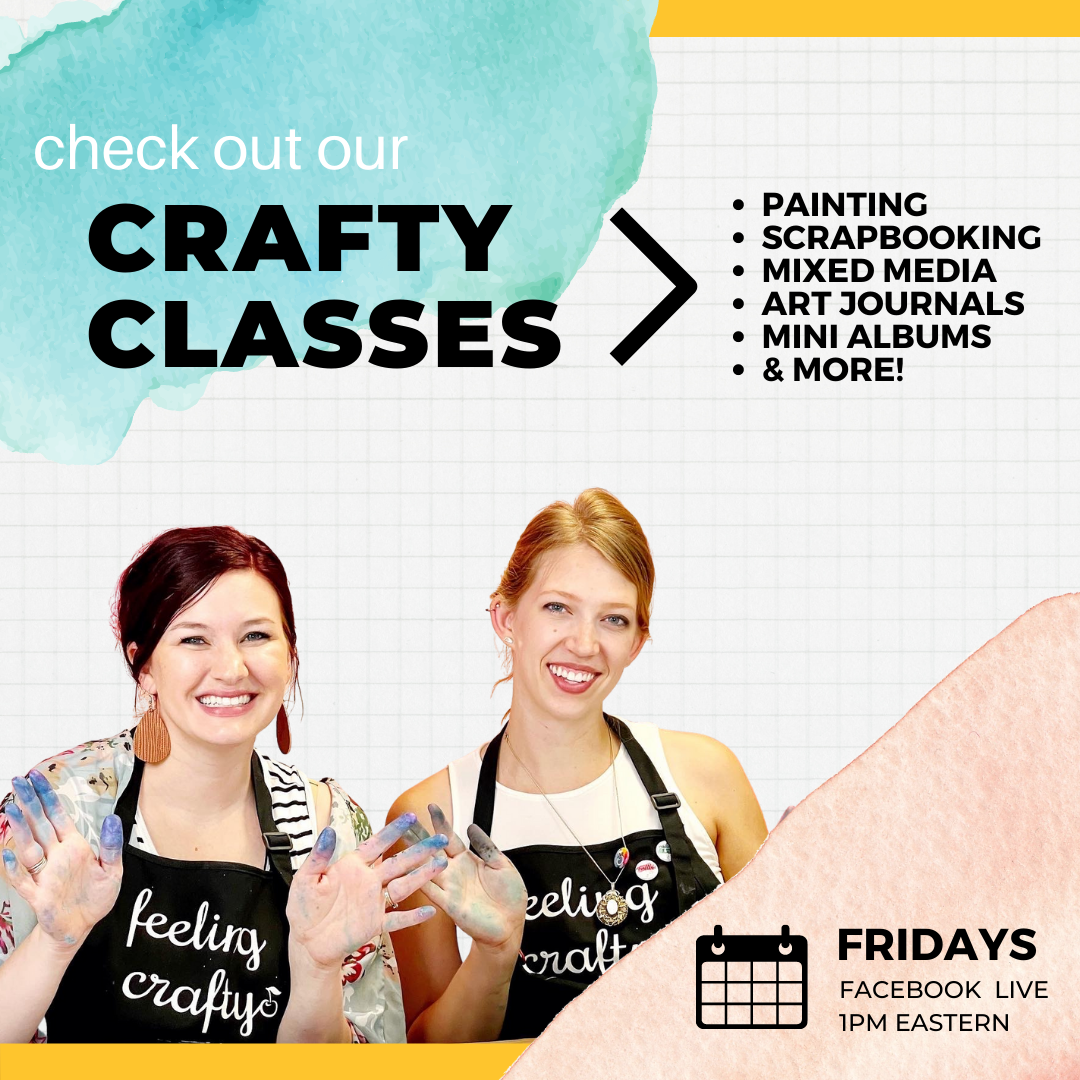 Upcoming Live Classes on our Facebook Page at 1pm EST on Fridays: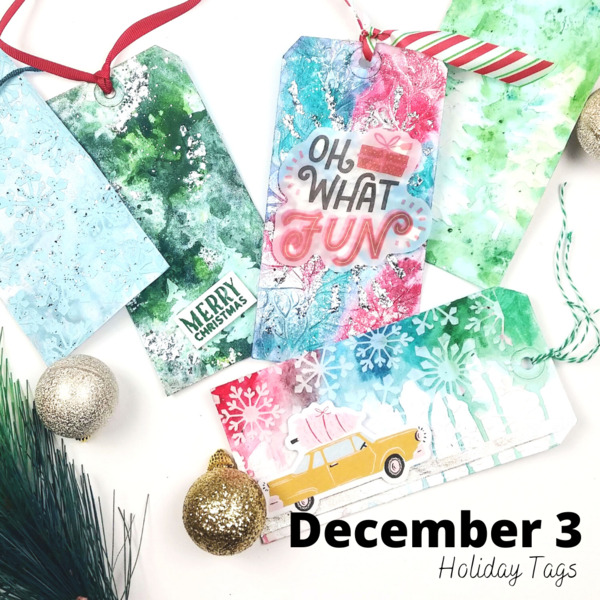 A beautiful handmade tag makes a gift even more special. In this class, we will be playing with a handful of mixed media products to create layered unique tags. 
Items needed: mixed media tags or paper cut into tags, stencils, texture paste, distress crayons, distress oxide reinker, distress reinker, spray, palette knife, paintbrushes, ribbon, twine, holiday ephemera
---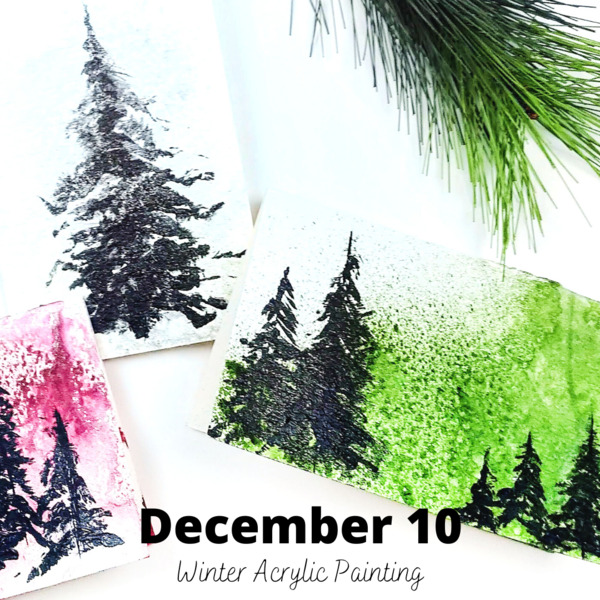 We are going to paint a winter scene using acrylic paints! This painting can be used as home decor, given as a gift, or painted on a card!
Items needed: Acrylic paints, paintbrushes, palette knife, canvas
---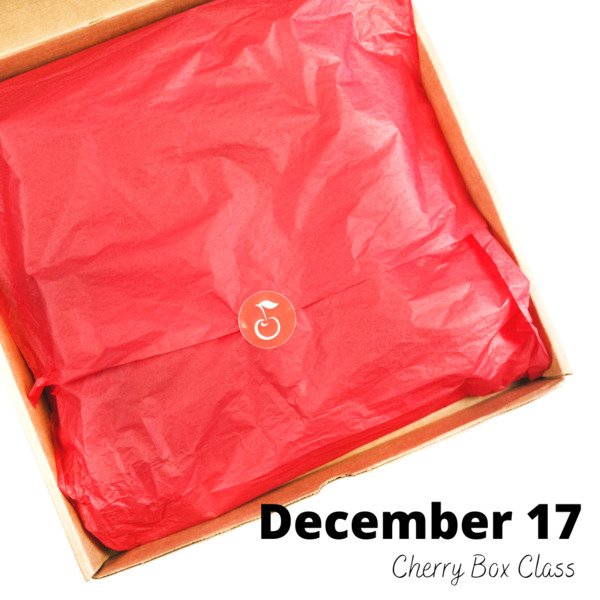 We will be unboxing the January Cherry Box and creating some projects with it! Subscribe HERE
---
---
Past Classes: 
Do you make an alcohol ink piece and not know what to do with it? In this class, we will be using our alcohol ink pieces and turning them into a finished layout! Alcohol ink pages also make beautiful backgrounds for cards and can be die-cut!
Items Needed: alcohol ink in a few different colors that go nicely together, rubbing alcohol (found at your local pharmacy), yupo paper
---
We will be unboxing the December Cherry Box and creating some projects with it! Subscribe HERE
---
The Photoplay Maker's Calendar makes the perfect personalized calendar to use for yourself, or to give as a gift! We will be showing you how to make this calendar your own. 
Supplies Needed: Photoplay Maker's Calendar, time of year themed paper crafting products
---
Create colorful kabooms of brightness and fun with the Explosion Card Punch Board by We R Memory Keepers! This handy tool lets you make explosion cards for fun and dynamic memory keeping, gift-giving, holiday celebrating, and more.
Supplies Needed: Explosion Card Punch Board, stamping ink, paper, and embellishments to decorate it.
---
Have you been wanting to learn how to crochet? This is a class for beginners where we will start with the basics of crocheting, talk through choosing your yarn and hook size, then starting to crochet!
Supplies Needed: Yarn, Crochet Hook
---

In this class, we will be creating Halloween decor using a range of mixed media and paper crafting products. Our base for this project is a wood board that we will gesso and add layers of Halloween elements to.
Supplies Needed: Wood Board, Black Gesso, Halloween Elements, Glitter, Charms, Flowers
---
We will be painting this abstract fall nature scene in watercolor. This class is beginner-friendly!
Supplies needed: watercolor paints, watercolor paper, paintbrush, a glass of water, paper towels, painter's tape (if you want to have a white border) 
---
Grab your favorite cardmaking supplies and create some cards with us! In this class, we use several different techniques and make a shaker card, watercolor cards, and more!
---
In this class, we will be scrapping the Becky Fleck 240 Sketch! Each week we have a new sketch challenge where one winner receives 1000 Cherry Points! Grab your scrapbooking supplies and create along with us!
---
Traveler's notebooks are perfect for documenting little moments and for journaling while on the go. In this class, we will be sharing how we like to use our notebooks!
Supplies Needed: Traveler's Notebook with Insert, Pens or Markers, Stamps
---
Gel printing is a must-have in your mixed media toolbox! Many different mediums and textures can be used with it and in this class, we will be showing some of the possibilities that can be made with a gel plate.
Supplies needed: Gel Press, brayer, Stencils, Stamps, Inks, Acrylic Paint, Sprays, Texture Paste, bubble wrap or anything else you think has a cool texture, Mixed Media Paper or Tags
---
Have you been wanting to start a junk journal? They are great for trying out new things, stash busting, and make a great creative outlet. The list of materials can be endless for junk journals as you can use practically anything to fill up your pages - papers, mixed media, photos, paint, etc. Use what you have or what inspires you!
Supplies Needed: A journal or paper pad (we like using something with watercolor or mixed media paper), Stencils, Stamps, Inks, Acrylic Paint, Sprays, Texture Paste
---
We will be demonstrating different types of mixed media products and showing how to use them together. This is the perfect time for your mixed media questions to get answered! Shop Mixed Media!
---
Have you been wanting to be more organized and remember what happened in the past week? In this class, Rachel and Jess will be giving tips on how to start planning and memory keeping using a Happy Planner. 
Products used:
Jess used the Moody Florals Planner and Rachel used the Painterly Pastels Planner and the Painterly Pastels Classic Accessory Pack
Stickers: Pressed Florals 30 Sheet Sticker Pad, Black & White 30 Sheet Sticker Pad, Teresa Collins Happy Planner Stickers, Marking Stencils
Pens: Fudenosuke Brush Twin Tip Pen, Erasable Pens, Gel Highlighters, Fineliner Pen Set
---
We think that the new 4x4 albums from We R Memory Keepers are so adorable we wanted to have a mini layout class! We'll make layouts and show how to decorate this album to make it unique! Grab your favorite scrapbooking supplies and scrap along with us!
Products needed: 4x4 Album, 6x6 paper pad, and matching stickers and embellishments
---
Learn some hand lettering basics with us and some fun techniques. In this class, we will be using Tombow Dual Brush Markers and Fudenosuke Markers. Both of these products come in the Advanced Hand Lettering Kit or you can buy them separately.
Products needed: Tombow Advanced Hand Lettering Kit, Mixed Media Paper Pad, Tracing Paper
Print out some hand lettering practice sheets! Click on the links below to get free practice sheets.
Tombow Brush-Tip Letters, Fudenosuke Letters
---
Bookbinding is so easy when you use the Mini Cinch tool from We R Memory Keepers! In this class, we show you how to use the Mini Cinch and create some different notebooks and mini albums. Warning - this tool is addicting! :)

Supplies Needed: Mini Cinch, Cinch Wires, wire cutters, papers for the inside, thick paper, or chipboard for cover.
---
Flipbooks are great for creating a quick scrapbook. In this class, we are showing how to add in special pages, make glitter pockets, and more.
Supplies Needed: Sn@p Flipbook, scrapbook items including paper, stickers, ephemera, and elements from a coordinating collection. We will be using Simple Stories' new Cottage Fields and Bunnies & Blooms collections.
Optional Supplies: mixed media items, cardstock, or whatever else you like to scrap with.
---
Let's play with resin! Resin is such a fun medium to explore because of all the different things you can do with it. This will be an introductory class on how to use the Color Pour Resin from American Crafts with various molds and coasters.
Supplies Needed: 
- Resin & Hardener, Disposable cups to mix in - at least 3, Disposable gloves, Resin Tool Kit or stir sticks, Resin Dyes, Resin Syringes 
- Molds or coasters. We used these:
          Hollow wood coasters
          Wood Tray Coasters
          Layered River Wood Coasters
          Nocturnal Elements Moulds
           My Sweet Silicone Mould
           Nature Lover Silicone Mould 
Optional Mix-Ins: Leaves, Flowers, Moss, Pebbles, Beads, Foil flakes, Crushed Glass 
---
Click to see more!
---
Have a class idea? Let us know! service@acherryontop.com
---