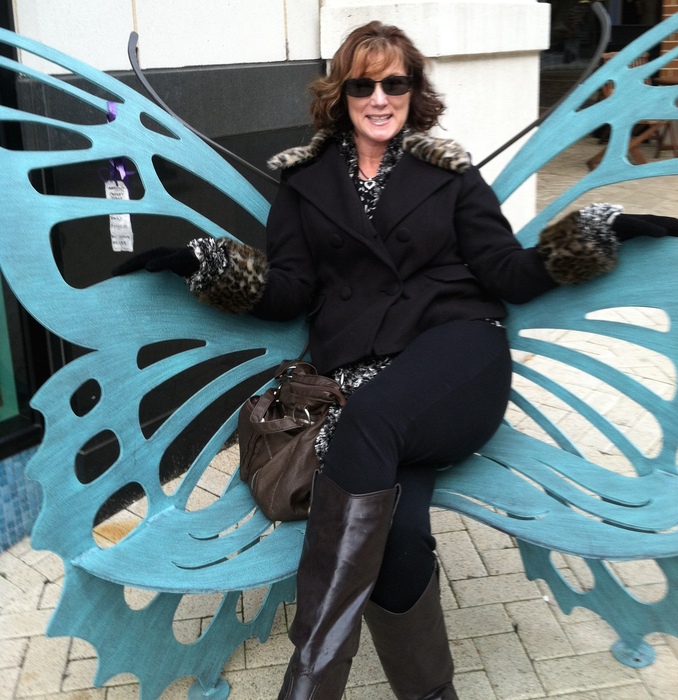 Birthday - September 1966

Who I am. . . .
Scrapbooking is my passion. I love doing layouts from old photos that have been stuffed away for years. The memories they bring back are priceless. I remember the good times and not the ones that were not so good (being a single parent I always thought I wasn't doing enough with my son, but after finding old pictures and scraping pages it assures me that I wasn't so bad after all). I one son who has a family of his own including my one and only grand daughter (my Doodles)!

About scrapping:
How long scrapping: Started in 2008 when my neighbor who was a huge scraper got me into it. We would be at her house for hours some nights scraping. She was amazing, but a lot has changed in 10 years! I moved out of state and stopped scraping due to family and health issues. I just got back into it a few months ago. Ten years is a long time and like I said so much has changed…lots of mixed media and I love trying new techniques!

I mostly do 12x12's except for the pocket pages I bought by mistake and kinda liked them. I have only done a few pages but I'm sure I will be doing more!

Favorite Themes: family for sure!
1. Paper, Digital or Hybrid - PAPER
2. What size layouts do you normally scrap? 12x12,
What type of album? Postbound, 3/D-ring, strap hinge - other? A little of everything, but mostly 12x12 3/D
3. Do you do Project Life? Sometimes, and love those cards
4. Do you rubber stamp? Just started with stamps. I like the clear stamps the best!
5. Do you make altered items? If so, what kind? No, not yet at least :)
6. Do you make cards? I just did my very first 3, the first was a birthday card to my amazing daughter-in-law, the 2nd one was a Thank You to my favorite chiropractor for helping my pain level, and the 3rd was actually a blog hop I entered (who knew) and I used a digi download (who knew, who knew)
7. Favorite Colors to scrap with? I love light colors, well, any colors but love using Nuvo mica mists, embossing powders and anything shinny!
8. Favorite Companies/Designers? Acherryontop, Heidi Swapp, Vicki Boutin and a few others on YouTube. a
9. Favorite Subject/Theme to scrap? vacations, everyday, My son's photos from birth to present and my new grand daughter who is growing fast!
10. Favorite Products? Shimmerz, mixed media stuff? dies
11. Is there anything you won't use? Eyelets? Vintage? Vintage…I just can't connect to it.
12. Least Favorite Companies/Designers? I'm still getting to know them all so not sure.
13. Least Favorite Subject to Scrap? Haven't found one yet, but maybe sports…I don't like the generic stuff I come up with.
14. Colors you normally don't use? anything bordering on neon.
15. Do you handwrite journaling? Computer journal? Mostly computer, but only because I hate my handwriting!
16. What type of adhesive do you use most? Is there any you won't use? I haven't come across any that I haven't liked yet. I use all kinds of different ones including Xyron - sticker maker!
17. Do you have a "big box" (Michael's, Hobby Lobby, AC Moore, JoAnn's, Archivers) close by? Yes, way too close to all but AC Moore (I just heard of them!)
18. Are there items that you love that ACOT doesn't carry? Haven't found anything yet…lol!
19. Do you have any "tools" - Cricut, Silhouette, Slice, Sizzix? Bind It All? Sew Easy? I have a Sizzix Big Shot, but just got it so havent used it yet. I have the first Cricut they came out with that someone gave to me for free. It works well…I really wanted to get me one of those Cricut Air 2 because apparently cut files is a thing now! I just couldn't spend the money on it yet.
20. What is something that you would like to try but haven't? Ha! Lots of stuff! Scan and Cut, Cricut Air, Silhouette so I can do all those awesome Cut Files!
21. Do you use glitter? I just watched a YouTube channel about how to use glitter to make cards, lol, it was NOTHING like I thought so I'm excited about trying the technique…I love messy and bling and shimmer!
22. Do you use bling? Yes!
23. Do you use washi tape? I didn't think I would like it but I just bought a stash and love it!
24. Do you incorporate mixed media into your scrapping? If so, what are some items you like? Gelatos, water colors, Shimmerz, enamel dots, glass bead Gel
25. If you have a die cut machine, what dies do you use? Thins? Tim Holtz, etc? I have a Sizzix Big Shots - haven't used it yet, but I started out with a Zipe'Mate (off brand die cut machine) and liked making my own dies so that's why I bought the Big Shot. I have bought Wafer thin dies.
26. Do you use stencils? Yes, my favorite is a row of hearts from Pink and Main!!!! (trust me, spending a bit extra on stencils is well worth it!)
27. What type of trimmer do you use? Fiskars® Performance Titanium Softgrip Scissors…WELL WORTH IT!
28. Do you use embossing folders? I have some, but haven't used them on much
29. Do you heat emboss? YES!!!! I leave sparkle where ever I go!