Wow cherries, I really love how everyone just took this prompt and ran with it! Wonderful work everybody!!
Via Random.org, the winner is #3 - love2stamp /Jenn!! Congrats Jenn! I'll be getting your GC out to you in just a few minutes!!!
Thank you to all who played along!
Hi everyone! I hope you guys like this month's inspiration outfit: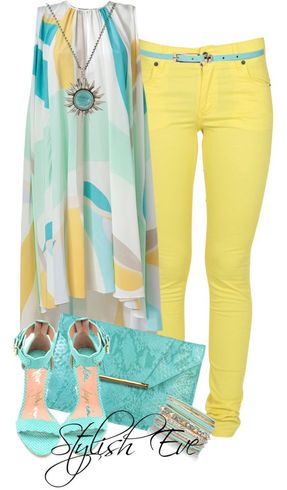 I find this outfit so pretty! The colors are beautiful together - yellow and turquoise with the cute shoes and clutch and jewelry!
And here is my example layout: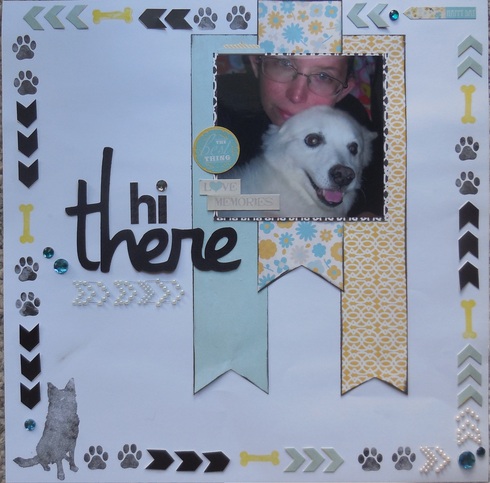 A selfie with Lady Lou and I taken about 3 yrs ago.  I used Fancy Pants "Park Bench" and some stamps with a few pieces of bling.
And now the rules!
1. Please post here with your work. Use Yellow and Turquoise together (as little or as much as you want AND other colors are absolutely fine); along with bling/sequins
2. All is welcome! Paper, digi, card-making, projects, whatever floats your boat!
3. You may combine with any other September challenge.
4. Due September 30th, at 11:59PM
5. One lucky random winner will receive a $5 ACOT gc from me!
6. You may enter this challenge more than once, but please limit yourself to separate THREE entries.
Have fun!
Participating Cherries:
1. Retiree3 /Donna
2. shoorn /Susan
3. love2stamp /Jenn
4. GmaBerta /Berta
5./ tmp718 /Tammey
6. Deanna13 /Deanna
7. ScrappyBug /Melissa
8. blfonty /Bonnie
9. Linda-1949/Linda S
10. Sara M /Sara
11. Deanna13 /Deanna
12. KrazSparkle /Kristie
13. CarrieG /Carrie
14. joannie /Joannie
15.Deanna13 /Deanna
16. pawprints /Barb
17. Sandi0805 /Sandi
18. scrappinmom99 /Anne-Marie
19. ajmaluck
20. suewho372 /Susan
21.