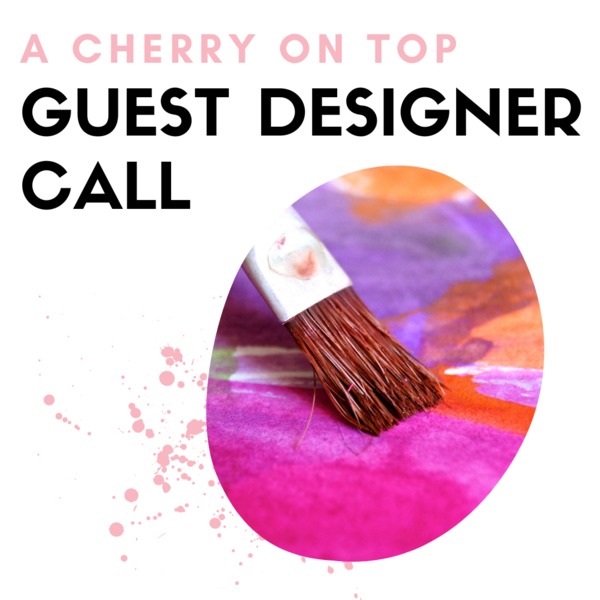 Love to craft? Want to inspire others? We would love to have you be a guest designer for a month here at ACOT!  
Submit your layouts, projects, or artwork into our Guest Designer Submission Gallery to be considered for one of our monthly guest designer spots. 
---
Selected Designer Will Receive:
 
1. $50 to spend at acherryontop.com for your projects/layouts!
2. Exposure to your awesome talent on our blog and social media!
3. Recognition and bragging rights for an entire month!
---
How To Submit:
 
1. Create an account and screen name here at acherryontop.com.
2. Upload at least 3 of your projects to the Guest Designer Submission Gallery. Do this by checking the "Guest Designer Submissions" box under the "Contests & Challenges" section when submitting your layout to the gallery.

 
---
What we are looking for:
      1. Clear and bright photos!
      2. Share and tag us on social media.
      3. Creative and aesthetically pleasing use of products. 
Our Guest Designer Call is open to all paper crafters, planners, painters, fiber artists, 2D and 3D artists, and crafters. This is an ongoing call, so there is no deadline. We will pick one designer at the end of each month, so please don't get discouraged and continue submitting your new work to the Guest Designer Submission Gallery. 
---
If selected, Guest Designer must be able to:

1. Complete a Q&A form and provide a clear photo of yourself  - we want to get to know you!
2. Complete at least 3 projects and 1 tutorial/blog post using your new products from ACOT.
3. Share photos of your projects and tag us on social media. We love to see sneak peeks and work-in-progress photos too! We will also publish your work on our blog, message board, and social media.

Optional: Makeup to 3 challenges on our Message Board or in our Facebook group Cherry Crafters. ACOT will sponsor these challenges and a $5 gift card to acherryontop.com will be awarded to each winner.

Submissions will remain active and open to selection until otherwise noted. If at any time you would like to no longer be considered, simply 'hide' all submissions by making them private.  By submitting, you agree that you've read and agree to our Terms and Conditions.
---
Submit or View Guest Designer Submission Gallery