Hello fellow Cherries! Emily with you today to share 3 fun card makes featuring the October Cherry Box! I was very excited for this Cherry Box because it features all Halloween! Halloween was one of my favorite holidays growing up, and I still enjoy decorating for this time of year, & now I make Halloween cards as well! In case you missed it, Rachel and I revealed this Cherry Box this past Friday on our YouTube live, and I made one of these cards then! You can catch the replay below: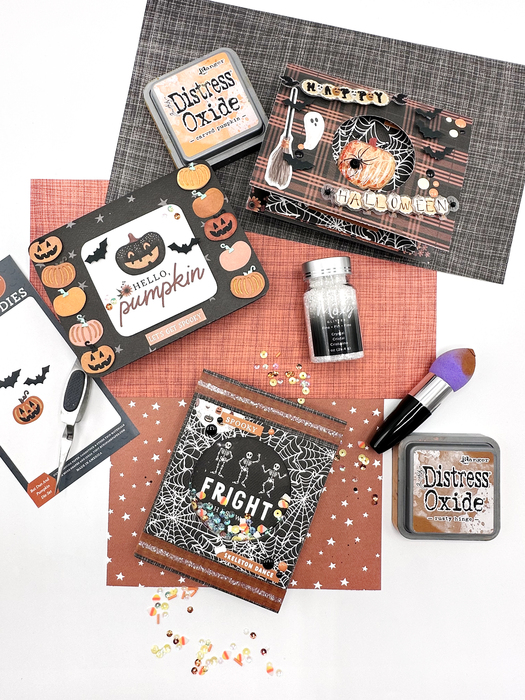 The October Cherry Box comes with the Halloween Collection Kit from Carta Bella as well as the matching enamel dots, pumpkin & bats die cuts, candy corn sequins, Moxy glitter & blending brush, orange plaid washi tape, pumpkin shaker stickers & vintage Halloween banner stickers from Jolee's Boutique! If you are a fan of Halloween, this box is for you! On the live, I made this fun interative card featuring the pumpkin shaker sticker. I like to call it a "peep hole" or "peek-a-boo" card. This works great if you have coordinating die cuts, but I was inspired by these pumpkin stickers that were more 3D. First, I die cut a "hole" using my circle dies on the front cover of my card. I then created a sort of 'mini card' for the inside, so I could put the pumpkin on the base, but also still have a spot for someone to write sentiments!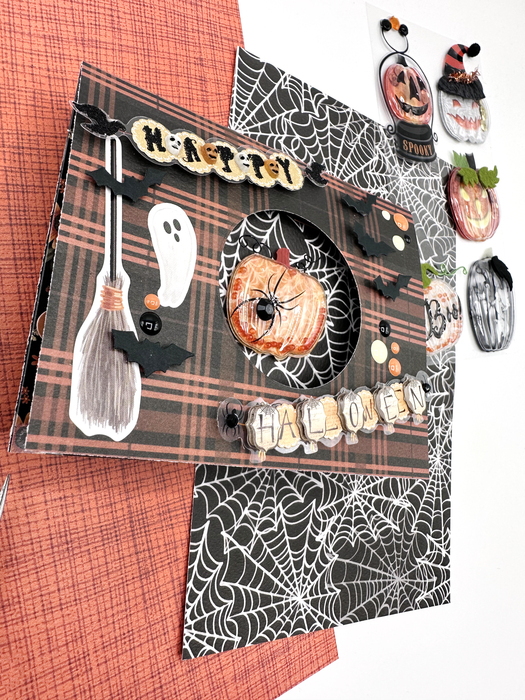 I then just decorated the outside and inside with the stickers from the Collection Kit, some die cut bats, the "Happy Halloween" banner sticker, and some enamel dots.I also included some stickers on the inside of my card.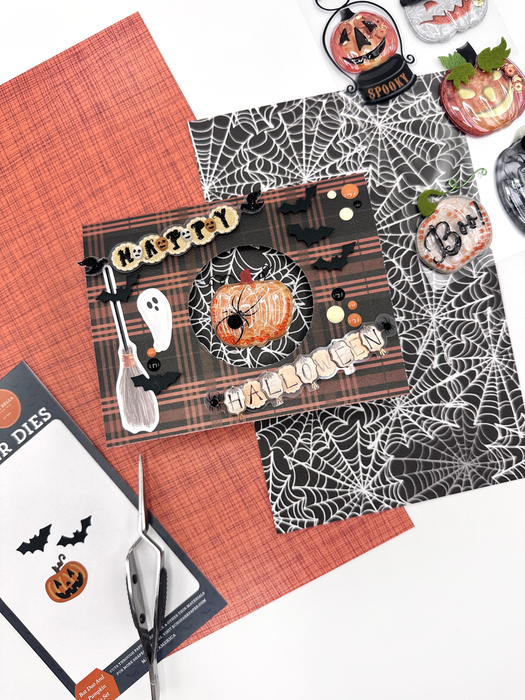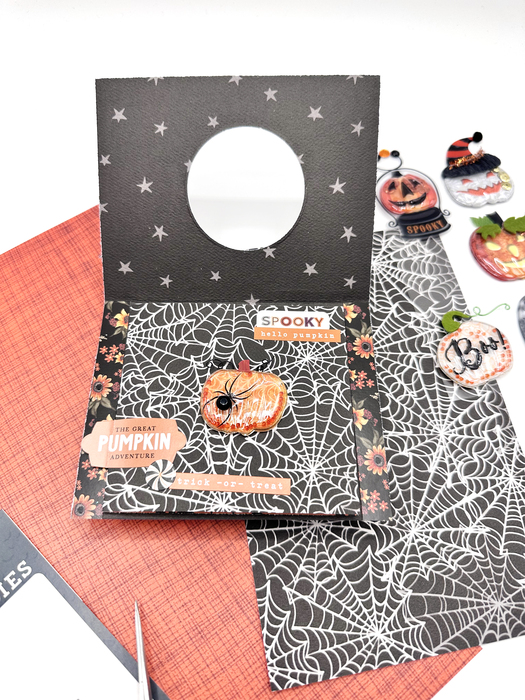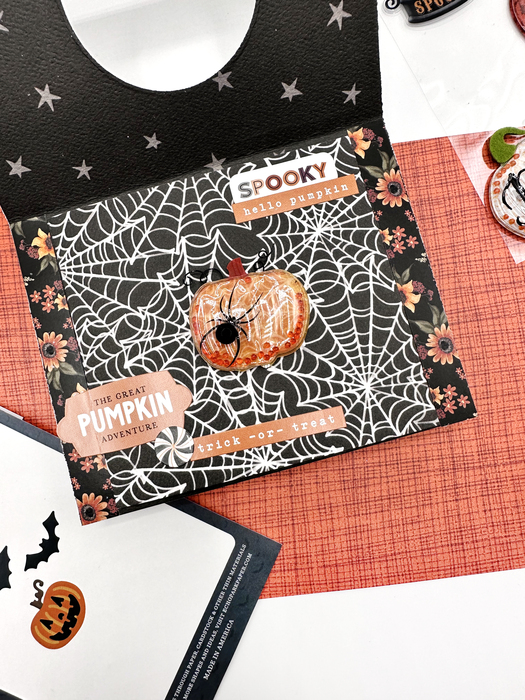 Look how fun this card is when it's all opened up! Here's where you'd add your sentiments.
With all the sequins and glitter included in this box, I just had to make a shaker card! The Candy Corn sequin mix also includes little bones! I wanted to play on that, and found a saying from the Collection Kit that had some skeletons on it. I used the correct sized circle die, and cut out the saying from the frame!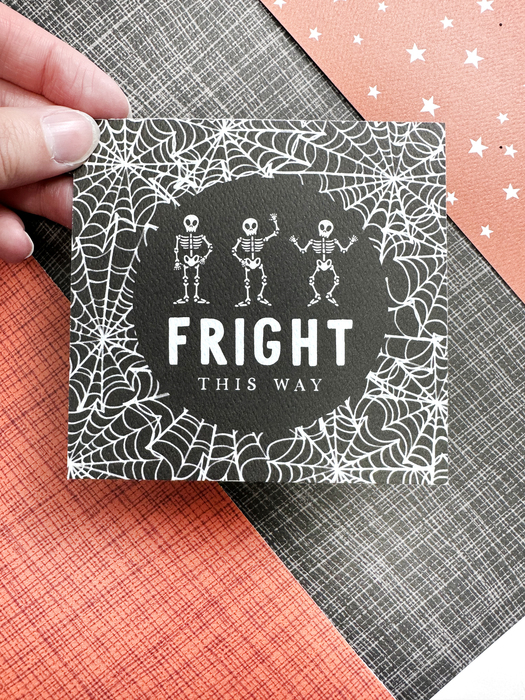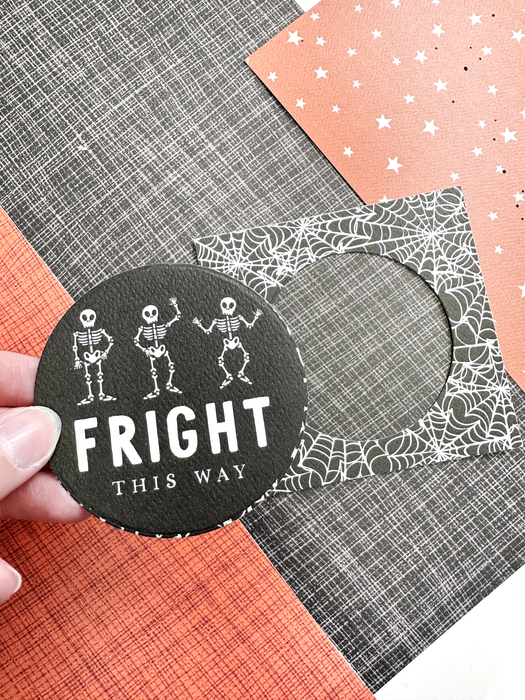 I then used the spider web frame and added some acetate to the back so I could create my shaker! I stuck my "fright this way" on the base of my card, and then added some sequins, and some glitter! Then I added some Cherry foam tape to the back side of the frame, and carefully stuck it onto my card base.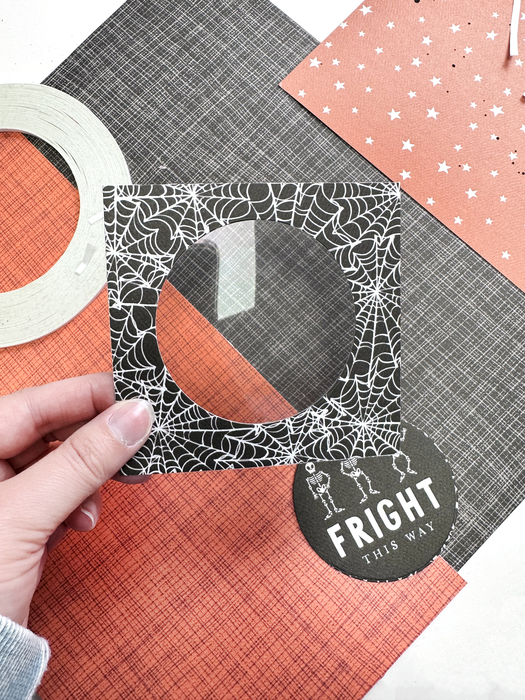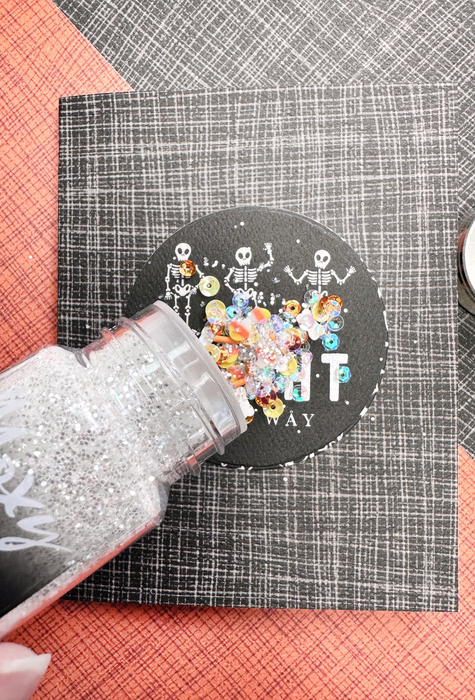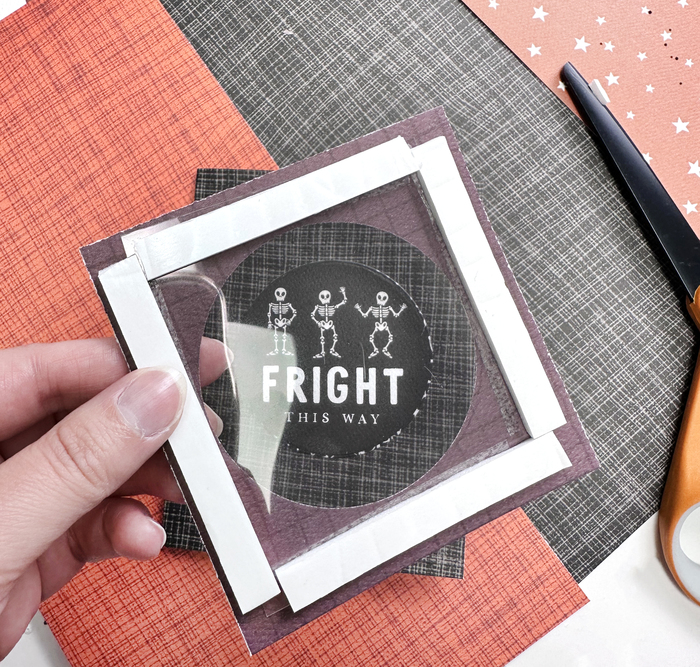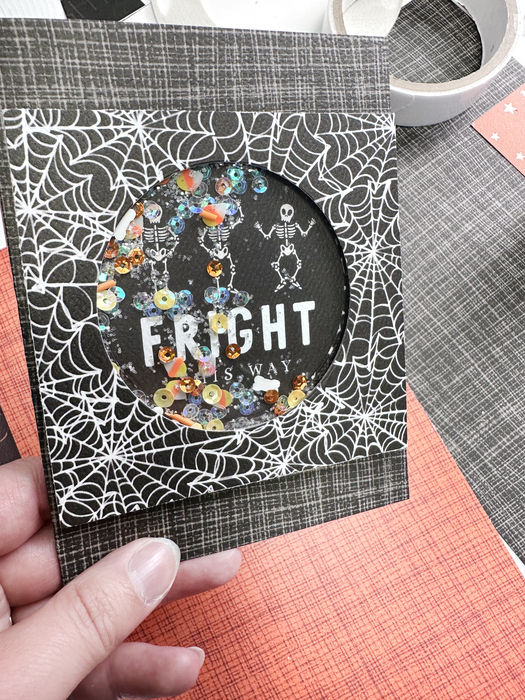 & there's my shaker! I grabbed the washi and add some strips to the top and bottom of my card, and then I added a small strip of Cherry tape in the center of each strip of washi. I peeled the backing off, and poured the glitter right onto the Cherry Tape, I love using Cherry Tape this way!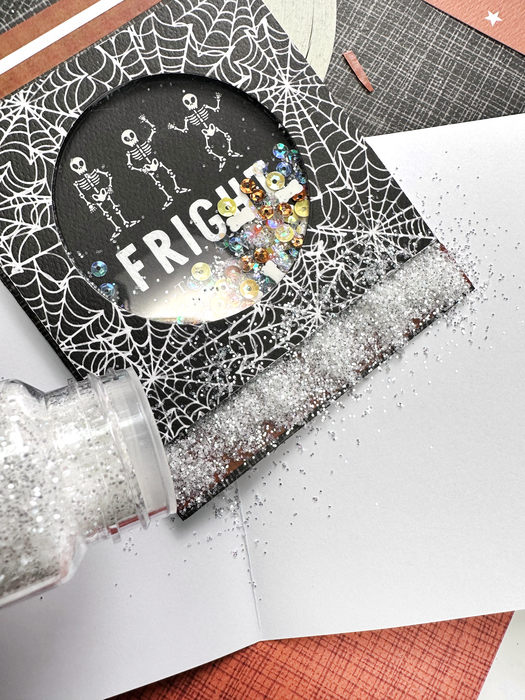 I then added a couple of stickers and enamel dots and it was complete! The nice thing about this collection kit is that it comes with all those cute sayings & journaling cards, so I just put one of those on the inside of my card.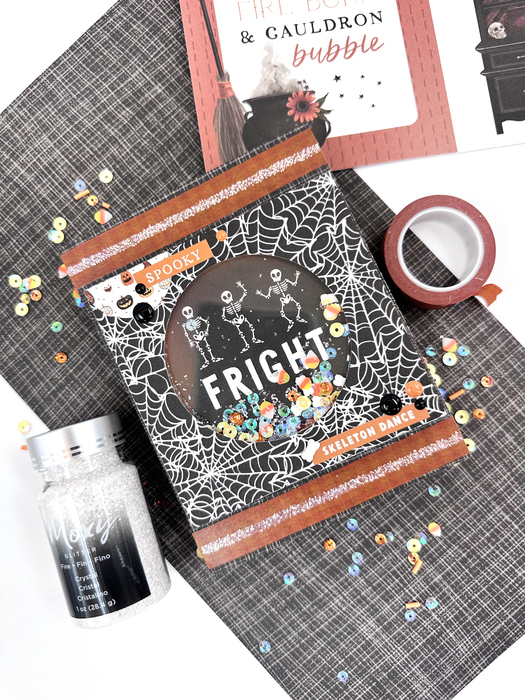 For my final card, I decided I really wanted to focus on the die cuts that were inlcuded in this box. It inlcudes pumpkins you can build yourself, either with faces or without, and 2 different sized bats! I loved working with these die cuts, they are tiny & fun and you can definitly make them your own. I started with some inks! I used Clay Mask, Carved Pumpkin Distress Oxide, and Rusty Hinge Distress Oxide for the pumpkins. I used some black cardstock for the pumpkin faces and some of the stems, as well as Minted to make some stems green. I even put some washi tape onto some paper and then cut out a pumpkin that way!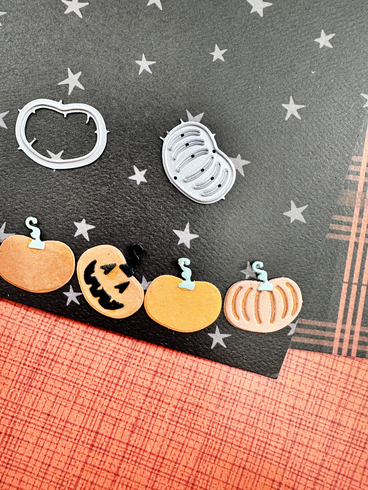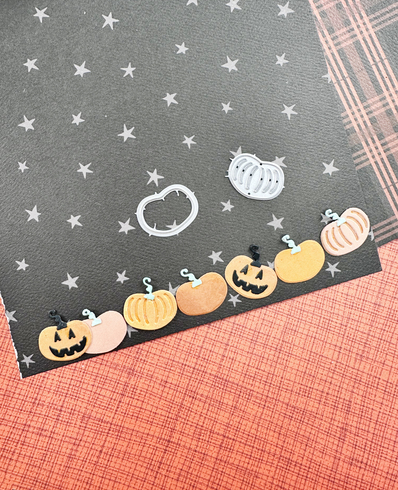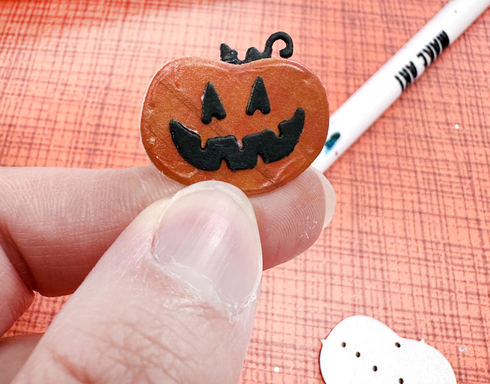 I then used some Cherry Dots, and lined my card on each side with the pumpkins, doing every other one on a Cherry Dot to add some dimension. I also put my stems on wrong! I ended up fixing it with that last washi pumpkin, but they still look cute :) I found another journaling card that said, 'hello pumpkin' and went perfect for this theme. I also die cut out some bats in the black cardstock, and added some of the sequins from the sequin mix on the front of my card, and put the sticker underneath my image that reads 'Let's Get Spooky'.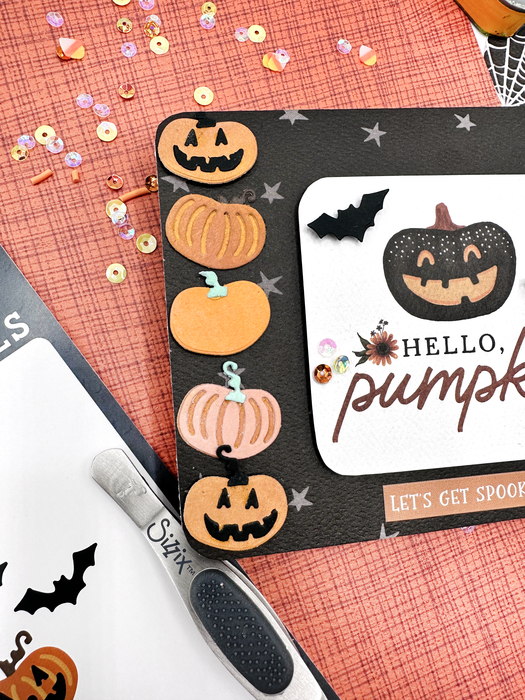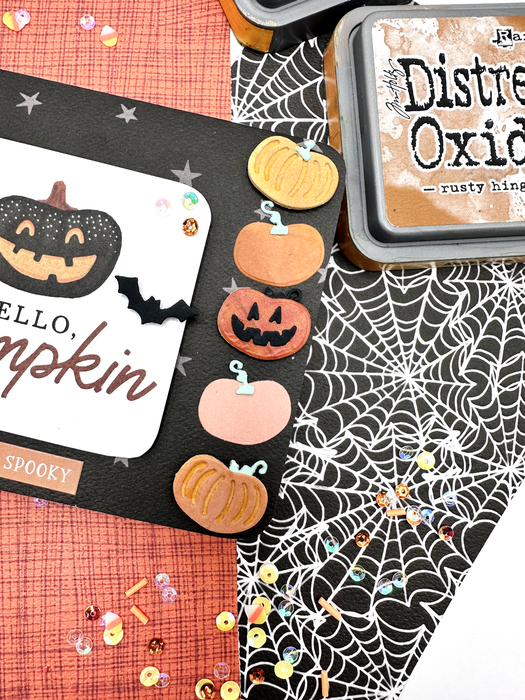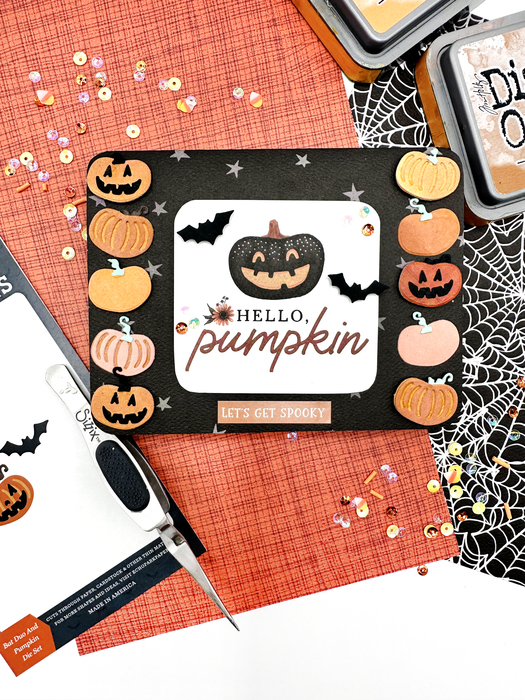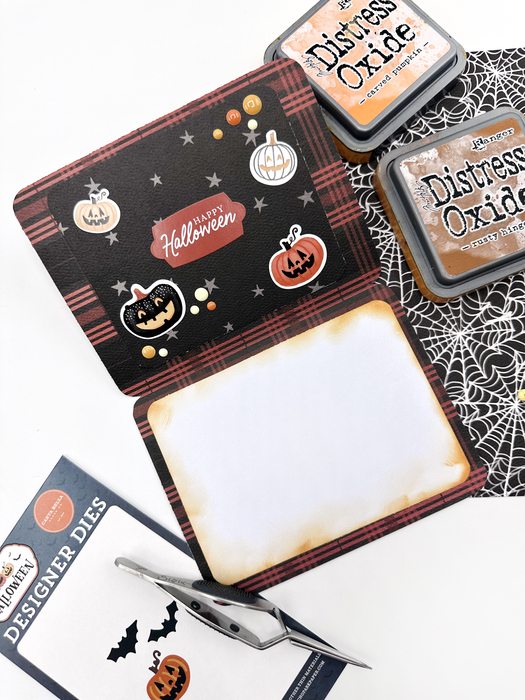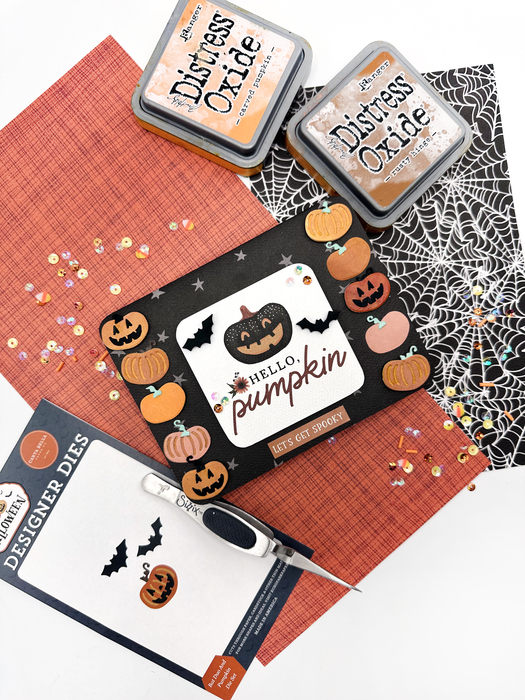 I decorated the inside of this card with some stickers and enamel dots & used the foam brush with the Carved Pumpkin to add a hazy border to my card liner. I also finished this card off with a corner rounder since my saying on the front also had the rounded corners. I hope everyone is enjoying the fresh Fall weather! Don't forget to subscribe to the Cherry Box so you can make some fun Halloween crafts!
---
In the October Cherry Box:
---
Subscribe before September 25th to receive the October Cherry Box!
---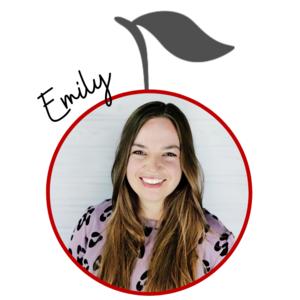 Emily Moore
My name is Emily Moore & I love handmaking cards! I have an amazing, supportive husband, & a giant beautiful Bernese Mountain dog named George. I get very excited about pretty paper & love making detailed designs using die cuts, stencils, & any new techniques I can find! I recently made a career shift from finance to working at ACOT as the new Marketing Assistant and absolutely love it. Come, stop by & say hi! You can find me in the storefront!
You can find more from Emily on her Blog, Etsy, YouTube, Gallery, Facebook, and Instagram!