When I saw the adorable Pilgrims and Native Americans in the Doodlebug collection, I knew exactly what photos I would use. When my (now 16yo LOL - see what I mean about me not scrapping chronologically!) son Anthony was in Kindergarten, they did a little Thanksgiving celebration where each K and preK student paired up and said a line. Anthony's line was "America was new and strange to the Pilgrims but America had always been Squanto's home." When we practiced with him, we got all dramatic with fist shaking at "always Squanto's home!" LOL! He didn't do that when the time came but that's been a funny Thanksgiving family joke ever since.
I liked this sketch because it allows up to 6 pictures to be scrapped. I substituted one spot for the cute Pilgrim people 4x6 cutout and jazzed it up with stickles and a pumpkin. But what really made me get this collection was the adorable little "Squanto" sticker – isn't he cute!?  
Your challenge is to use the below sketch.
You can make a double page or single page layout. See rules for entries.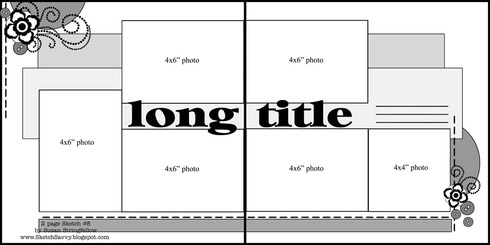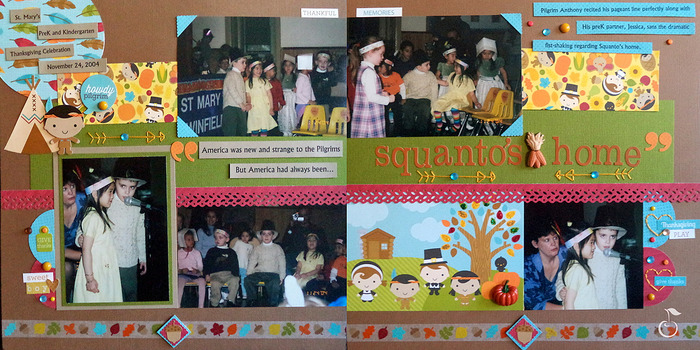 Bonus entry:
Create a little scene (with stickers, rub-ons, die cuts, whatever you have) to support the theme of your layout. I did a Thanksgiving theme but it could be any theme you like! Howdy, Squanto!  (More close ups in my gallery)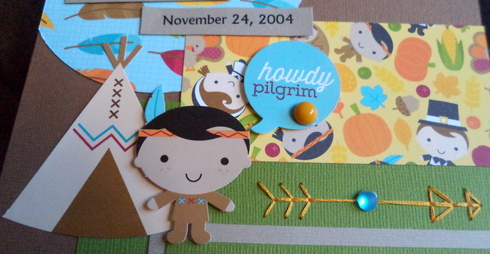 Rules:
New creations only – LAYOUTS ONLY for this challenge
MAY be combined with ONE other challenge that allows it and the Becky Fleck sketch
May not be combined with other November Guest Designer challenges
Please post in gallery by 11/30/15 11:59 PM EST.
Double page layout = 2 entries.  Single page layout (either side) = 1 entry. Edited: May enter no more than 4 entries (so any combination of double page, single page up to 4 entries, not including whatever bonuses you might include. So you could do 2 double pages, 2 single pages, no double pages, all single pages etc lol).  Is my math right?
Participating Cherries:
mgehrke (page 1)
mgehrke (page 2)
karen c. (page 1)
karen c. (page 2)
karen c. (bonus scene)
jan509 (page 1)
jan509 (page 2)
shoorn (page 1)
shoorn (page 2)
SherrieLynne (page 1)
SherrieLynne (page 2)
Esthrmend (page 1)
Esthrmend (page 2)
Esthrmend (bonus scene)
blbabe1234 (page 1)
blbabe1234 (page 2)
blbabe1234 (bonus scene)
Yankeegirl (page 1)
Yankeegirl (page 2)
Yankeegirl (bonus scene)
1scrappymom (page 1)
1scrappymom (page 2)
1scrappymom (page 1)
1scrappymom (page 2)
oceanbreezes423 (page 1)
oceanbreezes423 (page 2)
Deanna13 (page 1)
Deanna13 (page 2)
Deanna13 (bonus scene)
christinec68 (page 1)
christinec68 (page 2)
HeatherS1974 (page 1)
HeatherS1974 (page 2)
HeatherS1974 (bonus scene)
Sandi0805 (page 1)
Sandi0805 (page 2)
Sandi0805 (bonus scene)
Retiree3 (page 1)
Retiree3 (page 2)
keatonsgtgram page 1
keatonsgtgram Page 2
CNMommy (page 1)
karensay page 1
karensay page 2