Adding an avatar is easier than you think.
Just follow these steps and you'll be personalizing your account in no time! You can use your own graphic or you can choose one of our special ACOT Cherry Title graphics. The ACOT avatars can be found here:
Blinkies & More
Important note: If you want to use your own graphic you will need to upload it to a hosting site first. (ie; Photobucket, flickr, etc). DO NOT copy the address of your photo from another website without permission! This is called HOTLINKING and often produces unwanted results. (Some sites have 'other' graphics that will show when a hotlink is attempted. Sometimes these images are graphic or adult in nature) ACOT Avatars

can

be hotlinked.
Once you have the image you want, you will need it's web address. This will start with 'http' and end with the file name, ie; 'yourpic.jpg'. If you are using Photobucket, chose the DIRECT LINK box to avoid getting any extra code.
Below is the old way and will not work anymore. To change your avatar now, first click on 'My Account' at the top right of the page, then click on 'My Bio'. Paste the link for you graphic into the box that says Avatar Image Url. Then click Submit at the bottom of the page, and you're done!
Here at ACOT go to your USER CONTROL PANEL- you will find the link near the top right of the screen. (NOT the
link for My Account, it's lower down under FAQ & MEMBERS, right about the RECENT TOPICS list.)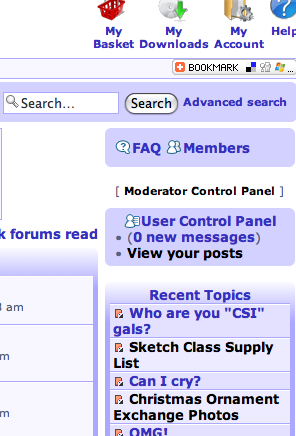 Once there, click on the PROFILE tab then EDIT AVATAR at the left side of the screen. It will now look like this: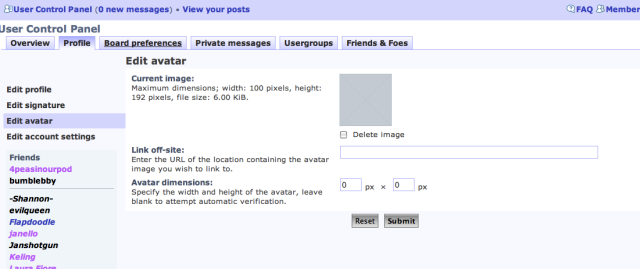 Paste the address of your avatar into the box.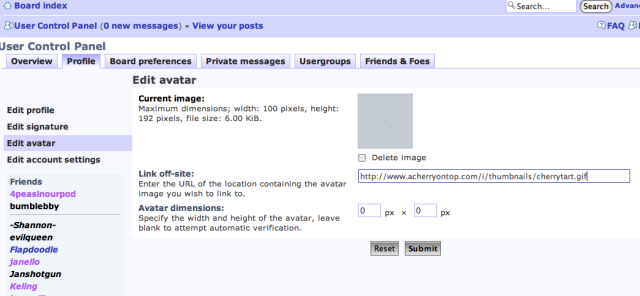 Click SUBMIT and after it refreshes, you will now see your avatar.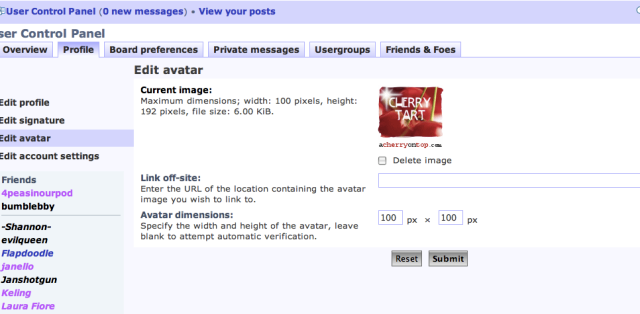 Now you're done!
I hope you enjoy your time at ACOT!